President Calls On Congress To Curb Energy Price Speculation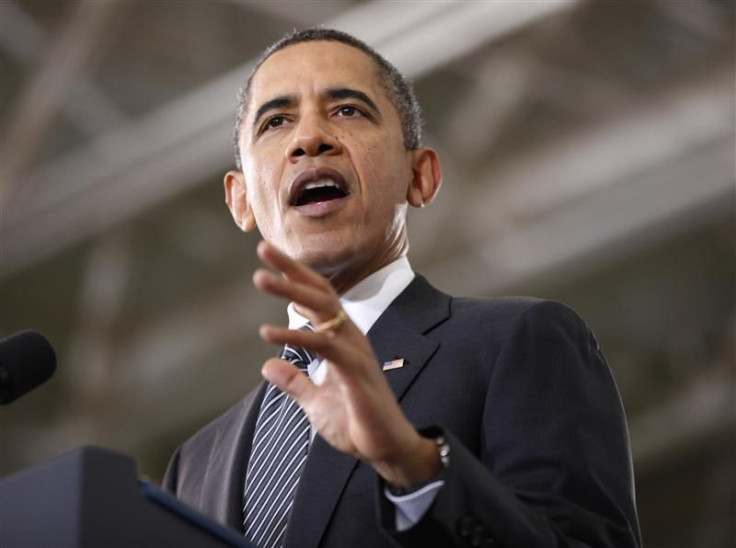 President Barack Obama on Tuesday called on Congress to pass a series of measures that would help limit what he called speculation that's driving up the price of oil and gasoline.
We can't afford a situation where speculators artificially manipulate markets by buying up oil, creating the perception of a shortage and driving prices higher only to flip the oil for a quick profit, Obama said during a press conference at the White House. We can't afford a situation where some speculators reap millions while millions of American families get the short end of the stick.
The announcement comes as Obama is increasingly challenged over his energy policy by Republicans, who say he's not doing enough to bring energy prices down.
The President said he hoped Congress will pass legislation funding more policing and monitoring of energy markets, and ensuring that regulators have the necessary tools to track down unlawful trading activity.
He also called for congress to enact a tenfold increase, to $10 million, the civil and criminal penalties for illegal energy market manipulation, and to give the Commodity Futures Trading Commission authority to increase the amount of money that a trader must put up to back a trading position.
Congress should do all of this right away, said Obama, who slammed lawmakers for upholding tax breaks for oil majors.
None of these will bring gas prices down overnight, Obama said of his proposals. But they will prevent market manipulation, and help protect consumers.
The administration has been wrangling with high energy and gasoline prices, brought about by global unrest between Iran and its neighbors and the shuttering of several refineries along the East coast.
But the idea that Wall Street speculators are partly to blame for the price increases has gained traction.
In March, Bart Chilton, a member of the U.S. Commodity Futures and Trading Commission, said he was drafting legislation designed to help curb the effect of speculation on energy prices.
Between March 2010 and March 2011, Wall Street firms had a $35 billion speculative interest in crude futures, reported Nomura Equity Research in a research report last month. That number jumped from roughly $10 billion just four years earlier.
In New York, the price of crude oil jumped $2 from its Monday close to $104.82. The price of oil in the U.S., hasn't dropped below $100 since February, but remains below its 12-month high of $113.65, reached in May of last year.
Gasoline traded in New York at $3.25 a gallon, down 10 cents from its Monday close.
Average retail gasoline prices, however, are much higher. On Tuesday, the average price stayed flat, hovering at $3.90 a gallon. The price for regular unleaded remains 21 cents below its historic high, but is seven cents higher than it was a year ago. The price dropped by two cents over a week ago, reported the AAA auto club.
AAA said it expects the price of gasoline to continue rising as much as $4.50 by Memorial Day, considered the start of the driving season in the U.S.
Obama's proposals also include boosting spending on technology to improve the oversight of energy markets, and increasing by six times the funds spent on surveillance and enforcement staff for the Commodity Futures Trading Commission.
© Copyright IBTimes 2023. All rights reserved.