Prince Andrew Reacts To Jeffrey Epstein Sex Abuse Accusations: 'Behaviour Is Abhorrent'
All seems well with Prince Andrew, Duke of York and eighth in line to the British throne, after being closely linked to the late Jeffrey Epstein, accused of pedophilia and sex trafficker who hanged himself in his jail cell on Aug. 10.
The prince has appeared in public for the first time since the scandal became infamous. He was seen with his mother, Queen Elizabeth II, at the church in Balmoral Castle in Scotland on Sunday. Part of the 50,000 acre Balmoral Estate, Balmoral Castle is one of the residences of the British royal family.
Late last week, the prince publicly admitted to an error of judgment after being filmed leaving Epstein's New York City mansion with a blonde woman later identified as Virginia Roberts.
Roberts (who was the unwed Virginia Giuffre at the time) was 17 years old and one of Epstein's victims. She later alleged Epstein forced her to have sex with the Prince on numerous occasions in London, New York and the Caribbean.
Most controversial to Prince Andrew was a picture of him with his arm around Roberts' waist at the home of Ghislane Maxwell (Epstein's former girlfriend) in London in 2001.
A judge, however, dismissed the accusations against Prince Andrew because they were "immaterial and impertinent" to Epstein's sex trafficking case. Epstein was accused of recruiting girls (some as young as 14) and sexually abusing them at his homes in Manhattan and Palm Beach, Florida.
The Duke of York over the weekend reacted for the first time to the Epstein sex scandal. He said he was "appalled" by recent reports about Epstein's conduct.
There were other videos of the Prince and Epstein together. One of these made public last week showed the Duke in 2010 looking out from behind the door of Epstein's Manhattan mansion, and waving goodbye to a brunette.
This new video forced Buckingham Palace to issue a statement on behalf of the Prince.
"The Duke of York has been appalled by the recent reports of Jeffrey Epstein's alleged crimes. His Royal Highness deplores the exploitation of any human being and the suggestion he would condone, participate in or encourage any such behaviour is abhorrent."
Buckingham Palace again strenuously denied Robert's accusations.
It repeated its "emphatic denial" of Roberts accusations of sexual assault.
"This relates to proceedings in the United States, to which the Duke of York is not a party. Any suggestion of impropriety with under-age minors is categorically untrue.
"It is emphatically denied that the Duke of York had any form of sexual contact or relationship with Virginia Roberts."
"Any claim to the contrary is false and without foundation."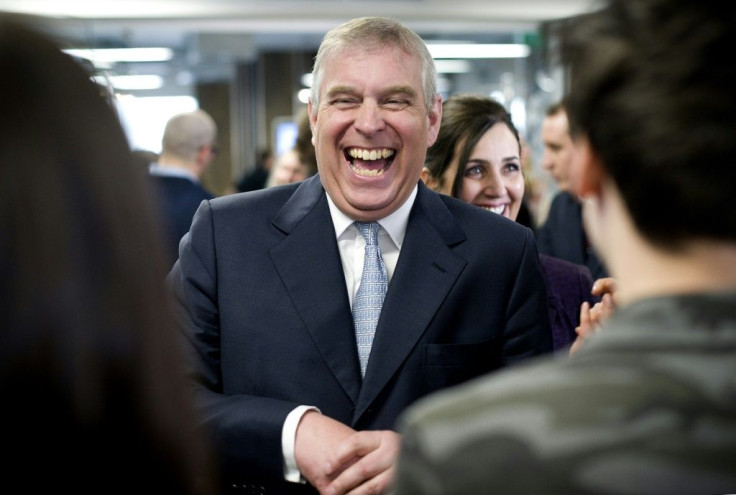 © Copyright IBTimes 2023. All rights reserved.