Protest marches across Syria on first Ramadan Friday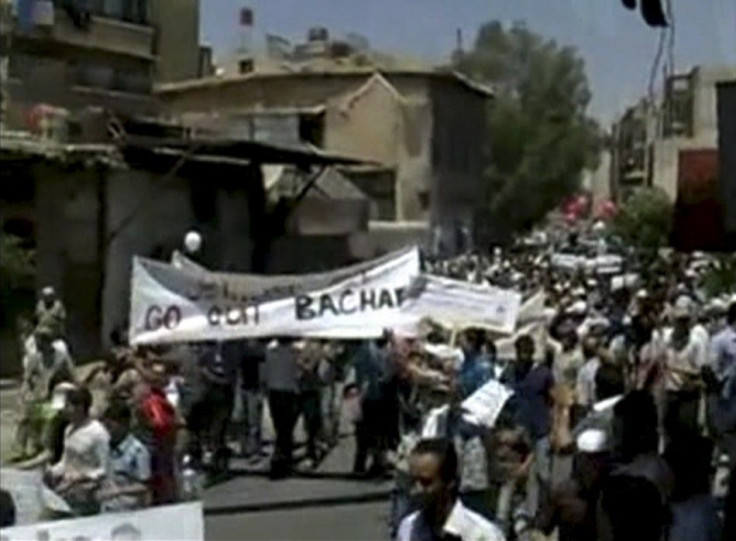 Tens of thousands of people marched across Syria on the first Friday of the Muslim fasting month of Ramadan, stepping up defiance of President Bashar al-Assad's bloody crackdown on unrest as his tanks again shelled Hama and massed outside another restive city.
Hama residents feared higher casualty figures than the 135 estimated killed since the military assault began on Sunday on the city of 700,000 people in central Syria.
In a strong sign of opposition resilience, activists said, tens of thousands rallied in cities around Syria on the first Friday of Ramadan, when Muslims do not eat or drink in daylight hours, demanding Assad's fall and showing solidarity with Hama.
They said demonstrations broke out in the eastern tribal province of Deir al-Zor where tanks assembled at the gates of the provincial capital, in the southern Hauran plain, in the central city of Homs and its rural environs, in the coastal town of Jableh and in several districts of the capital Damascus.
An activist group said a protester was shot dead in the Damascus suburb of Erbin. Shootings at protests were also reported in the suburb of Douma, in Homs and the town of Kfar Inbil in the northwestern province of Idlib, other activists said. They added that at least six people were injured.
"We are not scared, God is with us!" protesters shouted. They also chanted in support of Hama and called on Assad to go. "You Syrian raise your hand, we do not want Bashar!" they chanted in live footage broadcast on Al Jazeera television.
The continued military operations against civilian unrest ignored rising international condemnation over the attacks that Washington said had killed 2,000 people since the popular revolt against decades of repressive Assad family rule began in March.
Syrian authorities have expelled most independent media since the unrest erupted, making it difficult to verify witness accounts and official statements.
In Geneva, U.N. human rights investigators said Syrian forces must stop using excessive force against peaceful protesters that has resulted in executions and other crimes punishable under international law.
In a joint statement, the independent experts called on the Syrian authorities to halt their violent crackdown, including the "indiscriminate use of heavy artillery".
Hama, traditionally a stronghold of majority Sunni Muslim opposition to the domination of Assad's minority Alawite sect, is where his father, the late Hafez al-Assad, sent in tanks and killed thousands to crush a rebellion in 1982.
"They are hitting (Hama's) al-Hader district and neighborhoods around the Aleppo road. Electricity is still cut off," one resident told Reuters in a call via satellite phone.
A resident in the Sabounia district, a small business owner who did not want to be named, said on Thursday: "The sound of tank shelling and their heavy machineguns echoed in Hama all day. We fear many more martyrs. Most people in my neighborhood have fled."
He said militia loyal to Assad known as 'shabbiha' were clearing out the streets near the university campus to stage a pro-Assad march "as if nothing is happening in Hama".
Syrian authorities say the army swept into Hama to confront "armed terrorist groups" attacking civilians and sabotaging property. They say 20 soldiers have been killed.
Hama's electricity and telecommunications have been severed in the onslaught since Assad sent troops into the city on Sunday, according to residents and activists.
U.S. Secretary of State Hillary Clinton said Washington believed Assad's forces were responsible for the deaths of more than 2,000 Syrians in their attacks on peaceful demonstrators during the uprising.
Syrian authorities blame armed groups and Islamists for the violence and say 500 soldiers and police have been killed.
Clinton repeated that the United States believed Assad had lost legitimacy in Syria and said Washington and its allies were working on strategies to apply more pressure beyond new international sanctions announced earlier on Thursday.
"We are working around the clock to try to gather up as much international support for strong actions against the Syrian regime as possible. I come from the school that actions speak louder than words," Clinton told reporters.
In eastern Syria, residents of Deir al-Zor and activists said hundreds of tanks and armored personnel carriers had assembled in the last few days outside Euphrates River city, especially at a juncture of a highway leading to Damascus.
Tension rose in the eastern provincial capital this week after secret police in Damascus abducted Sheikh Nawaf al-Khatib, head of the main Baqqara tribe and an outspoken critic of assaults on pro-democracy demonstrators there.
Last week, tanks moved into the Deir al-Zor area and the town of Albu Kamal, on the border with Iraq. Both towns have seen major anti-Assad unrest.
Syrian forces also shot dead four protesters near Damascus and in southern Syria after nightly Ramadan prayers on Thursday when they fired at demonstrations demanding the overthrow of Assad, activists' organisations said.
Abdullah Abazeid, a member of the Syrian Revolution Coordinating Committees, said three protesters were killed and at least 10 wounded in the town of Nawa near Deraa, cradle of the uprising against Assad family domination.
"Demonstrations have been breaking out daily after 'tarawih' (prayers following the nightly breaking of fasting during the Islamic month of Ramadan) in Deraa and the surrounding towns," Abazeid told Reuters.
The Local Coordination Committees, another activists' organization, said another protester was killed in the Damascus suburb of Qadam when four buses full of security police surrounded a demonstration there and fired at the crowd.
On Wednesday Assad's forces killed at least seven demonstrators after tarawih prayers across the country, witnesses and rights campaigners said.
ASSAD RISKS "SAD FATE"
In a sign that the assault on Hama and other Syrian cities may be galvanizing the international community against Assad, Russian President Dmitry Medvedev, whose country had resisted United Nations condemnation of Syria, said Assad risked a sad fate if he failed to reconcile with his opponents.
He spoke a day after Russia, which has a naval base in Syria, backed a U.N. Security Council statement condemning "the widespread violations of human rights and the use of force against civilians by the Syrian authorities".
The United States extended sanctions against Syria on Thursday to include Mohammad Hamsho, a prominent Syrian businessman and member of parliament.
Washington said he was a front for the interests of Assad and his brother Maher, who directly commands forces from the Alawite sect, to which the Assad family belongs, spearheading military assaults.
Turkish Foreign Minister Ahmet Davutoglu, whose government once strongly supported Assad, said: "The developments there are unacceptable... Syria needs to take the messages from Turkey and international community seriously."
The European Union also agreed to further extend sanctions on Syria. Austrian Foreign Minister Michael Spindelegger said Syria was increasingly isolated.
"Given the regime's cold-blooded violence against its own people, the front of countries holding their protective hand over the Syrian leadership is starting to crumble," he said.
© Copyright Thomson Reuters 2023. All rights reserved.