Protests Over Ukrainian Pilot Nadezhda Savchenko Lead To Assaults On Embassies In Kiev, Moscow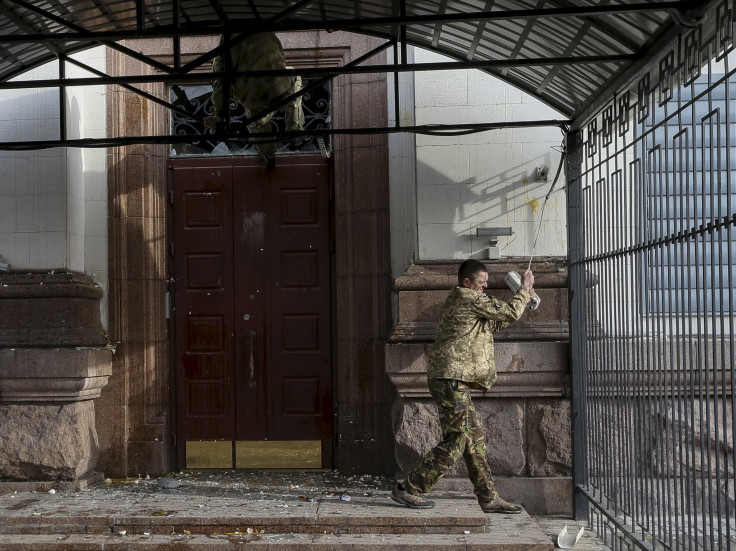 MOSCOW — Tit-for-tat embassy attacks in Moscow and Kiev Sunday, sparked by protests over Ukrainian pilot Nadezhda Savchenko, could further strain ties between the two former Soviet countries. Savchenko is facing a 25-year prison sentence in Russia.
Windows and CCTV cameras were reportedly smashed and diplomatic cars broken into at the Russian embassy in Kiev during protests Saturday evening and Sunday, while demonstrators in Moscow gathered outside the Ukrainian embassy Sunday evening to chant slogans and throw eggs at the building.
The latest unrest comes as the trial of Savchenko — considered a political prisoner by Kiev — moves toward a guilty verdict and long prison sentence. It will likely further worsen the relationship between Moscow and Kiev that hit rock-bottom in 2014, following the fall of a pro-Russia government in Kiev and the Kremlin's annexation of the southern Ukrainian region of Crimea and its military backing for a separatist insurgency in the east of the country.
The Russian embassy in Kiev, which has been repeatedly vandalized in protests over the last two years, was the first to be attacked Saturday evening, with a video published online showing Ukrainian activists throwing fireworks at the building and breaking the windows of diplomatic cars.
"Three diplomatic cars were seriously damaged. The attackers also threw smoke bombs and flares onto the territory of the embassy. The embassy sent a note of protest about this incident to the Ukrainian Foreign Ministry," Russian embassy spokesman Oleg Grishin said Sunday, RIA-Novosti news agency reported.
The embassy was also targeted Sunday after a peaceful protest in central Kiev calling for the release of Savchenko. Footage showed several hundred protesters throwing rocks and eggs, and smashing embassy windows.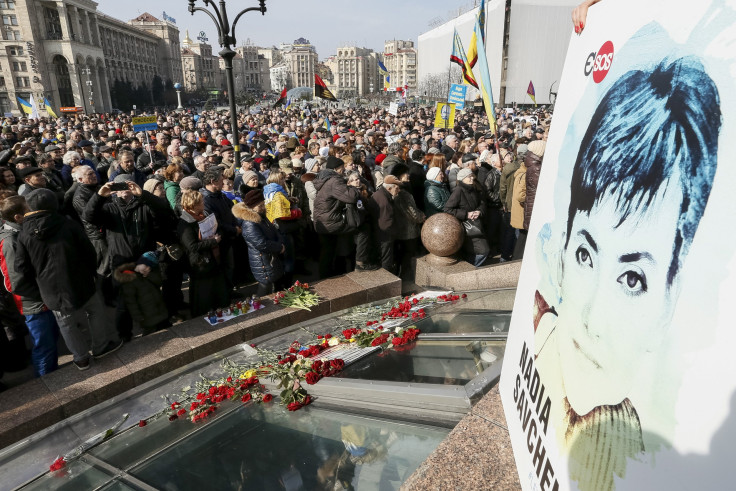 There was also a demonstration in front of the Russian consulate in the eastern Ukrainian city of Kharkiv Sunday, according to Ukrainian media reports.
The targeting of the Russian embassy in Kiev provoked a tit-for-tat response in Moscow where people gathered outside the Ukrainian embassy Sunday. Eggs were thrown at the building and several hundred protesters carried banners and chanted slogans, including "hands off our diplomats" and "fascism will not pass," the Russian RBC news website reported.
The latest protests in Kiev over Savchenko come as the trial of the female Ukrainian pilot in the southern Russian border town of Donetsk enters its final stage. Savchenko, who has announced she is going on hunger strike, was expected to deliver her final statement to court last week, but the judge unexpectedly adjourned proceedings.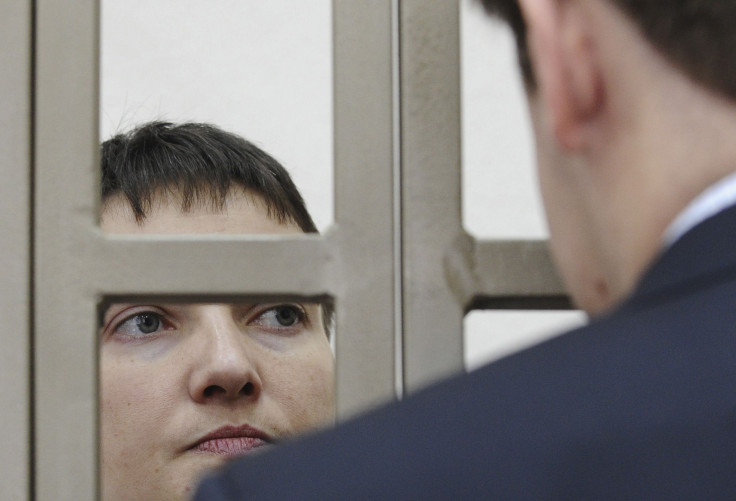 Prosecutors allege Savchenko helped to direct artillery fire in Ukraine's Luhansk region in June 2014 where a shell killed two Russian television reporters. Savchenko denies the charges and has said that she was kidnapped in Ukraine and transferred to Russia against her will.
Savchenko faces up to 25 years in prison if found guilty. Prosecutors in the case last week called for a 23-year sentence.
One of almost a dozen Ukrainians currently held in Russia that the Ukrainian government labels political prisoners, Savchenko's case has generated significant popular outrage in Ukraine because of her role in the Ukrainian military and her fiercely outspoken stance. She was elected as a member of the Ukrainian parliament in November 2014 when already in captivity in Russia.
© Copyright IBTimes 2022. All rights reserved.
FOLLOW MORE IBT NEWS ON THE BELOW CHANNELS