New Year's Eve 2015 Live Stream: Where To Watch The Times Square Ball Drop On TV, Online [VIDEO]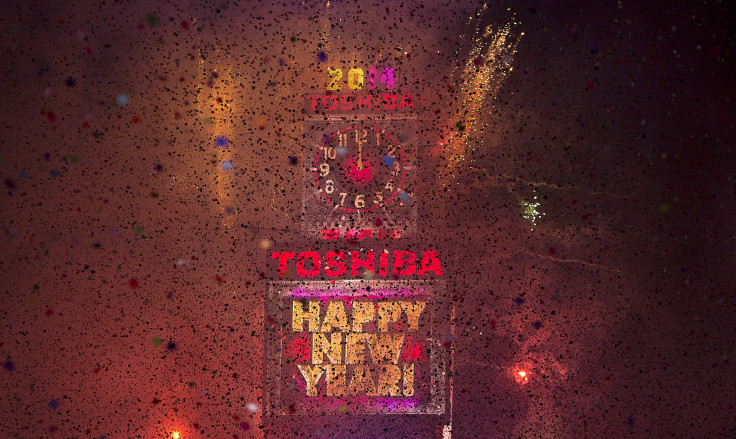 New Year's Eve 2015 in Times Square is the place to be to ring in the new year. Millions of visitors are expected in New York City for the event.
New Year's Eve Live Stream
But if you can't make it to the Big Apple or just don't want to deal with the crowds, checkpoints, below-freezing temperatures and lack of restrooms, you can watch a New Year's Eve live stream broadcast hosted by Allison Hagendorf beginning at 6 p.m. EST. The broadcast, courtesy of Ustream, Times Square Alliance and Countdown Entertainment, will include the ball raising, backstage interviews, hourly countdowns, all the musical performances and, of course, the ball drop at midnight.
"I think 2015 will be the year of video, so it's sort of fitting that we bring this into the new year with this really interactive, really HD, high-quality New Year's Eve presentation. Seeing the ball drop is something historic," UStream CEO Brad Hunstable said in an interview with International Business Times.
The New Year's Eve 2015 live stream goes live at 11 a.m. EST with views of Times Square, but the ball raising kicks off the official start of the broadcast at 6 p.m. EST. After the lighting and raising of the Times Square New Year's Eve ball, the Sino-American Friendship Association presents a Chinese cultural performance at 6:04 p.m. EST. Hagendorf and three other broadcasters will interview revelers at Times Square and keep viewers informed of the many events happening in NYC, including highlights from Good Riddance Day at 7:41 p.m. EST, the Waterford Crystal toast at 9:10 p.m. EST and hourly countdowns with Anderson Cooper and the cast of Broadway's "Aladdin." NASA and Toshiba will also have a special "Happy New Year" message at 8:16 p.m. EST.
The broadcast will include performances by O.A.R. and American Authors. At 8:01 p.m. EST, O.A.R will perform a set of their songs, and at 11:51 p.m. EST the group will perform a cover of John Lennon's "Imagine." From 9:14 p.m. EST to 9:25 p.m. EST, American Authors will perform "Believer" and "Best Day of My Life." Univision will present performances by Jencarlos Canela beginning at 10:01 p.m. EST, and Alejandra Guzmán, beginning at 11:02 p.m. EST, while the USO Show Troupe will perform a tribute to the armed forces.
For viewers online, Hunstable is optimistic that UStream's broadcast will provide a high-definition viewing experience that's capable of handling millions of people from around the world. "This will be a true broadcast quality stream in terms of production, the cameras and mics and producers. This is on the Internet, so you have to make sure you have a global infrastructure that can serve the millions of viewers. We've had viewers from Asia, massive viewership in South America and, of course, the biggest viewership in the United States," Hunstable said.
The Times Square Ball App (Google Play and iTunes) and the Times Square Crossroads App (Google Play and iTunes) will also host the New Year's Eve live stream.
New Year's Eve 2015 On TV
ABC's "Dick Clark's New Year's Rockin' Eve With Ryan Seacrest" will feature performances by Iggy Azalea, Bastille, Charli XCX, Jason Derulo, One Direction, Pentatonix, Rixton, Meghan Trainor, Brantley Gilbert, Ella Henderson, Nick Jonas, Nico & Vinz and Train from Los Angeles. From Times Square, Taylor Swift, Magic!, Florida Georgia Line and Idina Menzel. Remote performances from Gavin DeGraw and Lady Antebellum in Nashville as well as Elton John in Brooklyn will be part of the broadcast. Menzel will perform at 8:26 p.m. EST, Magic! at 9:32 p.m. EST, Florida Georgia Line at 10:37 p.m. EST and Swift at 11:39 p.m. EST.
NBC's "New Year's Eve With Carson Daly" begins at 10 p.m. EST and includes performances by Tony Bennett, Lady Gaga, Seth MacFarlane, Blake Shelton, Gwen Stefani and Pharrell Williams. Bennett and Lady Gaga will perform a duet as will Stefani and Williams. "The Voice" hosts have worked together on "Spark the Fire" and "Hollaback Girl."
"Pitbull's New Year's Revolution" airs on Fox beginning at 8 p.m. EST. Broadcasting from Miami, the event includes guests Enrique Iglesias, Fall Out Boy, the Band Perry, Fifth Harmony and Becky G. Pitbull will also perform a set to start 2015.
CNN's "New Year's Eve Live With Anderson Cooper & Kathy Griffin" begins at 9 p.m. EST. Instead of musical performances, CNN's New Year's Eve broadcast will feature reports from celebrations around the world including London, Moscow and Beijing.
© Copyright IBTimes 2023. All rights reserved.
FOLLOW MORE IBT NEWS ON THE BELOW CHANNELS