What's All The Buzz About? Massive Hive Of 40,000 Bees Removed From Queens, New York Home [VIDEO]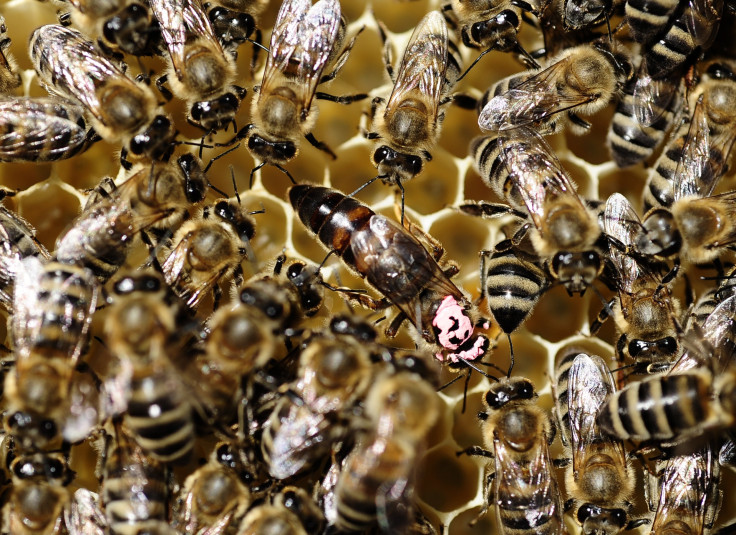 When Mary Jean Dyczko saw bees buzzing in and out of an opening in the exterior of her home, she knew it was time to call in the experts. Help arrived Monday night, and what ensued was a bee extraction that's nothing short of buzzworthy.
An enormous hive was discovered under the floor boards of Dyczko's second-floor bedroom in the Queens borough of New York City, near the Flushing Cemetery. Officials estimated around 40,000 bees had taken up residence in Dyczko's home. "I'm very relieved they're no longer in my house," Dyczko told the Gothamist. "I had no idea there were that many. When he opened up the boards and I saw the size of that hive it was amazing."
Dyczko had apparently called authorities in July of last year to report the bees. However, bee experts were concerned that if they removed the bees then, they wouldn't have survived the harsh winter. The extraction was best done in spring, they said, according to the Gothamist.
Anyhony Planakis, a retired NYPD detective-cum-expert bee catcher, was on the scene Monday night to extract the bees. He used an infrared camera mounted on a pole to locate the hive, which dripped with honey as it was pulled from below the bedroom floor. The process took more than two hours, according to New York Daily News.
Planakis was able to locate the hive's queen. Beekeepers will relocate the colony to a bee-friendly location upstate, where the bees can go about their business in peace.
More bees are appearing in New York City as the weather warms. Bee swarms are known to pop up every now and then in public places, much to the dismay of city residents. Another bee incident took place Monday in Staten Island, where bees swarmed an American flag outside a Westerleigh neighborhood home.
The rise in bee encounters has been partly blamed on the city lifting a ban on raising honeybees within city limits in March 2010. Since then, hundreds of hives have been registered with the city's Department of Health and Mental Hygiene, according to the New York Times. Beekeepers often keep their bee hives on rooftops.
© Copyright IBTimes 2023. All rights reserved.
FOLLOW MORE IBT NEWS ON THE BELOW CHANNELS