Puma, Nintendo To Release NES- And 'Super Mario'-Themed Sneakers For Christmas
KEY POINTS
Puma will be releasing a new pair of shoes featuring details from "Super Mario Bros." and the NES
The sneakers were created in collaboration with Nintendo
The shoes will be available starting Dec. 4
Puma, in collaboration with video game giant Nintendo, is releasing a new pair of shoes that just might be the perfect Christmas gift for those who love "Super Mario" and enjoyed playing games via the Nintendo Entertainment System (NES).
The new Future Rider NES men's sneakers will be Puma's latest offering once it gets released next month, specifically on Dec. 4. The release date indicates that the shoe company, and Nintendo, intends to make it part of the video gamer's Christmas shopping list, either for himself or for others.
The new sneaker was designed with the classic video game console in mind and also features some details that will usher in the nostalgia for those who played the original "Super Mario Bros." on the NES (in the U.S.) or the Nintendo Family Computer (FAMICOM) in Japan.
Here's a quick look at the shoes' features: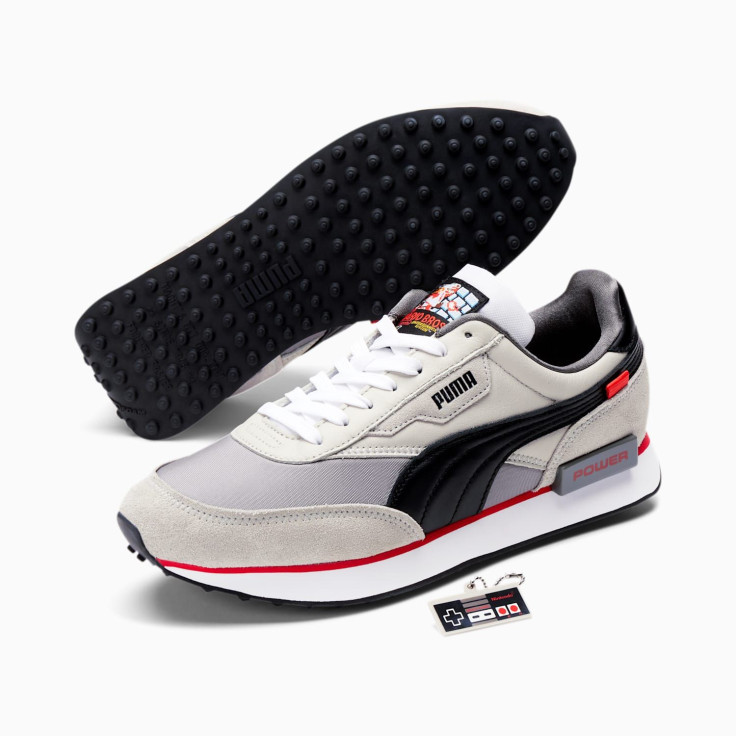 NES design
Just one look at the Future Rider Nintendo Entertainment System sneakers and fans will quickly notice that it features the same color scheme as the NES console. It has a nice combination of gray and violet, accented with reds, whites and blacks.
The left shoe features a design that looks like the "Power" button on the NES controller. The right shoe, on the other hand, features a "Reset" button, completing the look.
Buyers shouldn't look for the directional pad and face buttons, though, as there isn't any. Puma, however, included a small keychain that looks like the NES controller for those who might want it.
"Super Mario Bros." details
At the tongue is a small detail that looks like the same sticker label used for the "Super Mario Bros." cartridge for the NES.
But while that may seem like the only detail referring to the world's favorite plumber, it's not. The insole also features a print showing Mario's enemy, Bowser, standing on the bridge in the original video game. Wearing the shoes will feel like stepping on him all the time.
Other details
Puma says the Future Rider Nintendo Entertainment System men's sneakers will be available to order starting Dec. 4. It will sell for $90 per pair and can be paid in four monthly installments of $22.50 via AfterPay.
This is not the only pair of shoes the footwear and lifestyle company created in collaboration with Nintendo. Those who want to see the other "Super Mario"-themed shoes can go to this website to see it for themselves.
© Copyright IBTimes 2023. All rights reserved.