Putin Asks Belarus And Kazakhstan To Unite Their Currencies With Ruble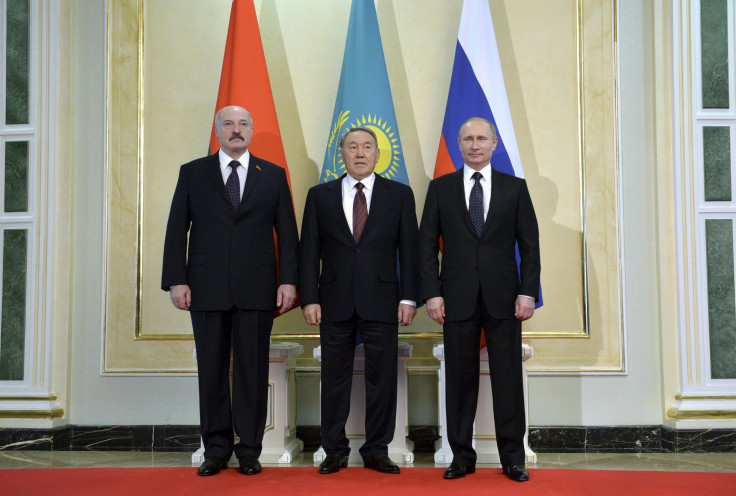 Russian President Vladimir Putin on Friday proposed a currency union to the leaders of Belarus and Kazakhstan. All three countries are a part of the Eurasian Economic Union, a political and economic bloc of former Soviet republics.
At the meeting, which took place in Kazakhstan's capital Astana, the leaders discussed the economic problems facing the three countries. Russia has been slapped with economic sanctions for its alleged role in the conflict in eastern Ukraine while the Belarusian ruble has taken a hit in recent months -- it fell about 30 percent in January -- while oil-rich Kazakhstan has been hit by the global slump in oil prices.
"We think the time has come to talk about the possibility of forming a currency union. Working shoulder to shoulder, it's easier to react to external financial and economic threats and protect our joint market," Putin said after the meeting, according to Sputnik News.
The Russian currency has lost nearly half of its value since mid-March last year, amid the ongoing conflict in eastern Ukraine. World powers, including the U.S. and European Union, have sought to punish Russia with sanctions following the latter's annexation of Crimea, and for its alleged role in destabilizing Ukraine. Russia has denied its involvement in the Ukrainian conflict but has admitted that Russian troops were present in Crimea before its split from Ukraine. Between March and December 2014, the ruble had depreciated by about 50 percent, and has recovered slightly since then.
At the Astana meeting, with Belarussian President Alexander Lukashenko and Kazakhstan's President Nursultan Nazarbayev, Putin also addressed the conflict in eastern Ukraine, according to Reuters. "I hope the Kiev authorities will gradually implement the agreements (for ending the conflict) reached in (the Belarussian capital) Minsk."
© Copyright IBTimes 2023. All rights reserved.