Putin Says Russia Will 'Respect' The Outcome Of Ukraine Vote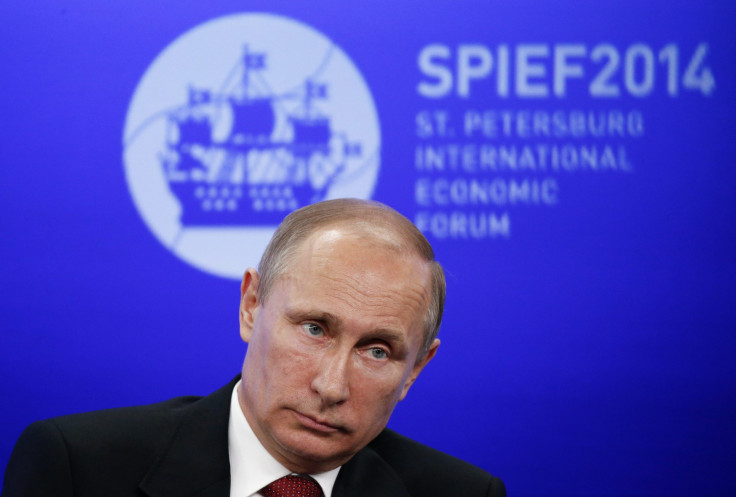 Speaking at an economic conference in St. Petersburg Friday, Russian President Vladimir Putin said he would "respect the choice of the Ukrainian people" in the presidential election scheduled for Sunday. He added that he hopes Ukraine will stop its military operations in the east and said the country has descended into a "full-scale civil war."
"We understand that the people of Ukraine want their country to emerge from this crisis. We will treat their choice with respect," Putin said. "It would have been better to hold a referendum and adopt a new constitution. Under the current constitution Yanukovych is still in power," he added.
Ukrainian President Viktor Yanukovych was deposed by the Verkhovna Rada, Ukraine's parliament, in February and fled the country.
In a televised address from Kiev, Ukraine's acting President Oleksandr Turchynov, who is not running, urged citizens to participate in Sunday's vote.
"Today, we are building a new European country the foundation of which was laid by millions of Ukrainians who proved that they are capable of defending their own choice and their country," Turchynov said. "We will never allow anyone to rob us of our freedom and independence, turn our Ukraine into a part of the post-Soviet empire."
While the vote is meant to unify the country, which is divided by the western regions looking toward Europe and eastern parts toward Russia, officials say it will be impossible to hold elections in eastern cities like Donetsk and Luhansk, where pro-Russian insurgents have declared independence and have continued to stir unrest in the region.
Joao Soares, coordinator of the Organization for Security and Cooperation in Europe, which is observing the election, said Friday he expects problems with voting in "less than 20 percent of the polling stations."
© Copyright IBTimes 2023. All rights reserved.