Putin Vows To Respect Ukrainian Elections - Because He Expects The Vote To Go His Way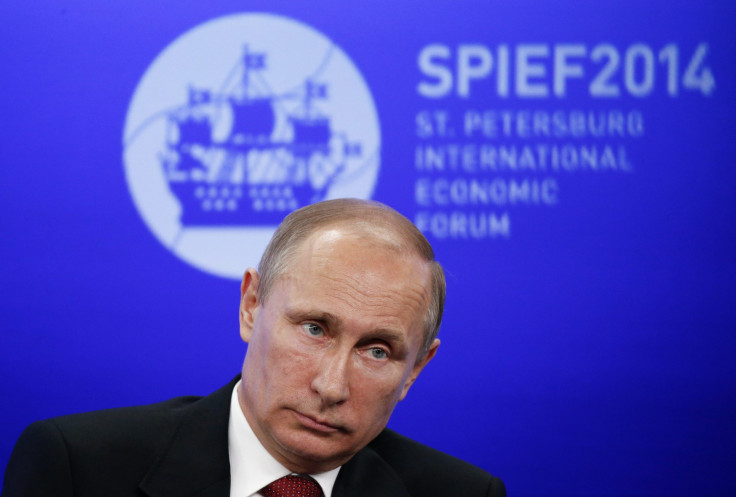 Russian President Vladimir Putin said Friday that he would respect Ukraine's presidential vote in the upcoming elections Sunday, but warned that the "dangerous civil war" in the country could escalate.
"We understand that the people of Ukraine want their country to emerge from this crisis. We will treat their choice with respect," Putin said during an international economic forum in St. Petersburg.
"Putin has been hinting this way for a week or 10 days," Jeffrey Mankoff, deputy director of the Russia and Eurasia Program at the Center for Strategic and International Studies, said. "It signals that Russia feels like it can get what it wants through the political process in place and doesn't need to further escalate the confrontation with the West."
Elections in Ukraine will take place Sunday and Petro Poroshenko, former minister of foreign affairs and minister of trade and economic development, is expected to beat Prime Minister Yulia V. Tymoshenko. Experts say Putin is more likely to support a Poroshenko victory.
Seth Cropsey, senior fellow at the Hudson Institute in Washington, said it is unlikely Putin will accept the election result "unless it turns out in his favor."
In an interview with Rada television channel, U.S. Ambassador to Ukraine Geoffrey Pyatt has called it "the most important election in the history of independent Ukraine." But the election of a new president will most likely not change anything in the government because Ukraine's government is a parliamentary system. The next parliamentary elections are not scheduled until 2017.
According to a report in the Kyiv Post, 85 percent of Ukrainians said they plan to vote, but it is unclear how many polling stations will be open in the eastern part of the country because of the increasing unrest.
Five hundred pro-Russia insurgents clashed with soldiers in the eastern part of the country Friday and 20 rebels were killed, according to the Associated Press. On Thursday, at least 13 Ukrainian troops died in an attack on a military checkpoint in the Donetsk region of eastern Ukraine. According to Ukraine's foreign ministry, Russian militants tried to cross the border in the region of Luhansk earlier in the week.
It is unclear how the tensions in the eastern part of the country will develop in the coming days. Putin's vow to respect the electoral process may lessen the violence in the next few days. But his warning about the dangers of a civil war makes clear that he is unlikely to change his views or his tactics in Ukraine.
"I don't think the crisis is over or that we are out of the woods," Mankoff said.
© Copyright IBTimes 2023. All rights reserved.