'Quake Champions' Launches Large Scale Tech Test Open Beta For A Limited Time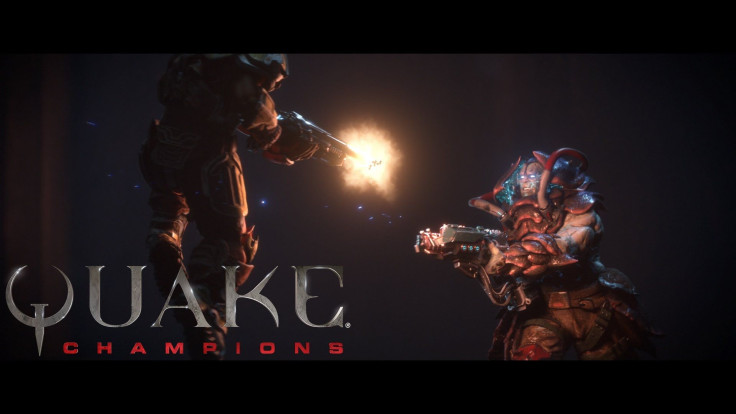 Quake Champions has been in the works for a while and soon, all players will be able to get a limited early peek at the upcoming first-person shooter. Bethesda Softworks said all players will be able to get an extended look at Quake Champions during its limited large-scale tech test open beta.
The beta, which runs from May 12-21, will let all players play Quake Champions for an unlimited time. Players will also be able to try out Sacrifice, a new game mode that pits teams of four players against each other.
Read: Quake Champions Beta Release Date Starts Next Week
From the post:
"No wondering if you're going to get a code – you'll get it right away! Unlike the previous weekends-only structure, the game will remain live 24/7 during the tech test. Test out all the currently available Champions and maps for nine days straight and let us know what you think in the Quake Champions forums.

"When the Tech Test goes live on May 12, the player NDA will officially drop, meaning you'll be able to stream, capture, share and discuss the game publicly! We can't wait to see you all show off your skills online."
Earlier this year, Bethesda and developer id Software started a closed beta for the game, in which players needed to register and receive a code for entry. In addition, the game could be played only on the weekends. With the extended open beta, though, the game will open up to more Quake fans for a limited time.
Quake Champions will launch on Windows PC and is slated to be released later this year at an unconfirmed date.
Quake Champions was initially revealed at E3 2016 as a PC exclusive and is the first game in the series since 2005's Quake 4. The game will be a free-to-play title, but will also have an optional purchase that'll unlock an expanded catalog of playable characters with unique abilities. Tim Willits, creative director at id Software, told Polygon the basic for-pay option was intended to bring the game to as many potential players as possible.
Read: Overwatch Leak? Doomfist, Single-Player Mode, May Event And More
"At its core, it's a free-to-play game, with the option to buy the Champion Pack and just get in and play with all the Champions," Willits told Polygon. "There are a number of Quake players that just want to play their Quake , right? And they are familiar with the business model of our previous games, and they are totally fine. 'I want to buy the game. I want to start playing. I want to have access to all the Champions.'
"But then we also understand that we want to get as many people into the game as possible, especially outside of North America and Western Europe, where we have a massive fan base. So we want to have the flexibility to have a free-to-play option for those people."
© Copyright IBTimes 2023. All rights reserved.
FOLLOW MORE IBT NEWS ON THE BELOW CHANNELS