Rachel Dolezal And The 'Transracial' Problem: Adoptees, Parents Speak Out On Comparison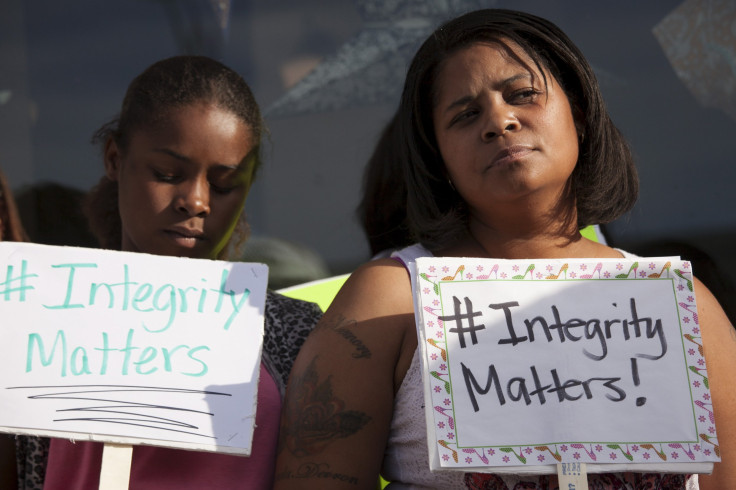 Angela Tucker, 29, identifies herself as a "transracial adoptee." She was born into a black family down South and lived in foster care until she was 1, when a white couple from Bellingham, Washington, adopted her. Although Tucker grew up in a predominately white neighborhood, her adoptive parents took her to black hair salons and embraced African-American culture at home as well as the cultures of their other transracial adopted children.
"I didn't feel white in my family. I was one of the few black kids in school, but I certainly don't identify as white and I never have," Tucker said in a telephone interview Wednesday. "I have always considered myself to be a transracial adoptee."
For decades, "transracial" has been used by academics, groups, parents and their adopted children to describe the adoption of a child that is racially different than the adoptive parents. But the term is now being used to describe Rachel Dolezal, a former NAACP chapter president who made international headlines in recent days when she was outed as a white woman posing as black. The correlation has offended Tucker and nearly two dozen other adoptees, adoptive parents and educators who on Tuesday signed "An Open Letter: Why Co-opting 'Transracial' in the Case of Rachel Dolezal is Problematic." The letter said applying the term "transracial" to Dolezal appropriates the voices, cultures and identities of the lives of those who are adopted by a family of another race.
"It's a word that holds a lot of power and a lot of meaning for us who have been raised in communities that don't reflect our physical racial makeup," Tucker said in a telephone interview Wednesday. "We've had to work really hard to find that and so that struggle is what unites us when we use that word."
Kimberly McKee, 31, was adopted at 5 months old from South Korea into a white family in the suburbs of Rochester, New York. McKee, who also signed the letter, said Dolezal's story is overshadowing the experiences of her four transracial adopted siblings.
The letter also raised concerns about comparisons between Dolezal as a so-called transracial woman and Caitlyn Jenner, the athlete formerly known as Bruce who is now a transgender woman. McKee, an assistant professor at Grand Valley State University in Michigan and the assistant director of KAAN (The Korean Adoptee Adopted Family Network), said the comparison is both flawed and offensive.
"We need to respect the folks doing the work in those communities and make sure we're not making false correlations between what Rachel is doing and what folks in these communities have been doing," McKee said in a telephone interview Wednesday. "What does it mean when we start talking about transracial? Whose voices are we overlooking and missing in favor of this one story?"
Dolezal, a prominent civil rights activist, said she identifies as a black woman. But her biological parents said their daughter has misrepresented herself as African-American in an effort to cut ties with the family and her white heritage. Dolezal's physical transition from white to black became more noticeable after she divorced her black husband. Dolezal lives in Spokane, Washington, with their son and she has also assumed guardianship of her black adopted brother, Izaiah, whom she has reared as her own.
In an interview on NBC Tuesday, Dolezal told "Today" host Matt Lauer, "I certainly can't be seen as white and be Izaiah's mom." Her comment baffled many adoptive parents and transracial adoptees.
"It was funny to me because I know so many white parents who are successfully doing a great job raising their kids, my parents included," said Tucker, a social worker in Seattle who was the subject of a documentary on transracial adoption called "Closure." "If they had become any of the races of their children, it would have been a slap in the face. They would be lying to us."
Elizabeth Bartholet, a law professor at Harvard Law School, has a birth child as well as two children she adopted from Peru. Bartholet said she identifies as the mother of all three of her children, no matter their cultural background.
"But that doesn't mean I'm going to say to people, 'I was born Peruvian,'" she said in a telephone interview Wednesday.
Bartholet, who specializes in child welfare and adoption, said parents should embrace the cultures of their transracial adopted children without having to lie about their own racial identity.
"I don't think people should feel there's something inherently wrong or problematic with parenting children of a different race or marrying people of a different race," Bartholet said. "I wouldn't agree with [Dolezal] if she felt there was some need to become black-looking in order to raise those children. Though, I can understand some people might feel that would make it easier."
Bartholet said she thinks the term "transracial," which is defined in the dictionary as "across or crossing racial boundaries," can appropriately apply to Dolezal as well as transracial adoptees.
"I don't see any objection to thinking of this woman as transracial," Bartholet said. "I think of the word in connection with transracial adoption – crossing identity lines in the formation of their family. It doesn't seem to be totally different from an individual who has crossed her own identity line."
Dolezal, who tans her skin and braids her hair, told MSNBC host Melissa Harris-Perry on Tuesday that she is black. But Tucker said Dolezal will never truly understand black identity because she was born white and has escaped black issues such as the stereotype against natural African-American hair.
"I think she's putting this costume on and she doesn't have to take all the historical struggles as well that comes along with being black. It's frustrating," Tucker said. "If she were to identify as a white ally and continue to do incredible work for people of color, that would be profound. I would love for her to own that instead."
© Copyright IBTimes 2023. All rights reserved.