Rachel Dolezal's Many Lies: A Comprehensive List Based On What We Know So Far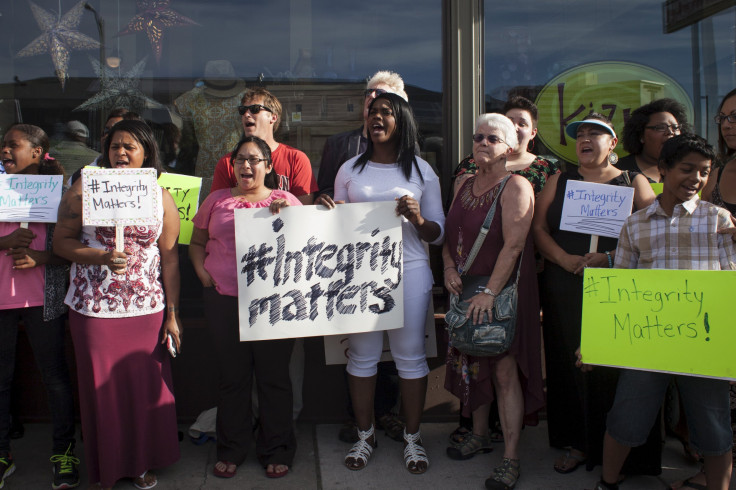 Rachel Dolezal was exposed last week by her family as a white woman who presented herself and identified as black for years. Dolezal, an Africana studies professor who has since resigned as the president of the Spokane, Washington, chapter of the National Association for the Advancement of Colored People, said she is unsure of her racial background, but sees herself as a black woman in a story that has captured the nation and launched heated debates about what it means to be black or white.
But her family said she is lying about her race and background. Ezra Dolezal, who was adopted by Rachel's parents, told CNN Wednesday that his sister's lies were growing bigger by the day. "I think ... she's too nervous to just admit that she's not been telling the truth," he said. "[That] is why she keeps on making up more and more lies to help fit the story as it goes."
While it's unclear who is telling the truth in the family's increasingly bizarre saga, pictures of a young Rachel Dolezal reveal a blond, pale-skinned woman. She now appears with black curly hair and tan skin. Below are some of the biggest alleged lies Rachel, 37, has told based on what we know so far about her story.
She is black. "They can DNA test me if they want to," she told a newspaper last week before her story made national headlines. "I would caution you on all of this. This is ridiculous."
A black man is her father. Dolezal at one point claimed her father was a black man who was forced to move from the Deep South after assaulting a police officer. "My dad's exodus, the great migration to the North from the Deep South where they left on the midnight train because a white officer harassed and threatened to, was about ready to, beat his dad with a billy club and he whipped around and actually slapped the officer to his knees," she said. But Lawrence Dolezal, a white man from Troy, Montana, said he is Rachel's birth father. "We taught our children, as we raised all six of them, to tell the truth, always be honest. So we weren't going to lie. We told the truth: Rachel is our birth daughter," he said.
"Jesus Christ" is the witness on her birth certificate. Rachel once told a reporter her mother believed in living off the land, so she had a nontraditional birth. But Ruthanne and Lawrence Dolezal have shared her birth certificate with reporters. A witness is not listed.
Her family hunted for food with bows and arrows and they lived in a tepee. "That is totally false," Ruthanne said. Dolezal's mother said she and her husband lived in a tepee in 1974 when they were first married, before their daughter was born. "That was the end of living in the tepee," Ruthanne said.
Her black adopted brother is her son. Rachel has said Izaiah Dolezal is her son, but he was actually adopted by her parents. Between 1993 and 1995, Ruthanne and Lawrence adopted four black children: Ezra, Izaiah, Zachariah and Esther. Rachel has offered different versions of this story. "He used to be my brother," she said recently. "But I have full custody of him now."
She used brown crayons to draw herself as a child. Dolezal said she has long identified with the African-American experience, as evident by her choice at the age of 5 to draw self-portraits in brown instead of peach crayon and with black curly hair. "I identify as black," she told NBC's Matt Lauer. But her mother directly disputed the childhood story in an interview with NBC Spokane affiliate KHQ. "That didn't happen," said Ruthanne. "It's disappointing to see that Rachel is still making false statements ... I was hoping to see a change."
Her parents might not be her birth mother and father: Dolezal said she could be black because she isn't sure about the identity of her real parents. "I haven't had a DNA test," she said Tuesday. "There's been no biological proof that Larry and Ruthanne are my biological parents."
But Rachel's black adopted brother Ezra, 22, said there is no doubt that Ruthanne and Lawrence are her biological parents. "I guarantee that she is not going to take a DNA test to prove that [they] are not her parents," he told CNN's "New Day" on Wednesday. "Because they are, and she doesn't want to be caught going back on her story again."
Her white biological brother is a sexual abuser. A trial is set for August in the case against Joshua Dolezal, who is accused of sexually abusing a female sibling in 2001 or 2002 when the child was 6 or 7 years old, according to court documents obtained by People. He faces four felony counts of sexual assault on a child in 2013 by the Clear Creek County District Attorney's Office in Colorado. "That is all a malicious false lie," Dolezal's mother told People. "[Rachel] is the one who initiated it. We know it is not true."
The abuse allegations allegedly arose after Rachel tried to adopt her young black brother, who was first adopted by her parents. "Josh called Rachel out on that and told her it was wrong what she did, taking my parents to court over my brother, and Rachel didn't like that," Ezra said. "Basically Rachel has been constantly trying to get at Josh since then."
She let her employer think she was black. Dolezal took a position as an adjunct instructor of Africana Studies in 2010 and let others believe she was black. Her race was never questioned by faculty, said Scott Finnie, director of the Africana Studies Program at Eastern Washington University, in Cheney, Washington. "It was assumed that she was black," Finnie told International Business Times Friday. "Her own ethnicity was not germane to her being adequately credentialed to teach the courses that we needed her to [teach]," he added.
© Copyright IBTimes 2022. All rights reserved.
FOLLOW MORE IBT NEWS ON THE BELOW CHANNELS