Rachel Dolezal Parents New Interview: She Slowly Took On Black Identity, They Say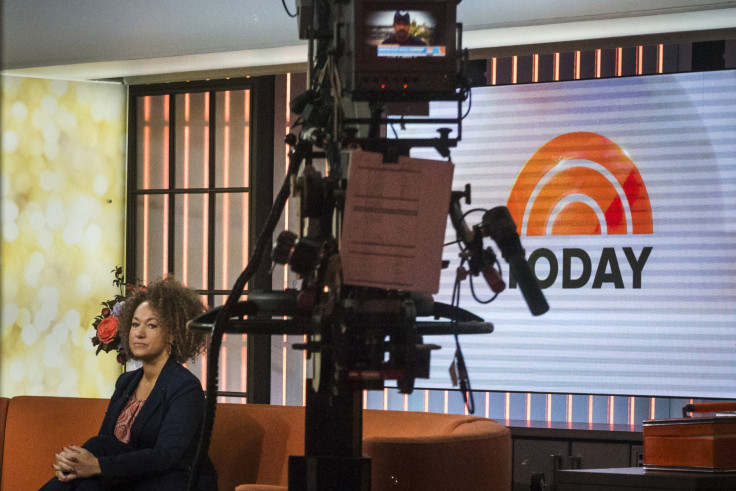 Larry and Ruthanne Dolezal said their daughter Rachel never showed any signs of wanting to be black as a young child. But the white couple recalled an evident change in her artwork after they adopted black children when she was a teenager. Rachel, who appears with fair skin and blond hair in family photos, was very excited to have siblings who were ethnically different from her. She began almost exclusively painting and sculpting portraits of African-Americans.
"It was very noticeable," Larry said in a telephone interview Tuesday. "She loved the black people and embraced black as beautiful."
Jolivette Anderson-Douoning, an educator and poet, met Rachel Dolezal a few years later when she was an undergraduate student at Belhaven University in Jackson, Mississippi. Dolezal had submitted her artwork for exhibition at the local Smith Robertson Museum and Cultural Center, which explores the African-American experience in the Deep South. The museum's curator asked Anderson-Douoning to join in a meeting with Dolezal to review her work before agreeing to present it. Anderson-Douoning, who is black, was shocked to see the artist was a white woman.
"I was extremely confused about Rachel," Anderson-Duouning said in a telephone interview Tuesday. "She was white. She identified as white, knowing that she was a white person doing black art. But she also had a passion and consciousness about black life and culture."
Dolezal's physical transition from white to black followed gradually. Today, she is a 37-year-old woman with a caramel complexion and dark curly hair who has become a prominent civil rights activist in the Pacific Northwest. Dolezal stepped down as president of the Spokane, Washington, chapter of the National Association for the Advancement of Colored People (NAACP) on Monday after an "unexpected firestorm" exploded in recent days over whether she had misrepresented people about her race. Dolezal's biological family said she has tried to detach from her white heritage through lies and deceit. But her friends said she has redefined herself by embracing the cultural identity of a black woman.
Anderson-Douoning performed poetry the night of Dolezal's exhibition, and the two have remained friends since. Dolezal married a black man, Kevin Moore, and gave birth to a son. She graduated from Howard University in Washington, D.C., with a master's degree in fine art in 2002. That same year, she sued the historically black school for denying her a scholarship and teaching appointments because she was white. Howard University did not respond to requests for comment.
"She felt she was treated badly at Howard," Anderson-Douoning said. "I think she understood supremacy and racism so much so she possibly viewed the way she was treated as a product of white supremacy. She started hating the system that made black people hate her."
Dolezal subsequently filed for divorce from her husband in 2004. Larry and Ruthanne Dolezal said she became hostile toward the family after her divorce. They said they have not spoken to her since May 2013, at their daughter's request. The family became further divided over allegations of abuse. Rachel's biological brother Joshua Dolezal is facing trial in Colorado on charges he sexually abused a black child in 2001. The Dolezals said Rachel orchestrated the allegations so she could gain guardianship over her adopted black brother, Izaiah, according to the Washington Post. Larry and Ruthanne said their daughter's lies are based in a need she feels to destroy her biological family.
"She has to face these issues in her life," Ruthanne said. "Rachel, we love you and we pray that you will find the help you need to work through these issues because you can't really move on with your life unless you do."
Dolezal moved to Idaho and then Washington, which was around the time Anderson-Douoning began noticing changes in her appearance in her Facebook photos. Dolezal later revealed to her friend that she was raising Izaiah as her son and was going to tanning salons and braiding her hair.
"It was never said, 'I'm living as a black woman,' " Anderson-Douoning said. "I just knew that by her going tanning and having braids that she wanted to look a certain way -- largely to protect her kids."
Dolezal worked for years as an adjunct instructor of Africana Studies at Eastern Washington University in Cheney, where faculty assumed she was black. But her identity as an African-American woman was shattered last week when a Spokane newspaper contacted the Dolezals after allegations surfaced that their daughter had reported false hate crimes. The reporter inquired about Rachel's ethnicity. Larry and Ruthanne said they told the truth – that their daughter is white. Their story of a white daughter posing as a black woman became an international sensation.
"They were doing an article on Rachel because of the investigation. They were just looking deeper," Ruthanne said. "We had no idea when we were contacted by the newspaper that when we answered their question, we would end up in this kind of international news focus."
The Dolezals applauded Rachel's advocacy efforts with the Spokane NAACP but said it does not excuse her trail of falsehoods. Rachel claimed she had a black father and that she once lived in South Africa where she hunted for food with a bow and arrow. "I think at this stage, she firmly believes her lies," Ruthanne said. "This case with Rachel poses the question, is it OK to lie?"
Nadirah Moreland, an educator of social justice and equity in Washington, D.C., met Dolezal at a workshop one weekend in Baltimore in 2009. Dolezal joined Moreland's group of African-American women to discuss diversity. Rachel had tan skin, long braids and was charismatic. Moreland assumed she was black or biracial, and was frustrated to learn she is not.
"It's not even about her being white. We need white allies to be a part of this movement. The issue is that she's lied repeatedly in really problematic ways," Moreland said in a telephone interview Tuesday. "It doesn't matter how she wears her hair. It matters if she has integrity."
In an interview Tuesday on MSNBC, Dolezal told host Melissa Harris-Perry she is black and that she knows what it means to be black. "I've really gone there with the experience in terms of being a mother of two black sons, and really owning what it means to experience and live black," she said.
Anderson-Duouning said the former NAACP chapter head failed to make clear whether she is black or white, which has led to assumptions and ambiguities. But the situation is complicated by the fact that Dolezal truly sees herself as a black woman, she said.
"I think she has embraced a black cultural identity," Anderson-Duouning said. "We feel deceived, but I don't think Rachel feels she is deceiving herself at this moment."
Anderson-Duouning, who first knew Dolezal as white, paused to think when asked whether she considered her to be black. "That would be a yes and a no answer. She's a sister to me and that says a lot," she said. "She's a white woman, yes. She's a black woman, yes."
© Copyright IBTimes 2023. All rights reserved.
FOLLOW MORE IBT NEWS ON THE BELOW CHANNELS