Rams, Saints Betting Odds: Which Team Has The Better Shot Of Winning The 2019 Super Bowl?
Entering Week 16, the New Orleans Saints and Los Angeles Rams are the top favorites to win Super Bowl LIII in Atlanta.
According to oddsmakers, the Saints are the clear frontrunners at 11/2 odds. The Rams have the second-best odds at 13/2. The Saints also have much stronger odds (5/6) to win the NFC Championship than the Rams (13/5).
The Saints have the edge for home-field advantage. New Orleans owns the league-best record (11-2) and defeated the Rams (10-3) in Week 9.
However, the Saints have the tougher schedule, with a road game Sunday against the Pittsburgh Steelers and ending the season at home against the Carolina Panthers. The Panthers on Wednesday announced they were shutting down quarterback Cam Newton for the season due to a shoulder injury.
The Rams end the season with a road game against the Arizona Cardinals on Sunday followed by a home game against the San Francisco 49ers on Dec. 30. The Cardinals and 49ers have combined for just seven wins this season.
Entering the season, the Rams shared the second-best Super Bowl odds (10/1) with the Minnesota Vikings and Steelers, while six teams were ahead of the Saints (14/1). The New England Patriots entered the season as the clear favorites (6/1) to win the Super Bowl.
The last time the Saints reached the Super Bowl was in 2010. The Rams haven't reached the Super Bowl since 2002.
The Kansas City Chiefs have the best Super Bowl odds in the AFC at 13/2, while the Patriots are listed at 17/2.
Super Bowl Betting Odds (Vegas Insider)
New Orleans Saints, 2/1
Los Angeles Rams, 11/2
Kansas City Chiefs, 13/2
New England Patriots, 17/2
Los Angeles Chargers, 10/1
Chicago Bears, 15/1
Houston Texans, 16/1
Pittsburgh Steelers, 20/1
Dallas Cowboys, 30/1
Minnesota Vikings, 35/1
Seattle Seahawks, 45/1
Baltimore Ravens, 60/1
Indianapolis Colts, 75/1
Tennessee Titans, 100/1
Philadelphia Eagles, 150/1
Carolina Panthers, 500/1
Miami Dolphins, 1000/1
Washington Redskins, 1500/1
Cleveland Browns, 5000/1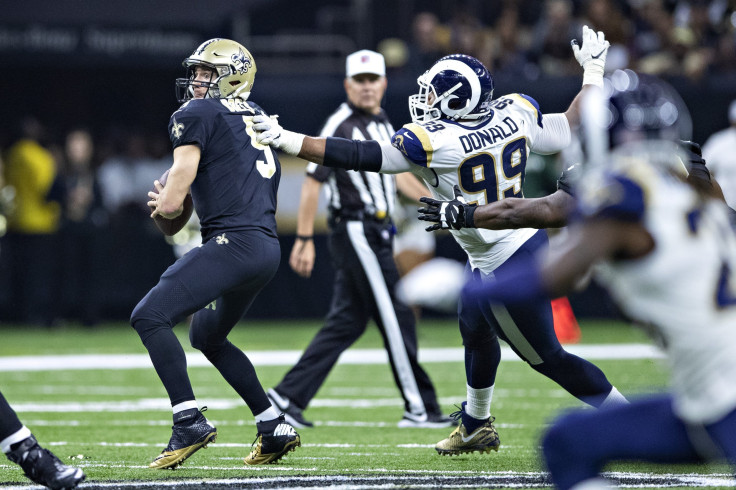 © Copyright IBTimes 2023. All rights reserved.