Ratko Mladic War Crimes Trial Postponed After Procedural Snag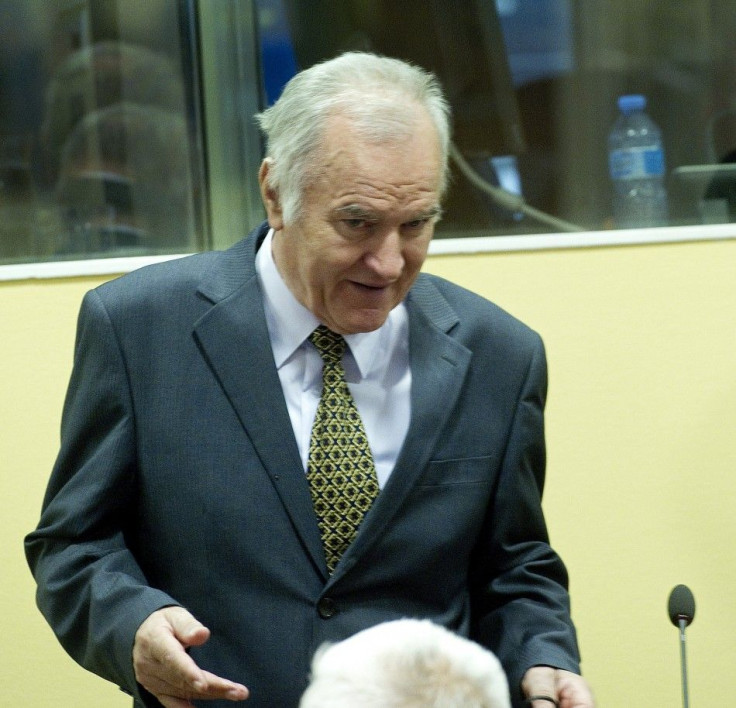 Former Bosnian Serb commander Ratko Mladic's trial on charges of war crimes was postponed indefinitely due to a procedural snafu, prolonging a hearing that has already taken over a decade to get started.
Prosecutors failed to disclose about 7,000 pages of evidence to Mladic's defense lawyer, what the BBC reported is a clerical error that may delay proceedings at least six months. The Serbian general's attorneys are obliged to receive all evidence against Mladic.
The former general faces 11 charges of war crimes.
The prosecutors submitted the documents on the second day of the trial, largely covering witnesses due to testify about Mladic's alleged role in the 1995 massacre of 7,000 men and boy in Srebrenica, Bosnia.
Presiding judge Alphons Orie said the significant disclosure errors by prosecutors led to the trial's delay, with a re-start date given once the scope and full impact of the error is assessed. The documents were supposed to be uploaded onto a database available to Mladic's defense.
Prosecutors acknowledged the errors in a letter to Mladic's lawyer and did not object to a possible delay.
We sincerely apologise for the inconvenience that these missing materials... may have caused to you, the letter said, according to the BBC.
The presentation of evidence was slated for the end of May. Should the defense attorneys be granted their wish, the trial would be set back significantly, as the court takes a three-week summer break in July, court spokeswoman Nerma Jelacic told the AP.
The procedural hiccup followed prosecutors' initial stab at describing the havoc that befell Srebrenica as Mladic's Bosnian Serb forces approached. The evidence included scenes of panic in the village as the army moved closer, as well as what prosecuting counselor Peter McCloskey said was radio intercepts proving Mladic was clearly in command of the forces.
We have radio intercepts of VRS [Bosnian Serb] soldiers and officers discussing murders. We have video of two of the actual executions themselves. So let me be perfectly clear, the crime will not be the main focus of this prosecution. This case will be primarily about one issue. The individual criminal responsibility of Ratko Mladic, he said, according to the BBC.
The video reportedly shows Mladic speaking directly into the camera, saying We give this town to the Serb nation as a gift. The time has come to take revenge on the Muslims.
Mladic refused to enter a plea in the trial, with the court submitting a not guilty on his behalf.
Along with the Srebrenica massacre, Mladic is accused of leading the 43-month siege of the Bosnian capital Sarajevo, in which more than an estimated 10,000 people were killed.
© Copyright IBTimes 2023. All rights reserved.