Real Madrid To Lose Top Prospect, Possible Bid Already Declined By Director
KEY POINTS
Real Madrid unlikely to sign Rennes star Eduardo Camavinga
Rennes' sporting director said they will refuse Real Madrid if the club makes an offer for Camavinga
Camavinga and his father want to end the former's working relationship with his current agent
Real Madrid already has the slimmest chance of signing one of its top prospects before the club can even make an offer.
Los Blancos were able to keep their La Liga title hopes alive as they managed to stay within striking distance of their ultimate rivals, Barcelona. However, the club may not have the same good fortune during the transfer window.
Eduardo Camavinga has been a target of Real Madrid for quite some time now. In recent weeks, reports have claimed that offers are already being prepared despite the fact that the Rennes star is still tied up until 2022.
Real Madrid's chances of landing Camavinga have been great. But things are now getting a bit bumpy for the Spanish side as sources revealed that Rennes' possible qualification for the Champions League is affecting Camavinga's decision-making. On top of that, the French side's sporting director, Florian Maurice, has been vocal about his desire to keep the talented youngster.
In a recent interview with RMC Sport (via Marca), Holveck revealed that he has not seen any real interest in the player coming from Madrid. But he also made it clear that should Los Blancos make an offer, the answer will be "no."
"Camavinga's departure has not been discussed. There has never been any real interest. Since my arrival [in April], it was clear to me that we would do the project with him," Maurice pointed out.
"If Real Madrid offer 80 million euros ($90.2 million), as is said, for him? The answer is no. We want to continue with him so that he continues to develop at Rennes," he added.
However, Maurice also said that if Camavinga himself wants to leave, he would "listen to him."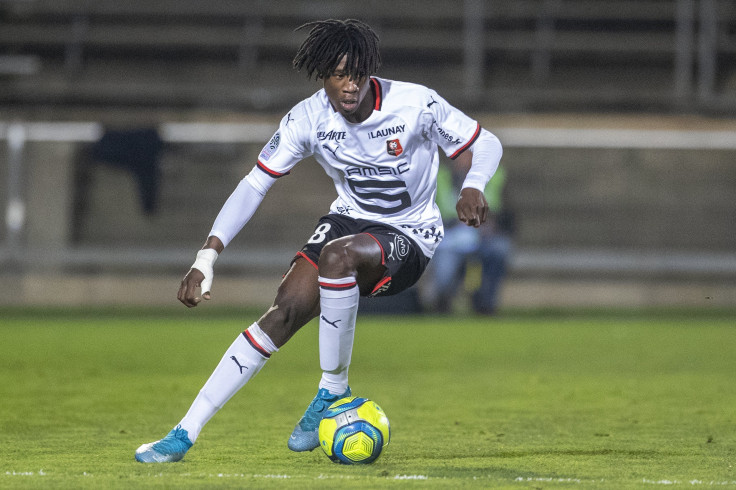 Another complication surrounding Camavinga's future is his working relationship with his agent, Moussa Sissoko, who also deals with Barcelona's Ousmane Dembélé. Sources claimed that the 17-year-old's father wants to cut his son's ties with Sissoko due to his "bad reputation." Camavinga's dad reportedly fears that Sissoko might affect the future and reputation of his son, who is on the verge of becoming one of the sport's next superstars.
Camavinga has proven his worth this season at Ligue 1. As early as now, some fans are already seeing similarities between his game and that of former Barcelona superstar Andres Iniesta.
The Frenchman has emerged as a surprising talent, making him a target of the big clubs across Europe's top five leagues. Manchester United was previously mentioned as one of his suitors, but recent reports claimed that teams, except for Real Madrid, have eventually pulled out from pursuing the Rennes' sensation.
© Copyright IBTimes 2023. All rights reserved.