Remembering IBT Media CruxialCIO Editor Tom Steinert-Threlkeld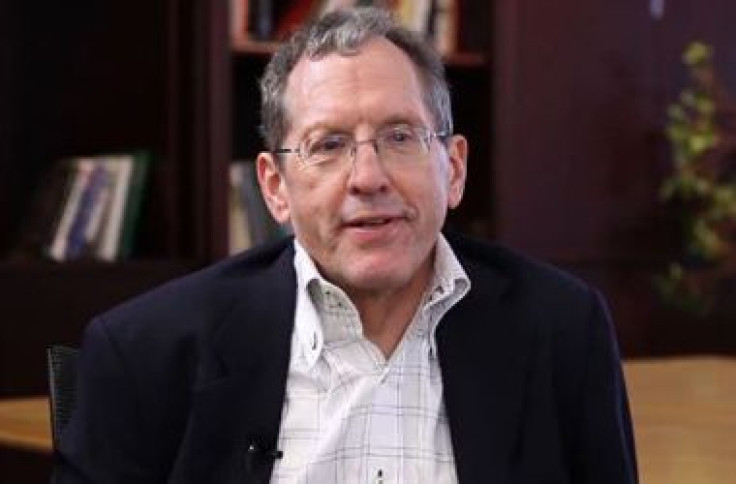 When a person impresses everyone from the CEO of a company to the security guards watching over its office building, one knows that the passing of that individual is a great loss for his family, friends and colleagues.
Such was the loss that occurred when Tom Steinert-Threlkeld, Editorial Director of the CruxialCIO.com unit of IBT Media, was hit and killed by a vehicle while cycling on Sunday in Bethel, Conn., in an apparent hit-and-run incident. The cause of accident is still under investigation. He was 59 and is survived by his wife, Kayte, and his sons, Zackary, 26, and Shane, 23.
A holder of an MBA from Harvard University and a degree in journalism from the University of Missouri-Columbia, in 2001 Tom conceptualized and edited Baseline, one of the most respected business-to-business brands of the postmodern era. Baseline won the Grand Neal Award and was a finalist for the General Excellence Award from the American Society of Newspaper Editors -- the latter a rarity for B2B brands.
Further, in mid-2013 Tom brought that same talent and commitment to excellence to IBT Media when the company created a B2B group, which this summer launched CruxialCIO, an innovative website that focuses on the critical information that business and technology leaders worldwide need. In a very short time, Tom and the team he recruited propelled CruxialCIO to essential-read status in its sector, providing his talented touch to positioning, branding and content, while co-working with sales to secure sponsorship.
In other words, Tom was a star in a competitive field that has a very high bar regarding who has exemplar status.
"Tom was in that rare category of professionals who 'got it.' He understood the field of journalism, and he understood life," said Scott Miller, IBT Media's senior vice president for sales, and a person instrumental in bringing Tom to the company. "Simply, Tom was the type of person who made everyone around him better. Better as a professional. And better as a person."
And that's why a commitment to excellence, a creative spark and business news-savvy does not tell the Steinert-Threlkeld story. Not the half of it.
In a world that's time-pressured, always in a hurry and perpetually distracted, Tom knew how to slow down, appreciate life and maintain the right work/life balance. Tom always placed his family first and was incredibly proud of his boys' academic and professional achievements; and he also made time for leisure -- biking was his avocation -- and he regularly logged 50-plus miles on weekend afternoons.
CruxialCIO Staff Writer Paul McDougall said that among Tom's varied journalism skills, something that most impressed him was Tom's determination. Without question, Tom valued the U.S. First Amendment's unique role in helping the public -- both typical persons and decision makers -- make more-informed decisions.
"What always struck me was the sheer doggedness of how he would question sources, and not give until he got an answer," McDougall said. "When I got the chance to work for Tom I jumped at it. You could learn more about the business from him in one day than you could in a year at J-school [journalism school]. But as wonderful as he was as an editor, he was an even greater human being. He cared about, nurtured and mentored those who worked for him."
Johnathan Davis, IBT Media co-founder and chief content officer, said he knew he had a game-changing professional when Tom joined the company earlier this year.
"It's an enormous loss for his family, for his friends, for everyone around him, and for IBT Media. Tom was smart, versatile and talented, yet at the same time incredibly humble," Davis said. "And he was so well-grounded. He knew what was important in life. He was deeply passionate and creative about his work and he excelled at it, yet he also cared for and respected the dignity of everyone around him. Tom made everyone who worked around him better and you could see why. He was an exceptional, considerate human being."
"Incorporating those great virtues into our company and carrying on the work that we started would be a fitting tribute to a life well-lived," Davis added.
**
A memorial service / remembrance for Tom Steinert-Threlkeld will be held Saturday, Oct. 26, at 11 a.m. at the Cobbs Mill Inn, 12 Old Mill Road, Weston, Conn.
Donations, in lieu of flowers, in Tom's name may be made to:
Weston Warm-Up Fund
PO Box 1254
Weston, CT 06883-0254
Or to: The Connecticut Humane Society www.cthumane.org/site/c.8qLKK1MELjI2F/b.7656977/k.95C7/Ways_to_Give.htm
Also, IBT Media has put up a memorial at http://www.cruxialcio.com/ if you would like to share your thoughts and condolences.
© Copyright IBTimes 2023. All rights reserved.