Respawn's 'Star Wars' Game To Be Released By March 2020, EA Unsure About 'Battlefront 3'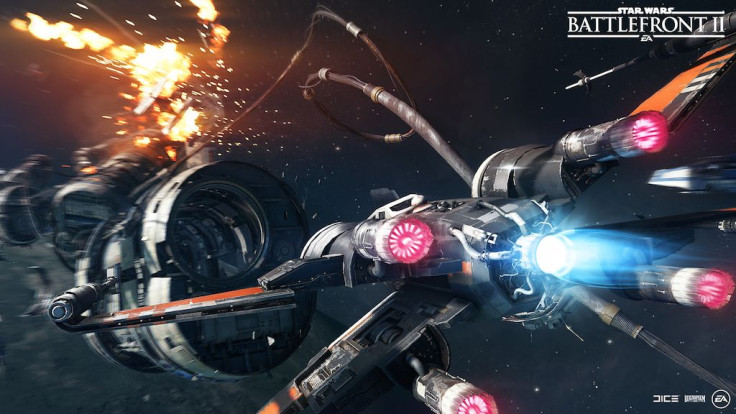 EA has confirmed that BioWare's "Anthem" has been pushed back to a 2019 release date, while a new "Battlefield" game will arrive later this year. However, the video game publisher is still unsure when it will release "Star Wars Battlefront 3."
"We have not, obviously, announced product for our fiscal 2020 yet but remember that we have a Star Wars action game that the Respawn team has been working on for the last couple of years. And most likely that would drop in fiscal 2020 versus another 'Battlefront,'" EA CFO Blake Jorgensen said during a call to investors, according to VG24/7. "We haven't decided exactly timing for another Battlefront yet but clearly the next big 'Star Wars' game would be the action game in fiscal 2020."
Typically, EA follows a two-year development/release schedule, with "Battlefield" and "Battlefront" alternating. In 2015, "Star Wars Battlefront" was released, while "Battlefield 1" was released the following year. In 2017, the company released "Battlefront 2" and this year a new "Battlefield" game will be released sometime during the holiday season.
It seems like EA will release Respawn Entertainment's new "Star Wars" action game instead of a new "Battlefront" game. EA's fiscal year 2020 runs from April 1, 2019 through March 31, 2020, as pointed out by GameSpot. Respawn's "Star Wars" game could be released in late 2019, possibly in November, just before the Dec. 20 release date of "Star Wars Episode IX."
Not much is known about Respawn's upcoming "Star Wars" game, but it has been described as a third-person action adventure game that will feature a different style of gameplay. The upcoming game is also said to take place in a "different timeline" that has not been explored yet by EA's other "Star Wars" titles. The game has been in-development since 2016. Respawn Entertainment's "Star Wars" game is being directed by Stig Asmussen, the director of "God of War 3." EA purchased Respawn in 2017 for more than $400 million. The studio is mostly known for developing "Titanfall."
With EA seemingly undecided if it will make a new "Star Wars Battlefront" game, it's likely that the publisher is taking a break from this particular series in the game franchise. The company confirmed in its third quarter earnings report that it was only able to sell 9 million copies of "Battlefront 2," which is a million short of the company's expectations.
Jorgensen blamed the loot box controversy that surrounded the game over the disappointing sales, but seems to remain cautiously optimistic. The EA CFO believes that they will still be able to sell an additional 1 to 3 million copies of "Battlefront 2" during this fiscal quarter.
© Copyright IBTimes 2023. All rights reserved.