Retail Sales November 2014: Consumer Spending Jumps As Low Gas Prices Boost Black Friday, Thanksgiving Sales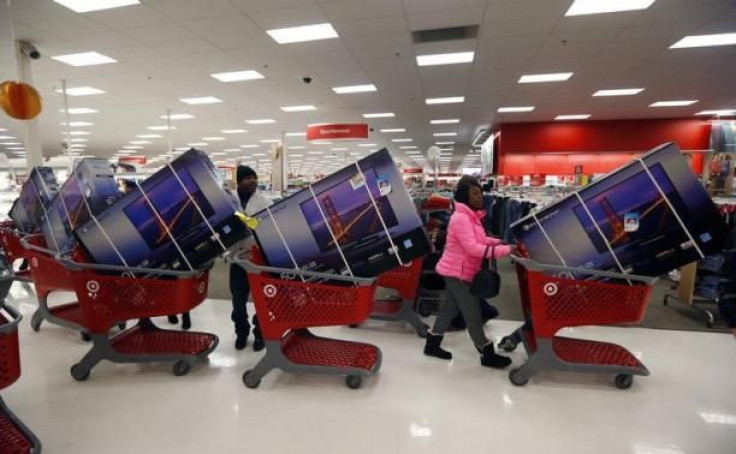 Following mixed reviews of initial Black Friday and Thanksgiving weekend sales, data on Thursday revealed that consumers picked up spending last month, boosted by a drop in gasoline prices. Retail sales jumped 0.7 percent, to $449.3 billion, from October, and 4.9 percent above the same period a year ago, the Commerce Department said Thursday.
Auto and other motor vehicle dealers increased 9.5 percent from November 2013, and nonstore retailers climbed 8.7 percent from last year. Retail sales, excluding automobiles and gasoline, which are considered to be volatile, rose 0.6 percent last month after an unrevised 0.5 percent rise in October.
Economists view retail sales as a key economic indicator since consumer spending accounts for nearly two-thirds of the U.S. economy. Initial retail sales over Thanksgiving weekend painted a mixed picture for the U.S. economy after overall shopper traffic from Thanksgiving Day through Sunday, Nov. 30 dropped 5.2 percent from 2013, according to the National Retail Federation's Thanksgiving Weekend Spending Survey.
But global oil prices have declined by more than 40 percent over the past six months, peeking at $115 a barrel in June and down to $64 in December. The recent drop has also sent the price of U.S. crude oil down to $60 a barrel in December, a five-year low, which has helped send the average price of gasoline down to $2.63 per gallon across America, according to Gasbuddy.com.
"The 0.7 percent month-over-month rise in U.S. retail sales in November is even better than we expected and shows we were right to dismiss all those reports about how weak holiday sales were. The truth is that the rises in employment and real incomes have allowed households to spend freely at the start of the holiday shopping season," Paul Dales, senior economist at Capital Economics, said in a research note.
Total sales for the September-through-November 2014 period were up 4.7 percent from the same period a year ago. The September-to-October 2014 percentage change was revised from 0.3 percent to 0.5 percent. Economists had expected retail sales to increase 0.3 percent last month, and excluding motor vehicle and gas, Wall Street had forecast sales to decline 0.2 percent last month, according to analysts polled by Reuters.
"Overall, the clear strengthening in underlying retail sales shows that retailers and the wider economy are starting to benefit from the rapid rises in employment and the boost to real incomes from lower gasoline prices," Dales said.
© Copyright IBTimes 2023. All rights reserved.