Retina Display 13'' Macbook Pro Release Date Could Be September; Will Apple Debut A New iMac With It?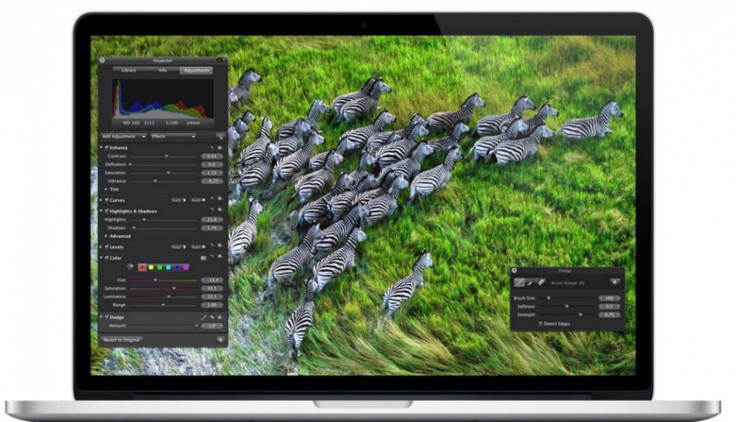 Apple may be releasing a 13-inch version of its Retina Display Macbook Pro in September and could be accompanied by an iMac refresh as well, according to Apple Insider.
Analyst Ming-Chi Kuo has shared this information with the Apple news source, saying that the Cupertino, Calif.-based company could roll out a Retina Display to its smallest laptop size in the second half of 2012. However, demand may outweigh the supply as components needed to make the high-pixel density display are limited.
These reports line up with previous findings and rumors, which have come from benchmarking sites that pointed to an unannounced Macbook Pro that fit the description of a 13-inch Retina Display model.
The analyst, who is with KGI Securities, has included news on the alleged 13-inch Mac laptop in a new report, which outlines his estimates of upcoming Apple product launches. In the report, Kuo said he believes the smaller Retina Display Macbook Pro will be an attractive release for Apple fans.
We think consumers who initially planned to purchase the 13'' Macbook Pro and Air will turn to the 13'' Retina Macbook Pro instead because it has an attractive panel, its price is similar to the Macbook Pro and it has a better balance between power consumption and form factor, he writes, according to Mac Rumors.
Kuo also said that although initial sales of the Retina Display 13'' Macbook Pro may not be groundbreaking, the new densely pixilated display will be the future of Mac notebooks and can set the stage for the future. He added that the new Retina Display laptop is likely to face the same issues of being constrained due to panel and assembly yield rates. This is a problem that is still being addressed with the 15-inch version of the product, according to Apple Insider.
The new iMac, which is expected for a fall release date, have been delayed due to screen lamination issues, Kuo said. These Ivy bridge-based Macs may face a tight schedule when trying to meet a September deadline, but other sources have indicated that an October launch could be in store for the refreshed desktop line.
The chances of the new iMac debuting in September are slim, Kuo said according to Mac Rumors. But judging by the current supply chain situation, it could be rolled out by the end of September.
Earlier in July DigiTimes reported that Apple was preparing to furnish components for an updated iMac aiming for an October 2012 release. The 15-inch version of the Retina Display Macbook Pro had been met with an image ghosting issue upon release, and had been considered the least repairable laptop when the iFixIt team performed a full teardown on the device.
© Copyright IBTimes 2023. All rights reserved.