The Richie Incognito-Jonathan Martin Saga: Who's Right, Who's Wrong? Who's Black, Who's White?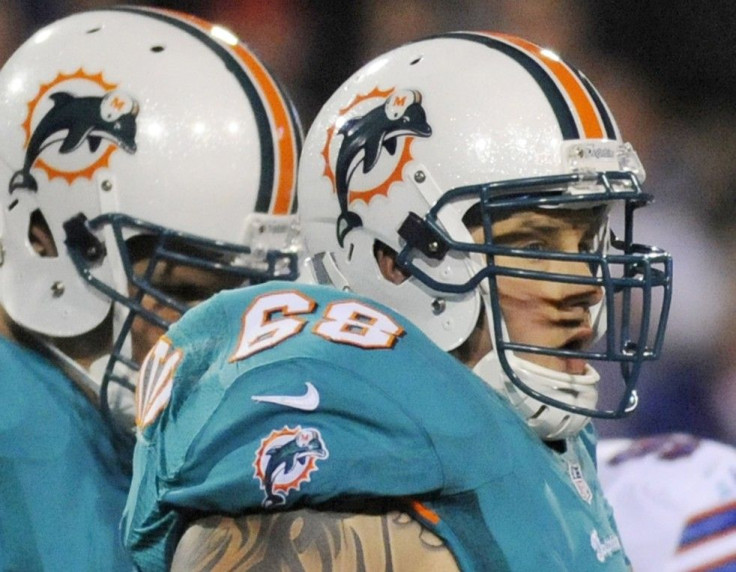 For those of us who are fascinated by race relations and how they intersect with professional sports, the current saga engulfing the Miami Dolphins football club presents an entertaining dream come true. For the uninitiated, a Dolphins offensive lineman named Richie Incognito (a 30-year-old white man who grew up in Arizona) was indefinitely suspended by the team after it emerged that he had sent racially inflammatory and sexually violent text messages and phone voice mails to his fellow lineman, Jonathan Martin, a black man. The messages Incognito sent were resplendent in the forbidden racial slur, the N-word.
However, what began on the surface as an apparent case of racial abuse and bullying against a black man by a bigoted white man has metamorphosed into something far more complex, unpredictable and fascinating. Since this story has erupted onto national media, it is not the alleged perpetrator of abuse (Incognito) who has come under the most criticism, but rather his would-be victim (Martin). Martin, who apparently was so traumatized by Incognito's bullying, that he left the team and entered a California hospital for treatment of "emotional issues."
Incognito, who has a long history of violent, erratic behavior (including a number of suspensions over various infractions both in college and the pros) has enjoyed confounding widespread support from his own teammates (most of whom are black) and others across the closed world of the NFL. It turns out that Incognito is a popular player in the Miami locker room and that he and Martin were good friends. He also claimed (in a tense interview with Fox Sports) that Martin threatened to kill him and his family, but that he didn't take it seriously, since that's the way they communicate as friends.
Moreover, as a hard-nosed, somewhat out-of-control maverick, Incognito better embodies the spirit of the NFL than the laid-back Martin --- whose very toughness and mental fitness as a pro football player has come under serious question. It turned out that Martin claimed he was suffering from harassment not only from Incognito, but from other Miami players as well, suggesting race has nothing to do with this saga, despite the racially charged rhetoric of Incognito's initial messages.
So, who's really the "bad guy" in this bizarre tragicomedy?
To many in the NFL, Incognito is a tough guy (the kind of man the league wants and needs) while Martin is a weakling who doesn't belong in the manly world of pro football. Consider the words of former New York Giant linebacker and Hall of Famer Lawrence Taylor (another black man) who condemned Martin far more than Incognito. "Martin wouldn't be allowed back in my locker room," LT told the Daily News. "I understand Incognito may be a bad guy, but all that stuff should have stayed in the locker room. I don't know if I would let Incognito back in the locker room either, but he would be allowed back in my locker room before the other guy would. They are texting each other like two women. I don't understand that." Taylor devastatingly added about Martin: "If you are that sensitive and weak-minded, then find another profession. That's the way I feel about it. This is the NFL. This is football. This is not table tennis. This is not golf. I don't know how you bully a 350-pound player."
But the Martin-Incognito has even more fascinating facets to it – Incognito, who grew up in a middle-class family and has had his share of up-and-down adventures in life, was reportedly viewed as "black" (or, a "brother") by many of his black Dolphin teammates, while Martin (who is of mixed race and went to an Ivy League school and is the son of two Harvard alumni) clearly was not. A former black Dolphins player told reporter Armando Salguero of the Miami Herald that Incognito has received the title of "honorary black man" from fellow black players. "I don't expect you to understand because you're not black," this player told Salguero. "But being a black guy, being a brother is more than just about skin color. It's about how you carry yourself. How you play. Where you come from. What you've experienced. A lot of things."
Thus, in the worldview of a black NFL player who came up the hard way from poverty, Incognito is "black" and Martin is "white." There are even some unconfirmed reports that management in Miami encouraged players to harass Martin as a way of "toughening" him up -- Martin, by the way, stands an impressive 6-5 and weighs 312 pounds."
Randy Starks, a Dolphins defensive tackle who is black, defended Incognito this way to Miami media: "Everybody jokes around in locker rooms, but he [Incognito] doesn't go around just using the n-word, blasting it all over, that's never been his character. Whatever was said wasn't meant that way. Richie's a good teammate… Everything's been blown out of proportion. We're trying to clear Richie's name. We know he has a bad rep from years ago. He is a good guy. I've never had a problem with him. We joke on each other. You can't have thin skin around here. At the end of the day, we still love each other, still play for each other. The way we joke around is way different from the way someone might joke around a corporate office.'' Hence, the pre-eminence of the "locker room culture" -- where racial slurs and other insults are normal and a way of forging a kind of unity in a violent and dangerous sport. This was a brutal reality that Incognito understood and thrived in,
In contrast, many black Dolphins consider Martin as "soft." "His background — Stanford educated and the son of highly educated people — was not necessarily seen as a strength or a positive by some players and it perpetuated in the way Martin carried himself," Salguero wrote.
But black sports columnist Jason Whitlock blamed this whole affair on a black American culture that has lost its way. "Mass incarceration has turned segments of Black America so upside down that a tatted-up, N-word-tossing white goon [Incognito] is more respected and accepted than a soft-spoken, highly intelligent black Stanford graduate [Martin]," he wrote in ESPN, adding that "a wide swath of America believes the nonviolent intellectual needs to adopt the tactics of the barbarian."
Whitlock, who has frequently criticized and condemned the black American community, characterized the episode in Miami as a "brand of stupidity and self-hatred." "[We] have created a culture that perpetrates the idea that authentic blackness is criminal, savage, uneducated and irresponsible," he lamented. "The tenets of white supremacy and bigotry have been injected into popular youth culture. The blackest things a black man can do are loudly spew the N-word publicly and react violently to the slightest sign of disrespect or disagreement."
Incognito may have lost his career in the NFL, but he will apparently enjoy the respect of many of his black colleagues, while Martin, a highly educated, soft-spoken black man, is a "pariah."
© Copyright IBTimes 2023. All rights reserved.