Rick Santorum 2012: Does Minnesota, Missouri Caucus Lead Matter?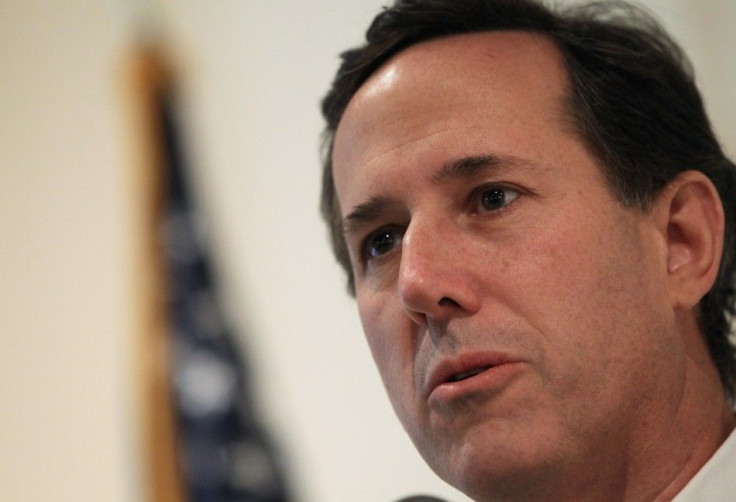 UPDATE: Rick Santorum came out in first in Minnesota, Missouri and Colorado Tuesday night. Click here for the update.
--
Tuesday could be a huge day for GOP hopeful Rick Santorum as the Republican candidates face off in Minnesota, Colorado and Missouri.
All three so-called beauty contests Tuesday are nonbinding and are expected to see a low turnout. Regardless of who wins in Minnesota, Colorado or Missouri, no delegates are at stake.
Still, the contests present an opportunity for the former Pennsylvania senator to prove his popularity and push his momentum forward.
Missouri won't be assigning its 52 delegates until a caucus on March 17; -the primary on Tuesday was only put in place by the GOP to comply with Republican National Committee rules after a shake-up in the primary order late last year. It has so little influence, Newt Gingrich didn't bother making the ballot and Romney has barely campaigned there.
Minnesota will assign its 40 delegates later down the road, and Colorado will pick its 36 delegates at a state convention in April.
But the deep-pocketed Romney felt threatened enough to pick on the Pennsylvania conservative in a stream of attacks.
Polls indicate that Romney, fresh from his 50-percent victory in Nevada on Saturday, faces a formidable challenge from Santorum in Missouri and Minnesota. According to Public Policy Polling surveys released Tuesday, Santorum leads in Missouri's primary with 45 percent, followed by Romney at 32 percent. In Minnesota, Santorum leads with 33 percent, nine points ahead of Romney. In Colorado, Romney has a 10-point lead ahead of Santorum at 37 percent.
The Washington Post's Rachel Weiner points out that Romney won Minnesota and Colorado in 2008 -- by a landslide in Colorado, at 60 percent. If he loses either of those states, his rivals could argue his popularity is declining.
Minnesota could also be Santorum's chance to pick up the social conservative voters who won't be able to vote for Gingrich on the ballot Tuesday.
It all sets to stage for one of the biggest spin wars of the 2012 campaign, in which the results matter about as much as how they will be interpreted, writes The Fix's Aaron Blake.
Romney organized a conference call with ex-Minnesota Gov. Tim Pawlenty Monday to criticize Santorum's history of supporting earmarks and increasing the debt ceiling. Romney also issued a statement that challenged Santorum's attacks on his Massachusetts health care program.
It's a badge of honor that Romney has decided to destroy us, said Santorum adviser John Brabender, according to The Washington Examiner's Byron York.
In his conference call with Pawlenty, the ex-Minnesota governor bashed Santorum as part of the big-spending establishment in Congress and a champion of earmarks and pork-barrel spending. He also called Santorum a nice guy who is simply not ready to be president in a statement released Monday, according to The State Column. In response, Santorum chastised the Romney campaign for being a well-funded attack machine.
Romney also sent out a press release of a summary of his past discredited attacks against Governor Romney over his Massachusetts health-care law. Santorum has repeatedly blasts Romney for what he calls Obamneycare and the inspiration for Obama's health care reform.
So far, Romney has amassed 101 delegates, Gingrich has collected 32, Santorum has 17 and Rep. Ron Paul has 9. It's a long way to the 1,144 needed to earn the Republican nomination and Romney is well in the lead. But the Santorum campaign could gain on Gingrich if the results--and analyses--of Tuesday's caucuses and primary turn out in his favor.
© Copyright IBTimes 2023. All rights reserved.