Rick Santorum: 'Smart People' Will Never Be On The Conservative Side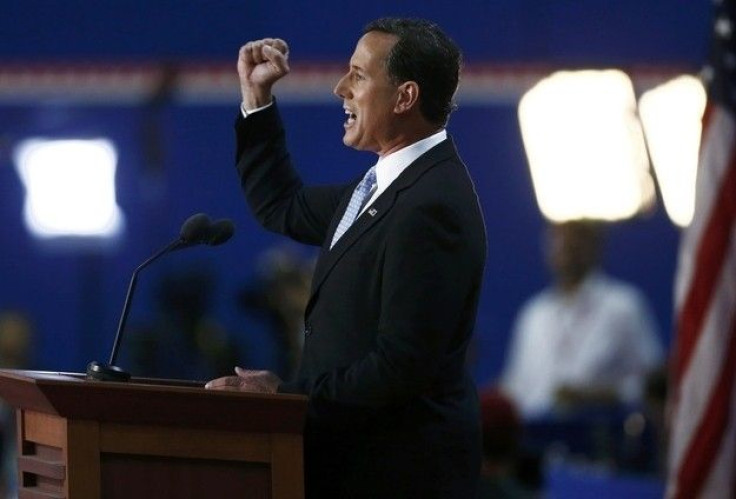 Former U.S. presidential candidate Rick Santorum railed against the alleged media elite, saying the "smart people" will never be on the side of conservatives during a speech at the Values Voter Summit in Washington on Saturday.
"We will never have the media on our side, ever, in this country," Santorum said, according to Buzzfeed. "We will never have the elite, smart people on our side."
According to Santorum, a former U.S. senator from Pennsylvania, the media elite actively work to paint a false portrait of conservatives in the minds of voters. Santorum sees this small group of "elite, smart" people as in some ways controlling the minds of many voters.
"If just a few people make decisions about what this world looks like, what this country looks like, then you have people sitting in offices at major media outlets and Hollywood who think they can deal with a small group of people, to get them to jump through the hoops they want you to," Santorum said.
At another point in his speech, Santorum said his Republican Party's libertarian wing was not focused enough on religion and family, two institutions that Santorum sees as key to the conservative mind-set.
"When it comes to conservatism, libertarian types can say, 'Oh, well you know, we don't want to talk about social issues,'" Santorum said. "Without the church and the family, there is no conservative movement, there is no basic values of America."
At the same event, U.S. House of Representatives Majority Leader Eric Cantor, R-Va., continued to stress the importance of preserving traditional values by opposing same-sex marriage.
"That is why we believe in traditional marriage, because marriage, more than any government program ever has or ever will, has lifted up people out of poverty, even those who felt there was no hope," Cantor said, according to the Washington Blade. "Marriage has proven to be that formula which has been more successful at allowing for that pursuit of happiness. And that is why we stand tall and stand proud for traditional marriage."
© Copyright IBTimes 2023. All rights reserved.