Road To Rio: Under Armour Will Use The 2016 Olympics To Expand Its Reach Into A $270 Billion Global Market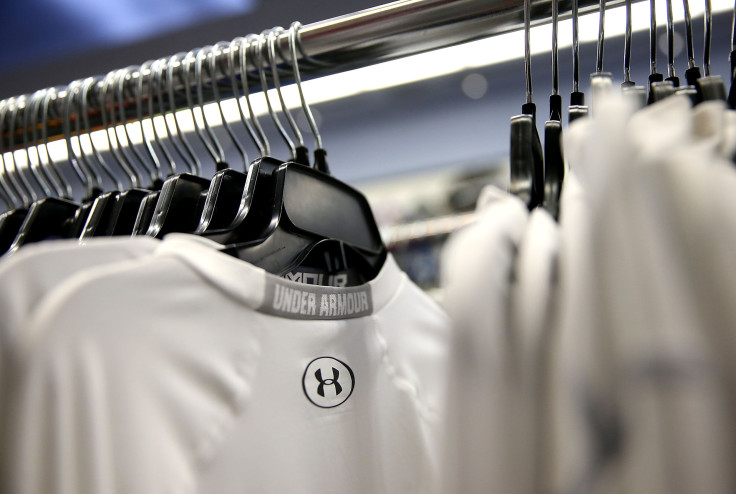 Kelley O'Hara stands out among her peers on the U.S. women's national soccer team. The star defender is the only one who wears Under Armour soccer cleats. That's just the way she likes it.
"I like that [Under Armour is] smaller; at this point they're technically still an underdog ... I've always gravitated toward the underdog," O'Hara, 27, told International Business Times about the sports brand that jumped into the soccer world only seven years ago.
Recruiting elite athletes is just one sign that Under Armour is on the rise. On the back of savvy endorsement deals, smart ads and trusted performance gear, it has thrust itself into the No. 2 spot in the U.S. sportswear market behind giant Nike. Ahead of the Summer Games in Rio, the still-U.S.-centric company has a chance to expand its global audience with a roster of athletes including O'Hara, swimmer Michael Phelps and golfer Jordan Spieth.
After years of frenzied growth, Under Armour is at an inflection point, its shares down about 11 percent in June compared with the price in April. It recently scaled back revenue projections slightly after U.S. retailer Sports Authority announced plans to shutter its remaining stores. Most of Under Armour's sales come from North America — in an industry where the lion's share of growth is coming from Asia and Europe. A successful Olympic effort could be the beginning of controlling a larger chunk of a rapidly growing industry that did $270 billion in sales globally last year.
"The Olympics platform represents an opportunity as a brand to grow awareness around the world," said Peter Murray, vice president of global brand and sports marketing at Under Armour. "It's one of the largest stages in the world from an event perspective."
The biggest star will be missing from the cast: NBA MVP and Under Armour endorser Stephen Curry, perhaps the world's most popular basketball player, plans to skip the games due to his troubled knees.
Traditionally, two sportswear brands have dominated the Olympics: Adidas and Nike. Germany's Adidas was founded in 1926 and debuted on the medal stand all the way back in 1932, when Arthur Jonath won a bronze in the 100-meter dash. Nike formed in the '60s and was incredibly popular among athletes by the 1970s. By the London 2012 Games, the two giants laid claim to some 3,000 athletes apiece at the Olympics. Those Summer Games had a potential audience of 4.8 billion people.
Under Armour was formed in 1996, registering some $17,000 in sales that year. It signed its first Olympian in the mid-aughts. In 2012, the brand's revenue was about $1.83 billion and by the end of last year that figure had grown to $3.96 billion. Its revenues were up 29 percent last year alone, and analysts predict a 25 percent gain in 2016. Under Armour trails in terms of overall value, however, with Forbes estimating in 2015 it was worth about $5 billion, compared with $26 billion for Nike and $6.2 billion for Adidas.
Under Armour Inc. (UA) Stock Price | FindTheCompany
Under Armour did just $6 million in international sales in 2006. A decade later, that business is worth nearly half a billion dollars across 60 countries. Still, 87 percent of its sales come from North America — the company catapulted past Adidas in 2015 for the No. 2 spot in the U.S behind Nike — and that's led to Under Armour's focus increasingly turning international. It plans to have nearly 20 percent of its revenue come from international sales by 2018.
Rio 2016 could prove a landmark moment for the brand's expansion, an opportunity to steal away attention from its more traditional rivals.
"It really solidifies them as international player, maybe for the first time ever," said Tom O'Grady, partner and chief creative officer at Gameplan Creative, a Chicago-based sports branding firm. "That's big for them because I think they've killed it domestically."
In preparation for the Rio Games, scheduled to get underway Aug. 5, Under Armour stocked its cupboards with potential Olympians. There is Spieth, as golf returns to the Olympics after a 112-year absence; swimmer Phelps, the most decorated Olympian ever; tennis champion Andy Murray, a 2012 gold medal winner; and the always popular USA Gymnastics team, which will be wearing Under Armour on the mats. There's also a host of other signings like Natasha Hastings, a 2008 gold medal winner in the 4X400 relay; USA Boxing; O'Hara, who won gold in 2012 with the U.S. soccer squad; and Brazilian volleyball duo Larissa and Talita.
Taking advantage of that opportunity isn't simple. Under Armour isn't an official partner with the Olympics, an event with notoriously strict advertising rules. In the past, companies weren't allowed to compete for airspace with official sponsors. Rules were often convoluted and confusing, leading athletes and brands to go to odd lengths to get their preferred messages across.
In 1992, the original USA Basketball "Dream Team" was composed of 50 percent Nike-backed players, including Michael Jordan, the face of the brand. When Jordan accepted his gold medal he carefully draped an American flag over the Reebok logo on the team's ceremony uniform. In 2012, Nike also stole the shine from Adidas, which paid a premium to be the official supplier of the games and had paid for a bevy for deals with individual athletes and federations. Nike wasn't allowed to refer to the London Games in ads, so it instead ran spots using the tagline "find your greatness" featuring people in cities also named London (just not of the England variety) around the world.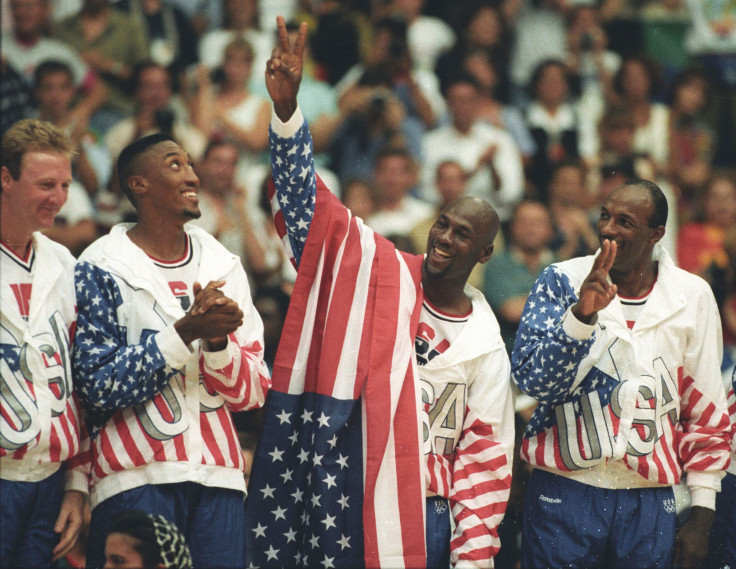 But in a lucky break for Under Armour, things have shifted this year, and capitalizing on the games will take less creative side-stepping. A rule change by the International Olympic Committee will allow nonsponsor brands to compete with sponsors with their own ad campaigns, albeit with restrictions aimed at protecting those who paid up. Under Armour, for instance, isn't allowed to employ the word "Olympic" — but if you place Phelps or Spieth in an ad that runs during the games, it's not a particularly debilitating handicap.
"They're making some smart bets, and hoping those bets will pay off down the road," said David Abrutyn, partner at Bruin Sports Capital, an international sports marketing firm based in New York state. "When you look at the chessboard of sports that really resonate, they seem to be connected in some way with that sport — either with a federation deal or an athlete deal, which gives them flexibility to develop or pivot."
The Maryland upstart has been on a hot streak with its athlete-endorsers. It signed Carolina Panther quarterback Cam Newton and last year he won NFL MVP and went to the Super Bowl. After Under Armor locked up golfer Spieth, he won two majors last year, along the way becoming the darling of the golf world. It stole Golden State Warrior Curry out from under Nike just before the point guard transmogrified into the most dominant basketball player alive, winning back-to-back MVP awards.
Matt Powell, a sports industry analyst at market research company NPD Group, said before Curry dropped out of the Summer Games, his presence was expected to be a big "brand recognition" opportunity in the lucrative basketball shoe space. Thanks almost entirely to the success of Curry's line of sneakers, Under Armour has marginally cut into the basketball shoe business of behemoth Nike, which dominates with its Jordan brand and signature shoes for LeBron James, Kobe Bryant and others. In an effort to capitalize on the massive stage, Under Armour had an Olympic-themed shoe for Curry in the works.
The games are "a great place to showcase product," Powell said.
As the official supplier of the Rio Games, Nike will have the upper hand in displaying its products. The true value of that sponsorship, however, is unclear. A 2008 poll of Chinese consumers during the Beijing Summer Games found that 80 percent of respondents didn't care which company was the official sponsor. Just 50 percent of consumers knew Adidas was the official sponsor, while 40 percent incorrectly believed it was Nike.
When it comes to athletes, the official supplier often doesn't matter: They care about the gear's performance and the quality of the sponsorship deal offered. O'Hara, for instance, is now a popular veteran leader for the national soccer team, having already won an Olympic gold medal and World Cup title. But at the 2012 London Olympics, she was an up-and-comer who played every single minute of the tournament during the team's gold-medal-winning effort.
After the games, the one-time Nike signee decided it was time for a change. Under Armour was a risk of sorts, but she wanted a different feel to her gear and after meeting with the company, O'Hara decided Under Armour was "a no brainer." In Rio, O'Hara will be wearing her custom-fitted Under Armour cleats that have a single spike along the bottom removed, just to her liking.
"Every time I show up to camp in [new cleats] people go, 'Oh, these are sick,' " she said.
If anybody fully understands the Olympics endorsement game, it's Rob Prazmark, CEO of 21 Sports and Entertainment Marketing Group. He's been involved in deals for decades and is the person who negotiated the famous deal that made Visa the card of the Olympic Games. Prazmark pointed out that Under Armour poster-boy Phelps has previously been involved in campaigns to promote brands that are not official sponsors, appearing in Subway "ambush" ads during the 2010 Vancouver Winter Games. McDonald's was the official food sponsor of the event, but Subway found a loophole of sorts to get the commercials approved because Phelps is a summer athlete and the spots ran during the winter.
Prazmark was especially interested in Under Armour's deal to be the official supplier of USA Gymnastics, the national governing body (NGB) that oversees the sport in the states. It's a deal with the organization but not necessarily the individual gymnasts, meaning the brand will outfit the competitors in Under Armour gear on the mats, even if the athlete is personally signed to another company. It was Under Armour's first deal with a national governing body for a summer sport.
"These companies usually find their niche, which Under Armour has done with gymnastics," he said. "It could be a beta test for future NGB [deals]."
The gymnastics deal could be particularly smart because the gear is inherently tied to performance. It needs to work, and work well, for gymnasts flying through the air, creating a direct link for consumers between medals and the brand.
Of course, that can backfire, and Under Armour is all too aware of that. It supplied U.S. speedskaters with suits for the 2014 Winter Olympics, but the team went on to fail catastrophically, and while it's difficult to actually blame Under Armour's product, it became a convenient scapegoat. The skaters didn't outright blame the brand for a surprising lack of medals, but the new gear was labeled a "distraction" and was a point of controversy as the team struggled.
For the 2016 Games, Under Armour said it plans a host of efforts to capitalize on its athletes' performances, including pushes on social media and other methods outside traditional television spots. Everything is expected to center on the brand's "rule yourself" campaign that has already featured well-received advertisements starring Phelps and the women's Olympic gymnastics team.
"We wanted to make sure that we checked the right boxes," Under Armour's Murray said of its sponsoring athletes from a variety of sports.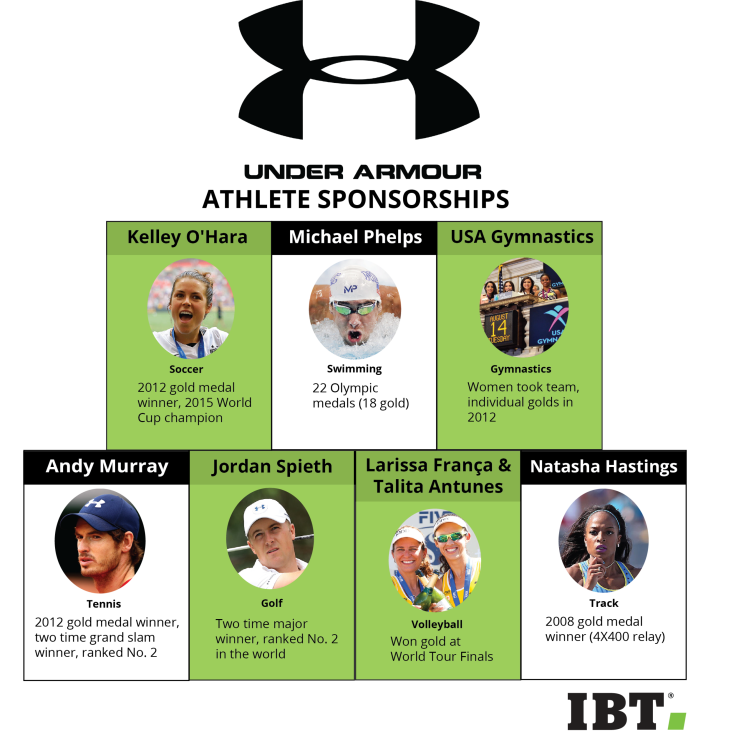 Perhaps the boldest Olympic space for Under Armour is on the track. That's where Nike found its footing decades ago with the aid of popular runner Steve Prefontaine. It was the upstart that overtook Adidas with help from its "waffle sole" track shoe that birthed a $30 billion empire.
Hastings, 29, is one of Under Armour's big track signings. She won a gold medal in Beijing and is eyeing to earn a spot in Rio during July qualifiers. She's been with Under Armour since 2011.
"It is definitely a point of pride," she said in an email. "I have prior experience with another company, and I think UA being a 'newcomer' does add to their passion toward the athlete."
In the lead-up to Rio, Hastings has posted videos of her training, often in Under Armour gear and often with the company' mottos, including "Rule yourself," "I will" and "Erase all doubt." Hastings is counting on those ideas and hours of work to push her forward.
"I still hope to win more gold, particularly in the open 400," she said.
And if she does, it won't just mean gold for her, it'll mean gold for Under Armour, once again having its bets pay off.
© Copyright IBTimes 2022. All rights reserved.
FOLLOW MORE IBT NEWS ON THE BELOW CHANNELS