Under Armour's MVPs: How Cam Newton, Steph Curry Are Boosting Company's Brand In 2016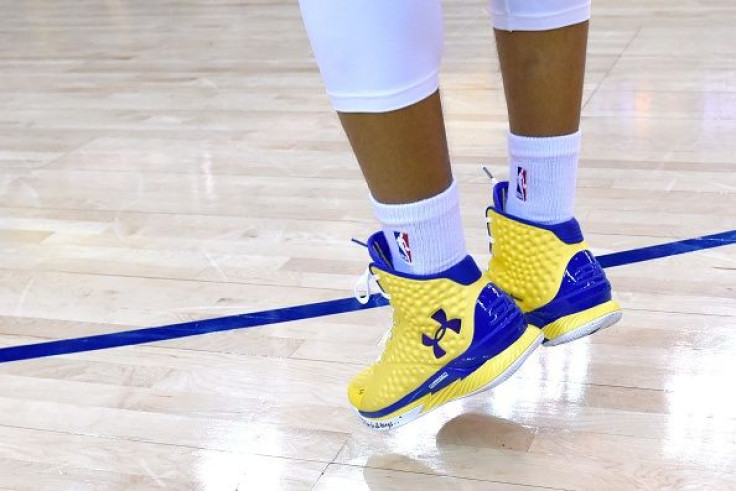 Quick: What do four current MVPs in the major American sports all have in common? They're all at the top of their professions, they're all under 30 and they're all signed to a sports apparel company not named Nike or Adidas.
On the heels of the Pro Football Writers Association giving the NFL's Carolina Panthers quarterback Cam Newton its MVP award Wednesday, sports company Under Armour has gained a foothold for its future with an enviable list of star endorsements, including the NBA's Stephen Curry, the MLB's Bryce Harper and the NHL's Carey Price. Boosted by Newton's likely NFL MVP award next month and the on-field success of its roster of high-profile athletes, the Maryland-based company has a sharp, youthful marketing angle in its climb to catch industry leader Nike and has jump-started 2016 after a banner 2015.
You can just imagine the crossover appeal of all the MVPs for Under Armour. "Something like: 'We're the brand of champions'," said John Fortunato, a professor with an expertise in sports marketing at Fordham University's business school in New York City, said of Under Armour. "They had a great year, and they're well positioned for another good year."
Under Armour Inc. (UA) vs. S&P 500 Percent Change Over Time - 1 Year | FindTheCompany
Under Armour, a young company founded in 1996, took over as the No. 2 sportswear company last year, leapfrogging stalwart Adidas. Over the course of 2015 its stock rose about 19 percent. It also saw its investment in a group of young athletes pay off. In addition to Newton, Curry, Price and Harper, Under Armour athlete Jordan Speith, 22, ascended to become the No. 1 golfer in the world (while winning two majors) and veteran New England Patriot quarterback Tom Brady won the Super Bowl.
While the company has signed a legacy brand like Notre Dame, it has also made a point of locking up young athletes with high ceilings, often with deals that promise equity in the company. "That has always been their philosophy, sign a lot of the rookies, a lot of the young guys coming out," Fortunato said. "They always want to be thought of as a young brand, an innovative brand."
That strategy paid off in 2015. Newton had a breakout season, Spieth dominated and Curry led the Golden State Warriors to a championship. And all three have proven exceptionally popular: young fans appreciate Newton's fun-loving style (and dancing), Spieth is beloved in the golf world and Curry's whirlwind scoring streaks regularly take over Twitter.
It's still a long climb until Under Armour can catch Nike, but having the stars to carry the brand goes a long way. Think about what NBA legend Michael Jordan and golfer Tiger Woods did for Nike. The Oregon-based company pulls in more than $30 billion in revenues, far outpacing Under Armour at $3-4 billion. Nike, it should be reminded, recently signed NBA superstar LeBron James to a massive lifetime deal, has the Jordan brand and the benefit of a more than 30-year head start.
"In terms of continuing that march towards Nike … I thought it was an excellent year for them," Fortunato said, adding that there's still a ways to go for Under Armour. But that doesn't discount a great year. As Fortunato pointed out, "there's enough market share to go around that being second is fine."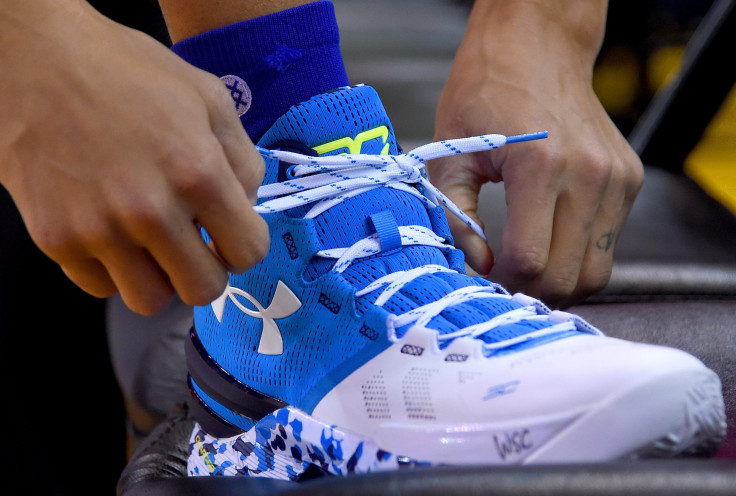 Moving forward in 2016, Under Armour will likely look to make use of the brand power of its star athletes. You sign an athlete to gain credibility in the athletics world, said Matt Powell, a sports industry analyst at the NPD Group, a market research company in New York City. But Powell said Under Armour will also look to expand further into sportswear, meaning gear outside actual athletic apparel. With MVPs like Newton and Curry dressed in Under Armour gear, the company can look to leverage that into sales.
"Athletes are much more than just our heroes on the field today, they really are celebrities and they are fashion icons," Powell said. "If I'm a fan of whoever, I want to dress like him."
The thinking goes: If people want to spin a spiral like Newton, drain a three like Curry or stroke a putt like Spieth, then they'll likely want to buy clothes approved by those athletes, as well. It's already begun to work. Curry's signature shoe has been a success and Newton has drawn attention to Under Armour gear with specialty cleats and T-shirts.
Under Armour right now mirrors its marquee athletes: It's young, hot and on the rise. It is not a stretch of the imagination for Curry to repeat as MVP, Newton seemingly has the award on lock and Spieth easily won his first tournament of the year. They'll try to turn that into real gains for the company.
"I think everyone is trying to replicate the success of Nike Air Jordan," said Victor Matheson, a sports economics professor at the College of the Holy Cross in Worcester, Massachusetts. "There is that great ephemeral quality about advertising. Sometimes it really works. 'I wanna be like Mike' really worked."
Under Armour will hope that for years to come fans across the country will say they want to be like Cam or Stephen instead.
© Copyright IBTimes 2022. All rights reserved.
FOLLOW MORE IBT NEWS ON THE BELOW CHANNELS