Romney, Gingrich Blame Palestine for Conflict at 2012 Florida Republican Debate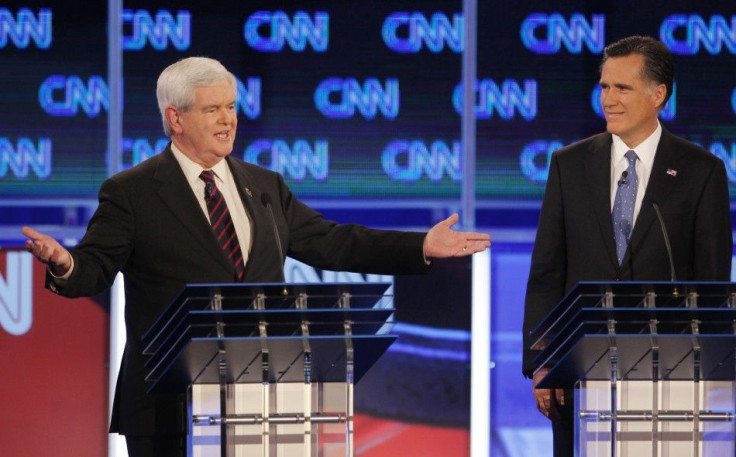 Mitt Romney and Newt Gingrich blamed Palestinian leadership for the conflict in Israel, claiming that Palestinians refuse to have a two-state solution while Israel does.
The National Jewish Democratic council chastised presidential candidates Mitt Romney and Newt Gingrich for criticizing Obama.
The Republican presidential candidates made the comments at CNN's Florida GOP presidential debate after a Palestinian-American in the Jacksonville, Florida audience asked Romney, Newt Gingrich, Rick Santorum and Ron Paul about the controversial issue.
The Palestinian-American had asked the candidates, How would a Republican administration help bring peace to Palestine and Israel, when most candidates barely recognize the existence of Palestine or its people?
Israelis would be happy to have a two-state solution. It's the Palestinians who don't want a two-state solution; they want to eliminate the State of Israel, Romney said.
Romney went on to blast President Barack Obama's policy, claiming he threw Israel under a bus when he called for the '67 borders as a starting point for negotiations.
I think he disrespected Prime Minister Benjamin Netanyahu, Bibi Netanyahu. I think he has time and time again shown distance from Israel, and that created, in my view, a greater sense of aggression on the part of the Palestinians, Romney added.
Gingrich stood by his comment he said earlier in the campaign, in which he called Palestinians an invented people.
It was technically an invention of the late 1970s, Gingrich explained. Prior to that they were Arabs.
The National Jewish Democracy Council released a statement criticizing Romney for his anti-Obama comments.
Governor Romney said that the President castigated Israel during his speech at the United Nations in September. He did no such thing, the statement said, according to Ha'aretz.
The statement read that Romney called out Obama for making no reference to the thousands of rockets being rained in on Israel from the Gaza Strip; indeed, President Obama specifically cited how 'Israel's citizens have been killed by rockets fired at their houses and suicide bombs on their buses' on the world stage of the United Nations in September. Enough is enough. The outright lies, smears and distortions of President Obama's stellar Israel record must stop, National Jewish Democratic Council President and CEO David A. Harris wrote, according to the Israeli paper.
© Copyright IBTimes 2023. All rights reserved.