Romney, Santorum and Ron Paul in High-Stakes Battle as 2012 Campaign Kicks Off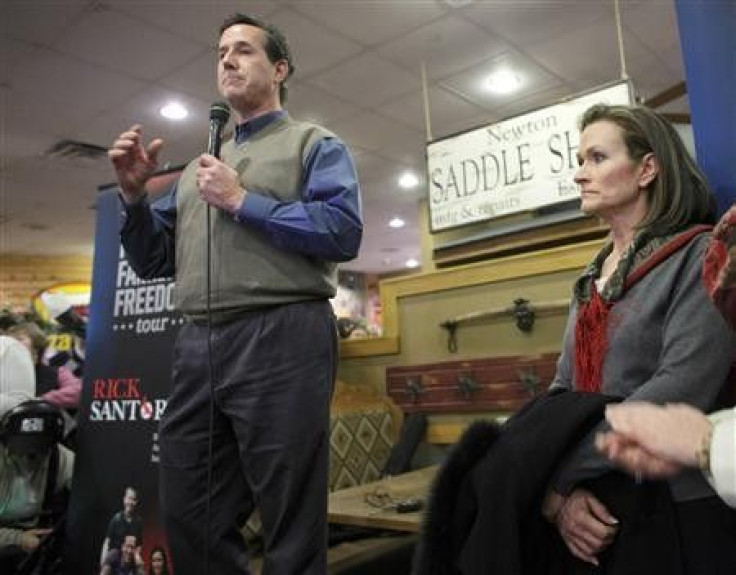 (Reuters) - Iowa Republicans cast the first votes of the 2012 White House campaign on Tuesday, with Mitt Romney, Rick Santorum and Ron Paul in a high-stakes battle to win the party's kick-off nominating contest.
Voters will gather in schools, libraries and other public spots across the state to render judgment in the frequently shifting Republican race to pick a challenger to President Barack Obama in the November 6 election.
Santorum, a conservative former U.S. senator from Pennsylvania, is the latest candidate to rise in polls in a race that has seen a handful of hopefuls roll through the top spot.
He is battling Romney, the national front-runner and narrow leader in Iowa polls, and libertarian Paul for a crucial win in Iowa that could provide momentum and a surge of new donations as the race moves to next week's contest New Hampshire.
Get folks and bring them to the caucus with you, Santorum told supporters in Perry, Iowa, on Monday as each of the candidates made a final pitch for votes and tried to bolster their turnout.
Iowa polls showed many voters could still change their mind before Tuesday night, adding an element of unpredictability to an already fluid race.
I'm undecided, and I'm still in the same boat as when I came, said Zander Morales, a hospital worker in Des Moines after he attended a rally on Monday for Paul, the U.S. congressman from Texas. I'm not sure what I'm going to do.
Republican voters in Iowa gather for the caucuses at more than 800 sites across the state beginning at 7 p.m. EST (2400 GMT). Results should begin to come in within a few hours.
The event is the culmination of months of campaigning in Iowa, and starts a frenzied schedule that will include a half-dozen debates in January and three more state contests -- on January 10 in New Hampshire, January 21 in South Carolina and January 31 in Florida.
GANGING UP ON SANTORUM
The stakes are high for each of the six candidates competing in Iowa. Romney, the former governor of Massachusetts, is aiming for a win that could ease persistent conservative doubts about his record and propel him toward clinching the nomination early.
Struggling rivals like Texas Governor Rick Perry and U.S. Representative Michele Bachmann are fighting for at least a fourth-place finish that could keep their flickering White House hopes alive.
And Newt Gingrich, the former U.S. House speaker who led the race just weeks ago, aims to end his slide and prove he can make a comeback.
Santorum was trying to consolidate fractured religious and social conservatives in Iowa and emerge as the leading conservative alternative to Romney.
But Perry, Paul and Romney criticized Santorum for backing costly spending bills when he served in the Senate, hoping to halt his rise in the final hours of the campaign.
He spends too much money, Paul told CNN.
Iowa's nominating contest has a spotty track record of picking winners, but has traditionally cleared the presidential field of losers and elevated surprise contenders.
Polls show Romney performs best of all the Republicans in head-to-head matchups with Obama in a general election campaign certain to focus on the economy and high unemployment.
But some voters in Iowa were torn between their urge to reclaim the White House from Obama and their search for a candidate who best meets their conservative principles.
Santorum supporter Peggy Greenfield of Clive, Iowa, said she was drawn by his consistent family values and foreign policy knowledge.
When people see the momentum he has going it gives them the courage to go out and caucus for him, she said.
(Additional reporting by Eric Johnson, Jane Sutton, Jeff Mason in Iowa; Editing by Eric Beech)
© Copyright Thomson Reuters 2023. All rights reserved.