Ronda Rousey Takes A Dig At Floyd Mayweather's Domestic Violence Record At ESPY Awards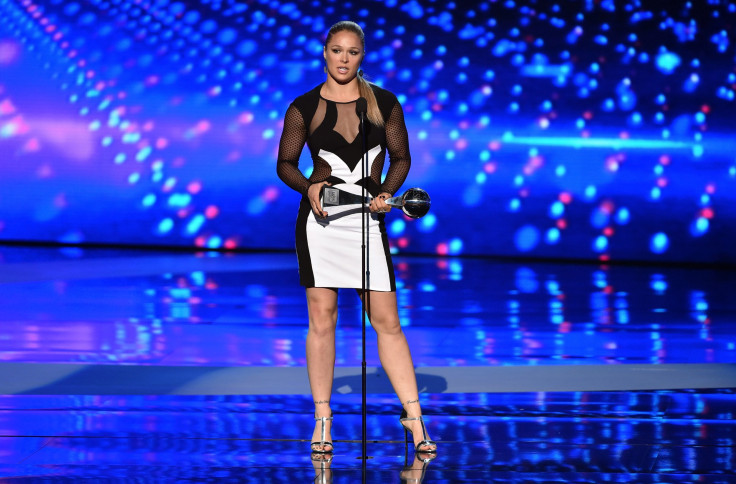 Ultimate Fighting Championship (UFC) winner Ronda Rousey asked Floyd Mayweather Jr. how it felt to be beaten by a girl, in an apparent dig at his history of domestic violence. Rousey defeated Mayweather, Gennady Golovkin, Terence Crawford and Donald Cerrone to be named as ESPY's Best Fighter on Wednesday.
"I wonder how Floyd feels being beat by a woman for once," Rousey said, according to ESPN, adding: "I'd like to see you pretend not to know who I am now." The comment referred to Mayweather's statement last July that he "didn't know who she [Rousey] is."
This is not the first time Rousey has commented on Mayweather's history of domestic violence. In May, she said, according to ESPN: "I don't think that me and him would ever fight unless we ended up dating."
Rousey defeated Cat Zingano in just 14 seconds in March, winning the UFC women's bantamweight title -- the match further boosted her ESPY nomination.
Mayweather had apologized for his comments last July, days later, in a video shot by MMA website Fight Hub. "I wish her congratulations. I didn't know who she was the other day. I apologize because I didn't know. I'm used to watching football and basketball. I'm not really into boxing like that," he said, according to E! Online.
Mayweather has been charged several times since 2002 for domestic violence and misdemeanor. In 2010, his former girlfriend, Josie Harris, filed a domestic battery report against him. He was taken into custody at the time but was released after a $3,000 bail. In a 2011 trial of the case, a judge accepted his guilty plea to a reduced battery domestic violence charge and no contest to two harassment charges. Mayweather was ordered a 90-day jail term, 100 hours of community service and a fine of $2,500.
© Copyright IBTimes 2023. All rights reserved.