Ruined Gaza Will Not Be Rebuilt By Hamas, But International Aid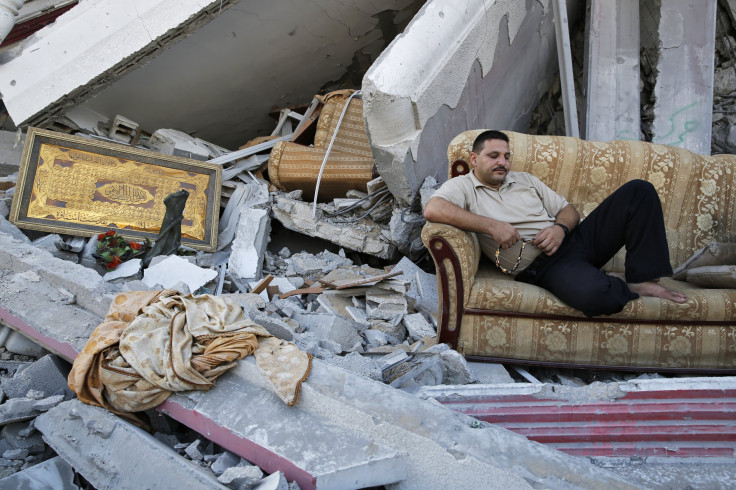 As a cease-fire begins to take hold in Gaza, hundreds of thousands of Palestinians are returning to their homes, many of which have been destroyed by Israeli bombardments, to begin the process of rebuilding. But Hamas, the radical Islamist faction that governs the Gaza Strip, has no money and no materials for the reconstruction.
U.N. Secretary General Ban Ki-Moon said in a general assembly meeting Wednesday that Palestinians in Gaza faced an "enormous reconstruction task."
"Do we have to continue like this: build, destroy, and build, and destroy? We will build again -- but this must be the last time to rebuild. This must stop now," he said. But unlike in past wars in Gaza, this time it is unclear who will spearhead rebuilding the Strip.
The governing structures in Gaza and the West Bank, Hamas and the Palestinian Authority are stretched thin. Hamas has limited funds and, after Israel destroyed what a majority of the group's smuggling tunnels, it has no way of getting construction materials into Gaza, blockaded by both Israel and Egypt.
Reconstruction will most likely be left up to humanitarian and other aid organizations on the ground, though they will rely on donations from the international community.
International organizations in Gaza already play a significant role in its economy. Hamas, which does not have enough financial resources to provide for Palestinians in Gaza, relies on international aid to provide goods and food for people. Most of Gaza's gross domestic product per person of $876 billion comes from foreign humanitarian assistance. On July 21, the U.S. announced it would donate $47 million to help address the humanitarian situation in Gaza. USAID, the international aid arm of the U.S. government, said it is pre-positioning to provide additional assistance, including employment opportunities to help displaced families return to their homes.
In the past six years, Palestinians in Gaza have rebuilt their homes twice already as a result of wars with Israel. At the end of previous wars, in 2009 and 2012, the Palestinian Authority, which was in charge in Gaza until 2006, worked with donors and wealthy Arabs to help reconstruct homes and businesses. It also negotiated with Israel to allow construction materials to enter the Strip. In the most recent wave of violence, factories and warehouses that held construction materials in the Strip have been destroyed by fighting. The Israeli and Egyptian blockade of Gaza, and the destruction of tunnels through which Hamas smuggled not only weapons but also goods and construction material, complicates the process.
"The sheer enormity of the reconstruction task ahead is far from clear. We need to get teams of engineers out into devastated neighborhoods to survey the damage," Christopher Gunness, a spokesman for UNRWA, the UN agency in charge of Palestinian refugees, said. "Some estimates say as many as 10,000 homes have been damaged or destroyed, affecting tens of thousands of people. So the catastrophic human displacement crisis is morphing into a homelessness crisis on a massive scale."
In January 2014, Israel allowed construction materials to enter the Strip, but only for a limited number of large, international projects, primarily those funded by Qatar. This time, Israel is more wary of opening its borders to goods bound for Gaza, for fear that Hamas will once again use those materials to rebuild its tunnels.
In any case, Hamas has no central governing body to spearhead the rebuilding, even though construction is a huge part of the Gaza economy.
The Gisha Legal Center for Freedom of Movement, an Israeli non-profit, estimates that until 2007 construction accounted for 28 percent of Gaza's gross domestic product. According to the Palestinian Central Bureau of Statistics, 24,000 people worked in the construction industry in 2013. Today, that number has shrunk to just 6,800, according to the agency. In the Gaza Strip, one person of working age in four is unemployed, according to data from the Palestinian Central Bureau of Statistics, versus one in five for Palestine in general. Poverty in the Strip has been rising under Hamas, and in 2011 stood at 38.8 percent, more than double the rate in the West Bank.
It is unclear how much the governing body of the West Bank, the Palestinian Authority, can assist Hamas, its rival, in rebuilding. The government in the West Bank, dominated by historical Palestinian faction al Fatah, and the Hamas government in Gaza both think of themselves as the sole governing body of the Palestinian National Authority; the Fatah government has little control over the five administrative districts in Gaza, which include the Deir al-Balah, Khan Younis, Rafah, North Gaza and Gaza governorates. Not only does it lack the ability to affect day-to-day operations on the ground in Gaza, but the group is already dealing with its own negotiations with Israel.
In the past, Palestinians in Gaza relied on a mixture of Palestinian companies and international aid organizations to help them rebuild.
One large Palestinian construction company that has built in Gaza is Palestine Industrial Estate Development and Management Company (PIEDCO), a unit of PADICO Holding.
PIEDCO constructed 220 high-end seafront bungalows, a water desalination project, a solid waste recycling plant and a real-estate project to provide 550 residential apartments. It also built Gaza's first five-star hotel, the Al-Mashtal. On its website, it also described plans to rehabilitate areas damaged by Israeli attacks in previous conflicts -- but a 2011 report said "internal disunity" in the Palestinian government delayed "commencing with reconstruction efforts in Gaza after the War."
Its parent, PADICO Holding, is a limited, publicly owned company established in 1993 after the Oslo Accords creating the Palestinian National Authority, and is listed on the Palestine Stock Exchange, a Nablus, West Bank-based market created in 1995.
PADICO says its mission is to "actively participate in developing and strengthening the Palestinian economy, in order to contribute to state-building efforts." Its largest shareholder is PALTEL Group, a telecommunications company and the biggest private-sector company by number of employees in the Israeli-occupied territories.
Even with the involvement of the largest Palestinian company, Gaza still needed foreign assistance to rebuild.
In 1998, the World Bank approved a $10 million credit via the International Development Association, an institution that offers loans and grants to the world's poorest countries, to assist the Palestinian Authority in establishing the Gaza Industrial Estate Project, whose goals included rebuilding the Strip. It was supposed to create up to 50,000 jobs. It cost $84 million, but the World Bank ended it in 2005, claiming the program was "unsatisfactory."
Other international organizations, including the U.N., established programs to help spur development in Gaza as well.
USAID has funded multiple projects in the West Bank and Gaza to improve infrastructure, providing funds to companies willing to do the job. One of them was International Relief and Development, a U.S.-based organization.
In August 2008, IRD was awarded a five-year, $300 million contract for construction activities in the West Bank and Gaza, as part of a USAID program designed to contribute to "the building of new infrastructure required for a viable Palestinian state."
The program included the building of roads, water supply, sanitation facilities, education and health installations, border crossings, courthouses, youth centers, renewable energy and power stations as well as government and municipal structures and buildings. Contracts only lasted until 2012.
Without structures in place to lead the rebuilding, Palestinians in Gaza will have to wait until the international community drafts a plan for reconstruction.
One such plan has already come, from the governments of Germany, Britain and France, which presented it to Israel on Wednesday. It calls for the demilitarization of Gaza, but also demands Israel ease the blockade. It says there should be a monitoring system for goods, particularly construction materials, entering Gaza. But since the document has yet to be released for public viewing, it is unknown how it proposes to do so.
But until the international community or the rival Palestinian governing bodies agree with Israel on a plan to allow construction materials to enter the Strip, Palestinians in Gaza are left to pick up the pieces on their own.
In Gaza City, thousands returned this week to their damaged homes to begin digging through the rubble for valuables. For now, they will have to reside in one of the UNRWA shelters.
"Building homes is only part of the story. The water, electricity and sewage systems, already decimated by years of blockade have been damaged to the point of near complete dysfunctionality," Gunness said. "Amid the uncertainty, one thing is clear. We cannot rebuild Gaza with the blockade in place."
FOR FREE to continue reading
✔️ Unlock the full content of International Business Times UK for free
offer available for a limited time only
✔️ Easily manage your Newsletters subscriptions and save your favourite articles
✔️ No payment method required
Already have an account?
Log in
© Copyright IBTimes 2023. All rights reserved.