Rumored Specs of Apple iPhone 5 Spread as Release Nears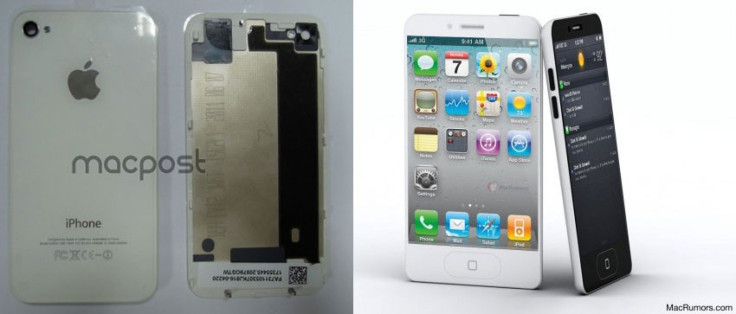 The most anticipated smartphone in the U.S. market -- Apple's iPhone 5 -- has been the source of a relentless amount of rumors over the past few months. The smartphone from Apple is certain to come in October, according to various sources.
The iPhone 5 is weeks away from being announced, according to The New York Times, which cited an Apple employee. The new smartphone will include an 8-megapixel camera, an A5 dual-core processor, mobile payment functions and possibly the Qualcomm mobile phone chip.
According to a TechCrunch report on comments from France Telecom Chief Executive Officer Stephane Richard, the iPhone 5 will come out on Oct. 15. This goes against the rumored release date of Oct. 7, which has been most recently reported by 9to5Mac.
The 9to5Mac forecast is similar to reports that consumer electronics retailer Best Buy communicated to its employees that the iPhone 5 could be released in the first week of October.
An article in a Boy Genius report added fuel to the rumor that Sprint will add the iPhone to its arsenal with the impending launch of the iPhone 5. According to that report, Sprint is not letting its employees take any vacation time from Sept. 30 through Oct. 15 due to the launch of the iPhone 5.
Meanwhile, analysts at Jefferies, a global securities and investment banking group, expect the iPhone 5 to launch in October on all four major U.S. carriers, and they expect Apple to keep the Broadcom Bluetooth/Wi-Fi socket in that device.
There are huge expectations for the iPhone 5's features, which will boast significant hardware and software upgrades. Take a look at the most-rumored iPhone 5 features:
Design: Apple products are known for their beautiful design. The iPhone 5 is expected to adopt a teardrop design that is supposed to be slimmer and lighter than previous iPhone models.
The new smartphone will come with an aluminum plate casing rather than the current glass backing. Rumors suggest a more uniform design across all of Apple's mobile devices than ever before, as aluminum may be the consistent material used in the upcoming iPad 3 and iPod lineups as well.
Recently, the Web page where the iPhone 5/4S was spotted was immediately pulled down by Case-Mate. However, the images clearly showed that the next-generation iPhone 5 could come with radical design changes.
The Web page also revealed that Apple may release two phones. The listing points to the possibility that there will be an iPhone 5 and an iPhone 4S. Even many analysts predict the next-generation iPhone will come in two forms.
Qualcomm Chip Support: The speculation is that Apple is using Qualcomm chipsets, because of the Verizon iPhone, which uses CDMA technology rather than GSM, which AT&T uses. Qualcomm manufactures chipsets that are GSM/CDMA, which would fit both networks. Apple would likely want to minimize SKUs rather than split its product line into GSM and CDMA.
Home Button: One rumor that gets repeatedly mentioned is that Steve Jobs didn't want any physical buttons on the iPhone from the start. However, reported prototypes suggest that the iPhone 5 may have a rectangular button compared to the circular one found in iPhone 4.
iOS 5: Apple's newest mobile operating system version iOS 5 was announced at the WWDC 2011 keynote address on June 6. The new OS comes with 200 new features that will include Improved Notifications System, Newsstand and iMessage. It will also feature new applications, such as the Reminders app and Newsstand, an application resembling Folders and iBooks.
iCloud: The iPhone 5 is expected to feature the new iCloud service for operating iTunes, providing wireless remote access of music from all computers and mobile devices. The iCloud will also store photos, apps, calendars and documents without using the phone's memory storag capacity.
Hardware: Several of Apple's rivals, mainly LG, Motorola and Samsung, have already released dual-core processor phones. According to a recent media report from 9to5Mac, Apple gave its developers a dual-core iPhone 4 to allow them to prep for the iPhone 5.
It is expected that the iPhone 5 will integrate a fast 1.2-to-1.5 GHz dual-core A5 processor chip, which powers the iPad 2, with probably 1GB of RAM. With upgraded hardware, the iPhone 5 will likely be equipped with speed in processing information and apps, in addition to using lighter hardware parts than in previous designs to decrease the device's weight.
In addition to a new processor, new elements such as a SIM-less design or an embedded SIM card could help reduce the iPhone 5's physical thickness. Among other chipsets, a Broadcom BCM4330 could be integrated for its Wi-Fi and Bluetooth capabilities.
Camera: In the tech world, a 5-megapixel camera seems passé -- and as sad as that might sound to some, it's true. Just as they use a dual-core processor, several of the iPhone's competitors in the Android world have phones with an 8-megapixel camera.
Hence, the rumor mills effortlessly churn out one piece of evidence after another for the next iPhone featuring an 8-megapixel
camera. At this point an 8-megapixel camera on the iPhone 5 looks like a foregone conclusion.
According to a CNET report, the iPhone 5 will have an improved flash unit for its camera. Citing industry sources, the report says Apple has reduced orders for iPhone 4's current LED flash.
Apart from the rear-facing camera, Apple's smartphone is also expected to have a front-facing one for video chatting. It is expected to include a dual-LED flash, and there are rumors that the flash unit will be separated from the camera sensor.
It is also reported that new panoramic imaging features will allow instant panoramic shots with Apple's stock photo app, and they will have the ability to record 1080p high-definition videos.
Evidence found within the developer preview of iOS indicates that the next-generation iPhone may still use a 5-megapixel camera sensor, not an 8-megapixel sensor, which Bloomberg reported.
NFC Payment: There have been reports since early this year that Apple is testing an iPhone that incorporates Near Field Communication technology. Users can simply pay for goods by waving their iPhone in front of a contactless payment scanner.
Mobile-payment services using NFC will be a hot segment in the future. The technology could offer features that allow multiple mobile devices to sync for speedier information exchange and gaming.
It is also said that Apple had disclosed in some of its meetings that it won't feature NFC on the next iPhone. The Independent said that Apple will sacrifice NFC in its next iPhone due to lack of industry standards about the technology.
Bernstein Research Analyst Toni Sacconaghi claimed that Apple will not adopt the NFC-based mobile payment feature in the upcoming iPhone 5 until Apple is convinced that the technology's chicken-and-egg-problem is solved, as the technology requires widespread consumer adoption and critical mass with merchants in order to be viable.
But analysts at Jefferies expect Apple to come out with another iPhone, which will likely be named the iPhone 5S, in 2012, which will have an NFC payment feature.
4G: There have been a lot of rumors regarding the possibility of the iPhone 5 being available on 4G networks for AT&T, Verizon and Sprint. The consensus from analysts and tech experts seems to be that the iPhone 5 will not have 4G support.
Peter Misek, an analyst at Jefferies & Co., stated that Apple will not release a 4G LTE capability in the iPhone 5 this year because Qualcomm's LTE chipsets, which Apple would have used, were not reaching the yields that Apple expects for its iPhone 5.
Instead, Misek recently stated that because the new iPhone in October will most likely be called the iPhone 5, he believes the LTE iPhone will likely be named the iPhone 5S and launched in Summer 2012 (though it could come earlier).
Memory: The Apple iPhone 4 comes in 16GB and 32GB versions. However, it is expected that the iPhone 5 will have 16/32/64 GB internal storage.
World Phone with a SIM-less Design: By making it a world phone, the iPhone 5 is rumored to feature a new SIM-less design with two to three internal antennas for CDMA and GSM compatibility.
Model: It is expected that the iPhone 5 will come in a black as well as a white model.
Wireless Charging: A revolutionary way of charging mobile devices may see the iPhone 5 gain mass appeal. The inductive wireless charging technology for the iPhone could juice up its battery without the use of cables or plugs. By utilizing a charging dock, the iPhone can charge its battery as well as share, sync or back up data at the same time.
Best Buy: A Best Buy memo points to a release date on Oct. 21. Some Best Buy employees claim they were informed that pre-orders for the iPhone 5 will begin in coming weeks for a release in the first week of October. However, Best Buy also pointed out that the product introduction and launch dates are subject to change.
Sprint: The iPhone 5 will be offered on Sprint in addition to Verizon and AT&T. An internal memo leak indicated that the company has informed its employees that they can't go on vacation from September 30 to October 15 due to a possible major mobile phone launch. Also Sprint may launch the iPhone 5 when the carrier is set to offer unlimited data plan.
Must Read: AT&T Samsung Galaxy S2 on Oct. 2, iPhone 5 Two Days Later
© Copyright IBTimes 2023. All rights reserved.