Russia Calls For Counter-Sanctions Against 'Anti-Russian' Canada After Ottawa Hammers Moscow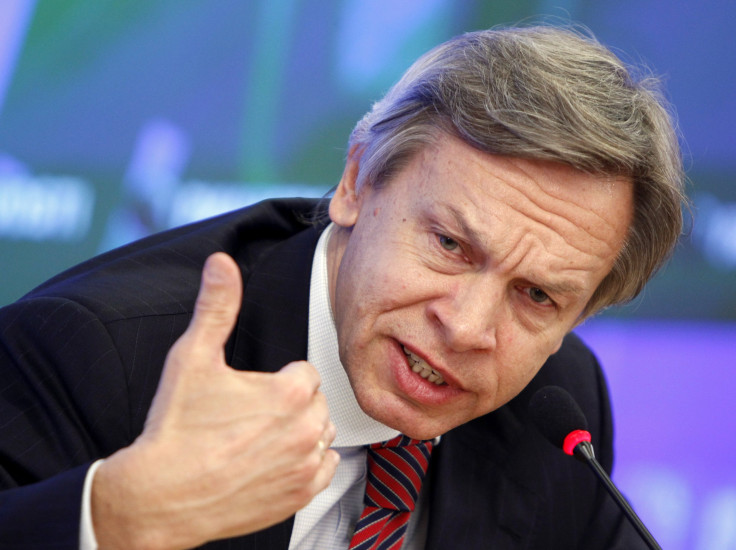 One of Moscow's most powerful politicians is calling for his country to adopt heavy countersanctions on Canada after Ottawa made moves Monday to further inhibit the economic activities of 14 Russian companies and three Russian individuals. Alexei Pushkov, who heads the foreign-affairs committee in the State Duma, the lower house of the nation's parliament, said Canada was one of the most anti-Russian countries in the Western alliance and was attempting to broaden "its barely noticeable role in international affairs" by sanctioning it, the official Russian news agency Tass reported.
"We should not pretend as if nothing is happening, and we need to devise a set of measures in regard to Canada," said Pushkov, who was also reacting to a Canadian ban on imports into and exports out of Crimea, the former Ukrainian territory that Russia annexed in March 2014.
Canada's sanctions, announced by the Stephen Harper-led Conservative government Monday, are primarily aimed at Russia's four main energy producers: Gazprom, Gazprom Neft, Surgutneftegas and Transneft. They also impose economic sanctions and travel bans on three leaders of the Eurasian Youth Union, a wing of an anti-European political organization in Russia, according to a document published by the Foreign Affairs, Trade and Development Canada agency.
Since sanctions were introduced in the wake of Moscow's move to annex Crimea -- and strengthened after it became apparent that Russia was involved in the conflict in eastern Ukraine -- Russia's economy has gone into a troubling recession. Couple with the collapse of global oil prices per barrel, which went from over $100 in June last year to under $50 in March this year, sanctions have forced Moscow to dip into its cash reserves and make difficult cuts in its annual budget.
Given Canada's limited economic ties with Russia, Pushkov said Ottawa's sanctions meant "the restrictive embargo on the import of agricultural goods from the [European Union] countries is absolutely justified" as a retaliatory measure against the West.
Pushkov also indicated that canceling all the sanctions was the only way out of the tit-for-tat sanctioning being undertaken by Western countries led by the EU and by Russia. "Russia and the EU should come out of this situation ... Restoring the principles of European parliamentarism, expanding interparliamentary dialogue is the only possible way," he said.
Last week, economic sanctions against Russia were extended by the EU until January, specifically over "Russia's destabilizing role in eastern Ukraine," EU officials said at a meeting in Luxembourg. The extension includes a ban on some technologies and exchanges between Europe and Russia in the areas of defense and energy, as well as limited access to some financial markets, according to the Guardian in the U.K.
© Copyright IBTimes 2023. All rights reserved.