Russia Economy 2016: No GDP Growth Expected Amid Low Oil Prices, Sanctions, Government Officials Admit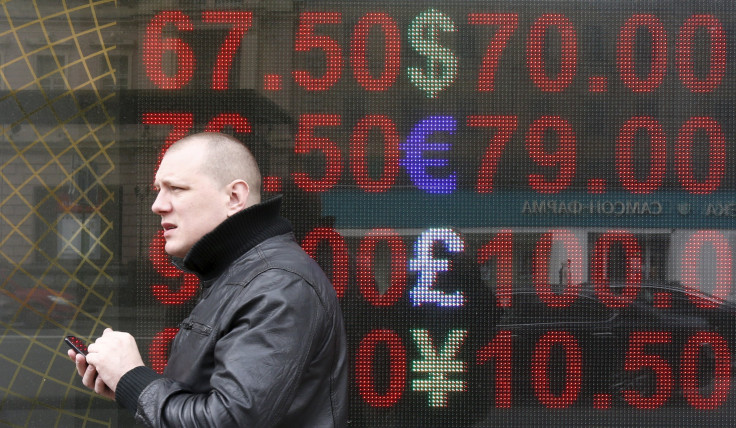 There's more bad news for the Russian economy. The country's government officials admitted there would be no gross domestic product growth in 2016. Prime Minister Dmitry Medvedev said as much Thursday while giving a more optimistic forecast than the World Bank's prediction of a 1.9 percent contraction this year.
"In the basic version [of the government's macroeconomic forecast], GDP growth this year will remain at around zero or be slightly negative. A slight growth of 1 to 2 percent is expected in 2017-2019," Medvedev said.
Economy Minister Alexei Ulyukayev forecasted an economic contraction of 0.2 percent in 2016 with no growth in Russia's industrial output. He said he expected consumer price inflation to hit 6.5 percent in 2016. That was good news compared to the World Bank's forecast.
"Russia's longer-term growth path will depend on the strength of its structural reforms. Economic reforms designed to bolster investor confidence could greatly enhance Russia's long-term growth prospects," Andras Horvai, World Bank country director for the Russian Federation, said earlier this month.
Low oil prices coupled with Western economic sanctions following Russia's annexation of Crimea from Ukraine in March 2014 have adversely affected the Russian economy, which showed no growth in the first three months of 2016, the head of Russia's central bank research department said Thursday. Russians are now spending more than 50 percent of their income on food purchases as the number of Russians living below the poverty line continues to rise.
Russian trade with the U.S. took a major hit in 2015, dropping by 27.9 percent amid ongoing sanctions and cool political relations.
"Last year was not particularly favorable for trade between Russia and the U.S. Our overall 2015 turnover was $21 billion, a decline of 27.9 percent," said Deputy Economic Development Minister Alexei Likhachev last week.
Medvedev, along with Russian President Vladimir Putin, have called on the Russian people to focus on internal economic development while sanctions remain in place and foreign borrowing is hard to come by.
"We are solving our financial problems with the help of internal resources. This is our common victory. It means that we are can develop by using the internal sources," Medvedev said Tuesday. "No one has forced us to our knees. Unlike other countries, we are not begging with an outstretched hand as we used to do in the 1990s."
© Copyright IBTimes 2022. All rights reserved.
FOLLOW MORE IBT NEWS ON THE BELOW CHANNELS