Russians Spend Over Half Of Income On Food As Poverty Rises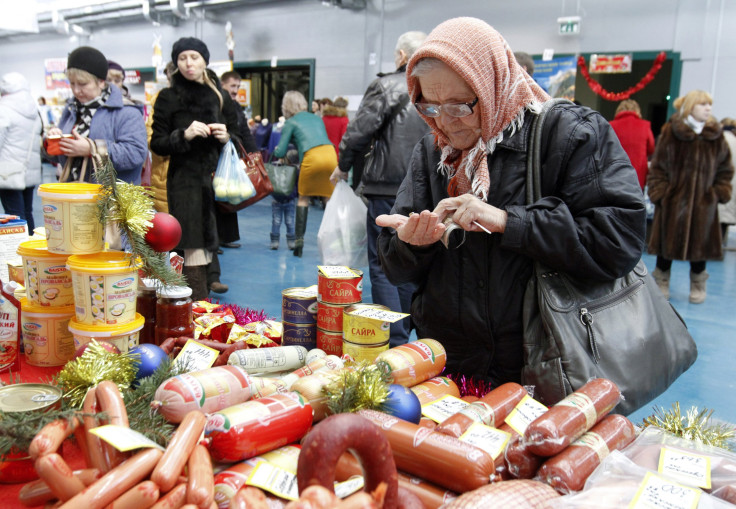 MOSCOW — Russians have cut back on purchases of non-essential goods and now spend more than 50 percent of their income on food, amid growing poverty and an economic recession driven by low oil prices and Western sanctions on Moscow.
Spending on food rose to 50.1 percent of all retail spending in February 2016, its highest level in 8 years, according to a monthly analysis published Tuesday by a top Moscow university.
"We are now observing a trend of rising spending on food that logically reflects a fall in real incomes and a rise in poverty," said the authors of the report by the Russian Presidential Academy of National Economy and Public Administration.
A sharp rise in the number of Russians living below the poverty line has been one of the most dramatic consequences of Russia's economic crisis, the country's longest for fifteen years, and has challenged the narrative of rising prosperity that has been a hallmark of most of Vladimir Putin's period at the top of Russian politics.
Headline inflation in Russia has slowed in recent months, but it remains more than twice the Central Bank's medium-term target of 4 percent, and prices of some foods are still rising.
In the first three months of 2016, the price of sunflower oil in Russian stores climbed 23.3 percent, the price of fish spiked 11 percent and the price of dairy products jumped 8 percent, according to the report. The price of lemons shot up 11.6 percent in February alone.
Poorer households traditionally spend a higher percentage of their budgets on food. At the end of 2015, people in poverty were classified as those receiving less than 9,452 rubles ($139) a month.
Complaints over the economy, and particularly rising prices, featured prominently in an annual televised phone-in that President Vladimir Putin held last week, and the Russian leader appeared keen to stress that he recognized and understood the difficulties faced by ordinary people.
More than 3 million Russians crossed the poverty line in 2015, bringing the total to the highest level in nine years. The World Bank predicts another 1.1 million will enter poverty in 2016, pushing the total number above 20 million — one out of every seven people.
The report highlighted how Russians are developing strategies to cope with the crisis. Over 12 percent of people now do odd jobs, and around a quarter are dependent on harvests of fruit and vegetables from their own gardens, the report said.
Russia's economy contracted by 3.7 percent last year and the country's Central Bank expects it will contract up to 1.5 percent this year. Others are more pessimistic and the World Bank predicted earlier this month that the economy will shrink 1.9 percent in 2016.
An increasing number of ordinary Russians expect economic problems to persist. According to the report, 42 percent of people now think the crisis will continue getting worse for between one and two years, up from 20 percent in October last year.
© Copyright IBTimes 2023. All rights reserved.