Russia And Egypt Reach Initial Agreements Over Arms Deal Worth $2 Billion During Sisi's Visit To Moscow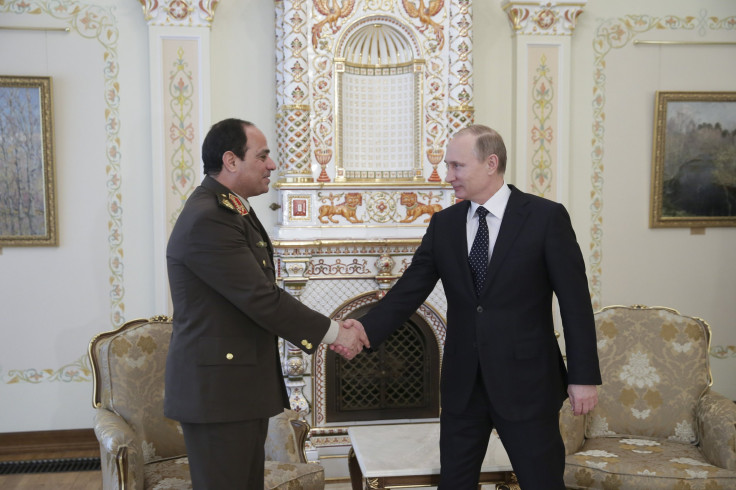 Russia and Egypt have reached an initial agreement on an arms deal worth more than $2 billion, during a meeting in Moscow between Russian President Vladimir Putin and Egyptian army chief Abdel Fattah al Sisi, a local newspaper, Vedomosti, reported Friday.
The development closely follows Putin's meeting with Sisi, who visited Moscow to negotiate the deal with Foreign Minister Nabil Fahmy. The deal for the purchase of Mig-29 fighters, air and coastal defense systems, Mi-35 attack helicopters and some smaller arms, will be reportedly funded by Saudi Arabia and the United Arab Emirates.
"I know that you have decided to run for president of Egypt. I wish you luck both from myself personally and from the Russian people," Putin reportedly told Sisi, adding: ""We are paying very close attention to the development of the internal political situation in your country, and wish the leadership of Egypt success on the path to nationwide peace and harmony."
The Egyptian army chief said, according to The Moscow Times: "We of course are also interested in various forms of cooperation with you in the interests of providing a good life for our people in all spheres. We are always supporters of stability and peace throughout the world."
Although there has been no official announcement yet, if the transaction is confirmed, it will be the largest defense agreement between the two countries since the 1970s. And it could be a cause for concern for the U.S., which has been the primary supplier of Egyptian defense supplies. However, since the overthrow of democratically-elected Islamist President Mohamed Morsi last year, the U.S. has frozen a big chunk of Egypt's $1.5 billion military aid.
According to Michele Dunne, an analyst at the Carnegie Endowment for International Peace, the American response to the Egyptian military's crackdown on protesters, which has led to 2,500 deaths and more than 20,000 arrests since July, has upset Egypt.
"We're seeing Putin trying to step up Russia's game in foreign affairs, almost reviving a Cold War-type rivalry between Russia and the United States," Dunne told USA Today on Thursday.
Russia's Foreign Minister Sergei Lavrov and Defense Minister Sergei Shoigu had visited Egypt in November where the arms deal was reportedly proposed. After this meeting, Lavrov had said that both the countries have agreed to "speed up the preparation of documents that would give an additional impulse to our military and military-technical cooperation."
Shoigu, after the meeting of the two countries' delegations, reportedly said on Thursday: "We expect that our agreements will be translated into concrete projects that meet the security interests of our countries."
© Copyright IBTimes 2023. All rights reserved.
FOLLOW MORE IBT NEWS ON THE BELOW CHANNELS