Is Russia Preparing For War? Moscow Calls US Troops In Poland A Threat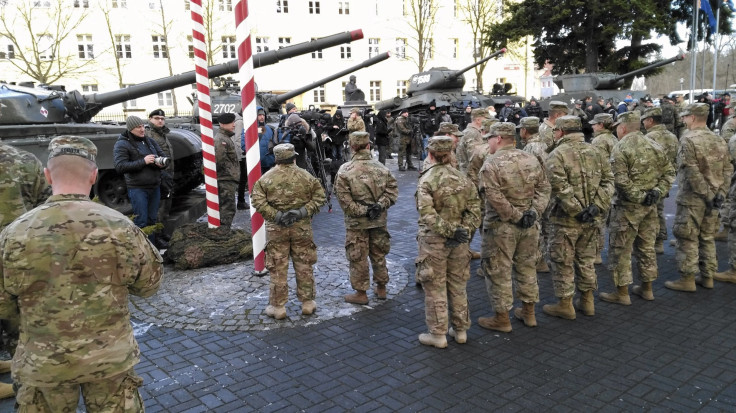 The Kremlin warned Thursday that a move to send U.S. troops and tanks to Poland poses a threat to its national security. Vladimir Putin's spokesman, Dmitry Peskov, described the effort as an aggressive step along Russia's borders.
"We perceive it as a threat," Dmitry Peskov said on a press conference call with reporters. "These actions threaten our interests, our security. Especially as it concerns a third party building up its military presence near our borders. It's not even a European state."
So far, out of the 4,000 troops Poland was promised, the nation bordering eastern Russia has received about 1,000 NATO soldiers this week, according to the Polish defense ministry. On Saturday, the U.S. troops first arrived in the northern German port of Bremerhaven before heading toward Poland.
The move is aimed in part at calming East European states uneasy with Russia's growing aggression, especially after the 2014 annexation of the Crimea region of Ukraine. Poland has also received armored tanks, trucks and other military equipment that have come in by both rail and air.
"Let me be very clear, this is one part of our efforts to deter Russian aggression, ensure territorial integrity of our allies and maintain a Europe that is whole, free, prosperous and at peace," Lt. Gen Tim Ray, deputy commander of US European Command, said.
In all, the U.S. plans to send 87 tanks and 144 armored vehicles, according to BBC News. The US also plans to send more troops to bases in the Black Sea, the Netherlands, Belgium and Germany, while the United Kingdom plans to send an 800-strong battalion to Estonia in May.
"I'm confident in the very powerful signal, the message it will send [that] the United States, along with the rest of NATO, is committed to deterrence," The commander of U.S. land troops in Europe, Lt Gen Ben Hodges, said in December.
© Copyright IBTimes 2023. All rights reserved.