NATO Chief Announces Deployment Of 4 Battalions In Baltic States Ahead Of Defense Ministers' Meeting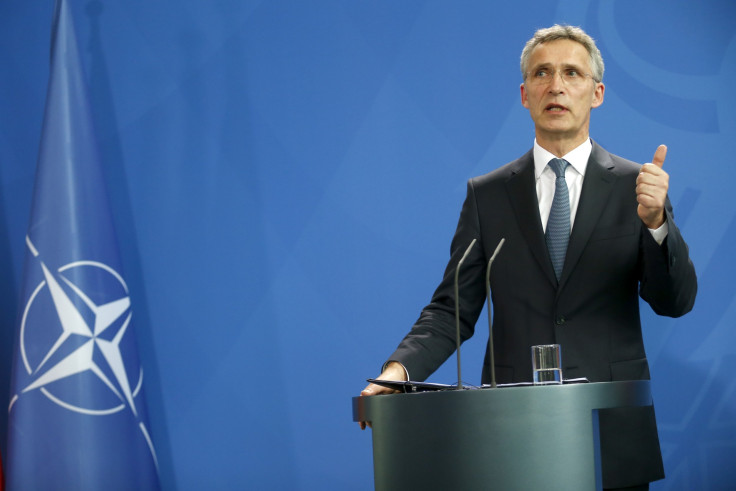 Defense ministers from NATO member states will begin a two-day meeting in Brussels Tuesday. At a press conference before the meeting, which is expected to set the agenda for a crucial NATO summit in Warsaw next month, NATO Secretary General Jens Stoltenberg said the talks would aim to strengthen "collective defense and enhance cooperation with partners."
"First, we will bolster our deterrence and defense across the Alliance against threats from any direction," Stoltenberg said. "Second, we will focus on projecting stability beyond our borders, by supporting our neighbors and partners. Because a stable neighborhood will help to keep us safe."
On Monday, the NATO chief announced that the alliance will deploy four multinational battalions to the Baltic states and Poland — countries that are seeking to boost their defenses against Russia. The nations' increased push to guard their borders against Moscow is primarily driven by Russia's annexation of Crimea in 2014 and its ongoing support for rebels in eastern Ukraine.
"This will send a clear signal that NATO stands ready to defend any ally," Stoltenberg said. "But of course, our defense and deterrence does not rely on just four battalions. These are part of a much bigger shift in our posture, in response to the challenges we face."
Although there was no immediate response from Moscow, the Russian government has, in the past, stated that it "would never attack any member state of NATO." It has, however, expressed concerns over "the further expansion of NATO to the east," and accused the 28-nation alliance of exploiting the unrest in Ukraine to "think up a new purpose."
Speaking at the press conference Monday, Stoltenberg said that the battalions, which would be formally approved during the Belgium meeting, would be deployed on a rotational basis.
"We have also taken action so that our troops can move faster across Europe. For exercises and reinforcements, if needed," Stoltenberg said. "There will also be more pre-positioned equipment and supplies. All together this strikes the right balance between a greater ability to reinforce, and a boost to our forward presence."
The defense ministers will also discuss steps NATO can take to combat terrorism beyond its borders — for instance, by deploying surveillance planes in Iraq to aid the fight against the Islamic State group — and to clamp down on people-smuggling across the Mediterranean.
"We will discuss the future of our cooperation and the cooperation between NATO and the European Union, together with High Representative Mogherini and Ministers from Finland and Sweden," Stoltenberg said. "So over the next two days, we will take a series of important decisions."
© Copyright IBTimes 2023. All rights reserved.