Russia Sanctions: Germany, Others Suggest EU Buy Out French Warships Contract From Russia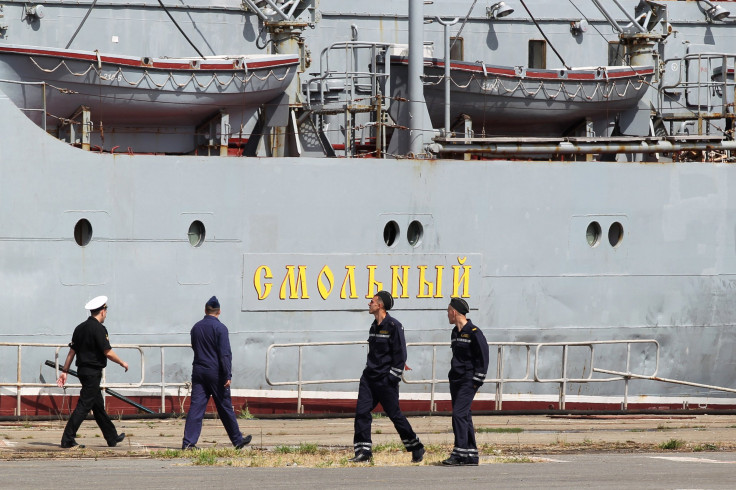 The idea that the European Union should acquire two French helicopter-carrying assault ships, rather than let France deliver the warships already sold to Russia, is becoming a stronger possibility as Western nations have banned future arms sales to Russia and restricted business with its energy and financial sectors, analysts said.
"It is being discussed in Paris as an option," Edouard Tétreau, head of the Paris office of think tank European Council on Foreign Relations, told Defense News. "It is gaining traction in Paris. There are diplomats and politicians in Paris who see that as a possibility."
Tétreau told Defense News that the EU has ample financial means to buy the contract.
"An alternative would be NATO, which has the infrastructure and mandate," he said. If the EU were to make the move it would likely be via the European Defence Agency (EDA), which could put the funds together for any deal.
Suspecting Russian involvement with the crashed Malaysia Airlines Flight 17 in eastern Ukraine that killed 298 people, the EU and U.S. adopted tighter sanctions against Russia last week. The latest round of sanctions cut off Russian state-owned banks from European and American capital markets and ban arms trades and exports of technologies for deep-water, Arctic and shale oil drilling.
According to French naval defense company DCNS, the sanctions would not affect France's $1.6 billion contract with Russia, signed in 2011, to deliver the Mistral-class warships. Under the contract, France would deliver the first ship by the end of this year and the second in 2015.
French government officials have been looking for a solution that would not harm its shipbuilding industry. The French foreign minister, Laurent Fabius, has said his government would decide in October whether to go through with the ship deliveries. One option gaining interest as a possible French exit from the arms contract with Russia is the EU buying the contract.
The German Navy has proposed that Europe buy the Mistral ships because such an acquisition is beyond the means of a single nation, according to Claudia Major and Christian Molling, senior researchers at the German Institute for International and Security Affairs. They wrote in May about the EU acquisition idea, saying Europe "offers the opportunity to solve the French dilemma by buying up the Mistral ships and using them for itself."
Jean-Paul Perruche, chairman of the think tank EuroDefense-France, told Defense News that an EU acquisition has "been under discussion for the last three months under confidentiality."
Russia has responded to sanctions so far by banning most imports of fruits and vegetables from Poland, saying it would expand the ban across Europe. Poland had lobbied the EU to tighten sanctions against Russia.
© Copyright IBTimes 2023. All rights reserved.