Russia-Turkey Crisis: Moscow Says U.S. Drone Footage Shows ISIS Tankers Crossing Into Turkey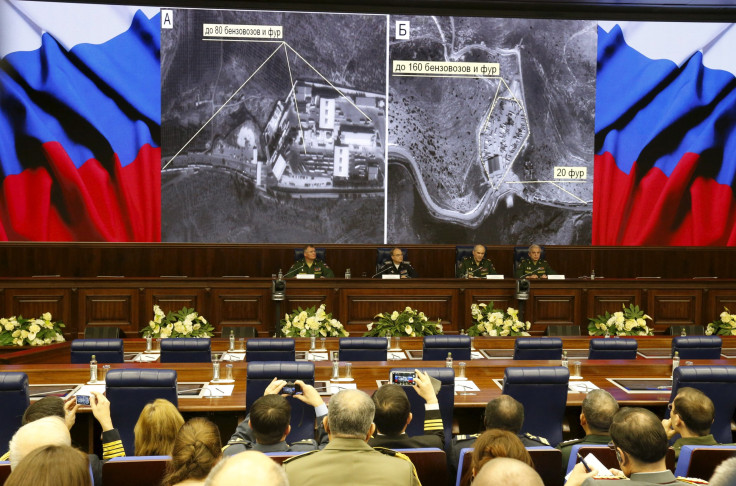 Russia escalated its rhetoric against Turkey Saturday, with its Defense Ministry saying on Facebook that U.S. drone footage shows trucks loaded with oil crossing into Turkish territory from Syrian territory controlled by the Islamic State group. Moscow said this week it had proof the militant group formerly known as either ISIL or ISIS smuggled oil into Turkey, to the benefit of President Recep Tayyip Erdogan and his family.
The U.S. State Department has said American officials do not believe the Russian claims that the Turkish government is benefiting from the oil marketed by the Islamic State group, according to Fox News. Russian-Turkish relations have been strained since a Russian warplane was shot down by Turkish armed forces in disputed airspace Nov. 24.
Moscow released this week photographs and video that allegedly showed trucks moving between Syria and Turkey.
"If the American colleagues are not satisfied with those ones, they should watch videos gained by their own UAVs," the Russian Defense Ministry said on Facebook. "By the way, the number of their unmanned aerial vehicles active in the sky over the Syrian-Turkish border and oil fields has been increased by three times recently."
Russian authorities did not say originally what evidence they had that Erdogan and his family were involved in the oil trade conducted by the Islamic State group. Meanwhile, Erdogan has said nobody had the right to slander Turkey by saying it bought oil from the militant group.
"Lately, statements of the State Department and the Pentagon representatives have been looking like a theater of the absurd based on double standards and a play on words," the Russian Defense Ministry said on Facebook.
A U.S. State Department official said Friday the Islamic State group typically transports between 200 and 250 barrels of oil per truck and that it would take at least 1,000 trucks to smuggle enough oil into Turkey to affect the Middle Eastern country's economy, Fox News reported. The official acknowledged small volumes of oil have been smuggled across the Syrian-Turkish border, but argued the total volume is insignificant.
"What I have not seen is imagery of the border crossing with trucks crossing the border, and that's because I don't believe that exists," Reuters similarly quoted a U.S. State Department official as saying Friday.
© Copyright IBTimes 2023. All rights reserved.
FOLLOW MORE IBT NEWS ON THE BELOW CHANNELS