Russia-Ukraine Conflict: Fighting Spikes As Unity Over European Economic Sanctions Begins To Fray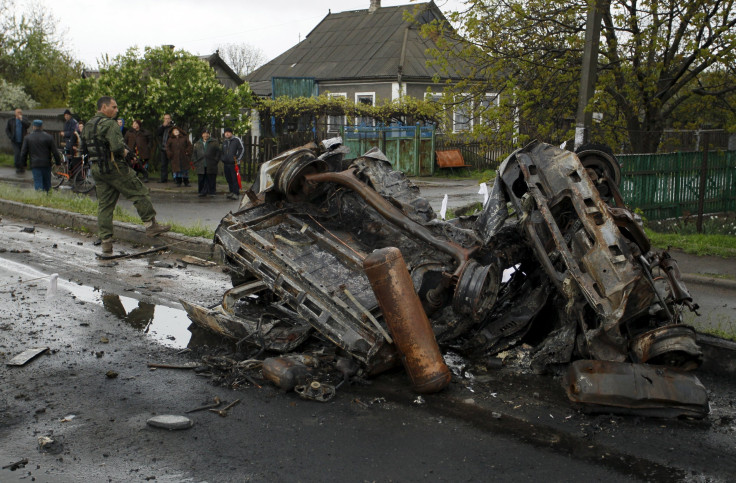 Fighting in eastern Ukraine has spiked in line with the increase in ceasefire violations there, international monitors said Thursday. The escalation has come as European countries debate whether to continue their economic sanctions on Russia over the Kremlin's actions in Ukraine, Agence France-Presse reported.
"During the past weeks, the [Organization for Security and Cooperation in Europe, or OSCE] has registered the highest number of ceasefire violations in months," AFP quoted chief monitor Ertuğrul Apakan as saying. "Armed violence in eastern Ukraine has once again reached worrying levels."
The conflict in eastern Ukraine broke out in April 2014 after Russia annexed Crimea from Ukraine the preceding month. The war has pitted Ukrainian government troops against pro-Russian rebels and left more than 9,000 people dead and more than 1.4 million displaced. In addition, more than 1.5 million people have gone hungry because of the violence, the United Nations food relief agency said at the beginning of this month.
Ukrainian Armed Forces Over Time | FindTheData
The Russian government continues to insist its troops are not involved in the conflict, despite several of its soldiers being captured by the Ukrainian military. Both sides have violated the Minsk II peace agreement that was signed in February 2015 in an effort to bring the conflict to a close. The OSCE reported an increase in artillery and mortar use banned under the terms of the deal, as well as a rise in attacks on monitors.
"A sustainable ceasefire is of central importance to the further implementation of the Minsk agreements," Apakan said. "Now is the time for the sides to show visible and decisive action to restore it."
Leaders of the self-proclaimed Donetsk People's Republic claimed this week that at least four civilians were killed in shelling by the Ukrainian military. However, the military denied it carried out any shelling during the relevant time period.
The spike in violence comes as France's lower house of parliament voted Thursday in favor of lifting economic sanctions on Russia that were levied after the annexation of Crimea. The nonbinding vote signals fraying European unity over policy on Russia.
"[The sanctions are] totally ineffective today to solve this international crisis and are dangerous for France's interests," lawmaker Thierry Mariani said.
The U.S. vowed this week to maintain its own sanctions on Russia until the terms of the Minsk agreement are met. Russia's economy has been hit hard, not only by the sanctions but also by the low oil prices around the globe. The World Bank has predicted the Russian economy will contract by 1.9 percent in 2016.
© Copyright IBTimes 2023. All rights reserved.