Russian Airstrikes In Syria Are Helping ISIS Terrorists Into Europe: US Air Force General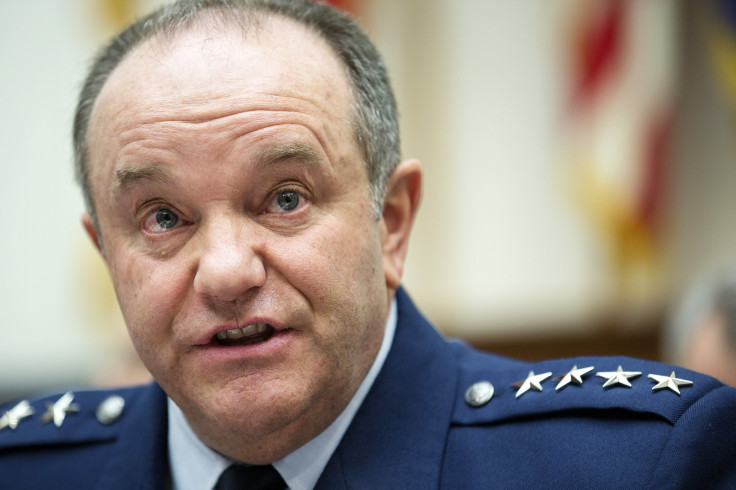 The top U.S. general in Europe told Congress Tuesday that Russian airstrikes against Syrian rebel and Islamic State group targets are increasing the refugee flow from the region, including ISIS terrorists who are using the crisis to gain entry to Europe.
"This criminality, the terrorists and this return of foreign fighters [to Europe] is clearly a daily part of the refugee flow now," U.S. European Command's Gen. Philip Breedlove told the Senate Armed Services Committee. "Together, Russia and the Assad regime are deliberately weaponizing migration ... to break European resolve."
Breedlove's comments come amid the worst refugee crisis in Europe since World War II, and during a period of significant Russian involvement in Syria, where Moscow supports dictator Bashar Assad's regime.
Since the civil war began almost five years ago, it is estimated that as many as 470,000 Syrians have been killed, 7 million people internally displaced and around 4.5 million forced from the country as refugees.
But experts have said the often-repeated claims that Islamic terrorists are using the crisis as a way to get into Europe are being overplayed.
"I don't see the need for ISIS to embark on such a convoluted scheme to carry out attacks or be a threat in the West," Reinoud Leenders, associate professor in international relations and Middle East studies at King's College London's Department of War Studies, told the Los Angeles Times last year. ISIS has "a huge reservoir of sympathizers who all have Western or European passports and who were born or raised there," he added.
Sen. John McCain, R-Ariz., chairman of the Armed Services Committee, said during the hearing that he believed Russia is purposefully endangering the Syria ceasefire that came into force Saturday.
"To the surprise of no one on this committee, it only took until the second day of the so-called cease-fire in Syria before [Russian President] Vladimir Putin resumed his airstrikes in support of the murderous Assad regime," McCain said. "I am sure Russia will say it has only targeted terrorists."
© Copyright IBTimes 2023. All rights reserved.