Russian Armata T-14 Tank's Crew May Be Reduced Due To 'High Degree Of Automation'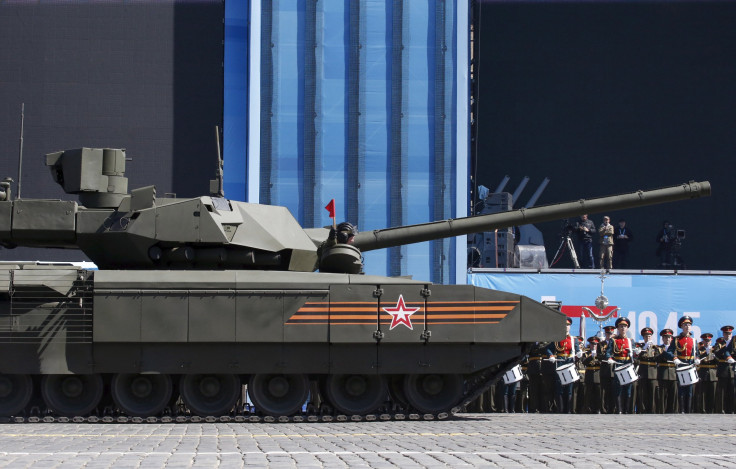 An emphasis on automated technology in Russia's next-generation Armata T-14 tank may allow Russian military officials to reduce the number of personnel needed to operate the vehicle, a top designer at the Russian manufacturer responsible for the Armata said Thursday. Russia has touted the Armata's capabilities and specifications on several occasions in recent months.
The Armata T-14 tank possesses an automated gun turret, digital controls and an early-warning system to identify potential mechanical issues before they occur, Russian officials have said. It's unclear which of the tank's other elements are automated. "The high degree of automation allows for coming close to reducing the crew of the Armata platform-based tank from three to two," manufacturer Uralvagonzavod's top designer, Andrei Terlikov, told Kremlin-controlled TASS.
Russian officials say the T-14 tank will possess a 125-millimeter gun, though the Armata platform can also be outfitted with a 152-millimeter gun. The tank's crew will operate in a specially armored section that will, in theory, protect them from the vehicle's volatile elements, such as ammunition and fuel.
The Armata tank will also make use of "explosive reactive armor" purportedly capable of withstanding impact from anti-tank missiles and grenade launchers. "It has no analogues in the world. The improvement of the new armor characteristics is achieved not by an additional explosive, which may destroy the tank systems if ammunition explodes on the armor. With the new armor, the reactive armor unit's explosion will not be critical," a Russian military source told TASS earlier this week.
The Russian military publicly unveiled the Armata T-14 tank for the first time in May at Moscow's Victory Day parade, which commemorated the 70th anniversary of the Soviet Union's defeat of Nazi Germany at the end of World War II. One of the tank's prototypes reportedly stalled in front of crowds during a rehearsal ceremony.
© Copyright IBTimes 2023. All rights reserved.