New Russian Armata Tank Features 'Reactive Armor' That Can Withstand Grenade Launchers, Anti-Tank Missiles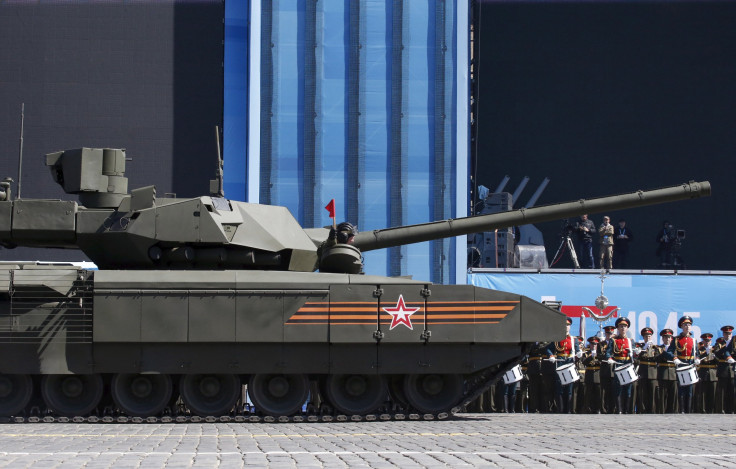 Russia's Armata T-14 tanks feature an outer shell impervious to grenade launchers or anti-tank guided missiles that is unlike anything else in the world, according to TASS Russia News Agency. The tank's armor was unveiled in May during the annual Russian Victory Day parade in Moscow, but the specifics of its design have been largely kept secret.
"This is state-of-the-art active armor that surpasses characteristics of the Kontakt-5 and Relikt explosive reactive armor," a military source told the state news agency Tuesday, referring to previous armor designs, one of which was developed before the fall of the Soviet Union in 1991. The comments were made at Russia's first Army 2015 technology forum in Moscow. Around 70 countries were expected to attend Tuesday's exposition where companies could purchase arms and Russian military equipment. Among the items for sale were ships and various weapons systems.
"It has no analogues in the world," the source said of the Armata's exterior. "The improvement of the new armor characteristics is achieved not by an additional explosive, which may destroy the tank systems if ammunition explodes on the armor. With the new armor, the reactive armor unit's explosion will not be critical."
The tank was developed over five years beginning in 2009. It was produced by Uralvagonzavod, a Russian machine research and production company that is the largest manufacturer of battle tanks in the world. Uralvagonzavod designed Russia's T-90 and T-72 tanks, which are currently in service.
While the Armata tanks didn't officially debut until the May 9 Russian Victory Day parade, video of the Armata tank surfaced online in March. It was recorded at a rail station where a fleet of the tanks was being transported to Moscow for the event. Russian officials heralded the tanks as a "masterpiece."
Among the tanks new features is an automated gun turret with a built-in override in the event of mechanical malfunction. Full-scale production of the tanks is expected by 2020. The tanks will replace Russia's older tank models as part of Russian President Vladimir Putin's mission to revamp the country's military.
© Copyright IBTimes 2023. All rights reserved.