Russian Submarine Fire Highlights The Dangers Of An Aging Fleet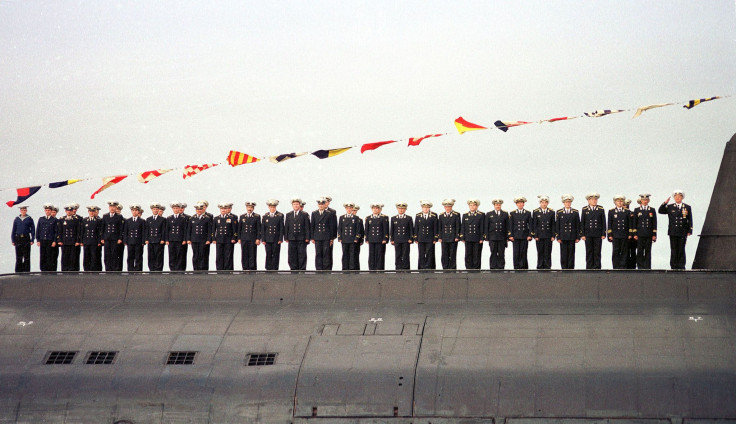 A fire aboard a 23-year-old Russian nuclear submarine Tuesday is the seventh major incident for the country's submarine fleet since the Kursk was lost with all hands in 2000. While the Russian press downplayed the incident on the Orel, reporting the nuclear reactor was shut down and no fuel or nuclear weapons were on board, the fire scared the world and has added to concerns about the general safety of Russia's aging submarine fleet. A lot of those submarines are nuclear-powered and armed, and an accident could spell an atomic disaster.
"There is a continuing problem with Russia's fleet," said Paul Schwartz, a senior associate at the the Center for Strategic and International Studies and an expert on the Russian military. "They are certainly going to continue to have problems until they can really upgrade their fleet and phase out or substantially upgrade [submarines] with [outdated] components and systems."
The Orel, also known as K-266, was commissioned at the end of 1992 and was the second-youngest of the Oscar II class submarines. It was undergoing a dry-dock refit in the northern port of Severodvinsk when welding work ignited some insulation. The dock was later flooded to contain the fire.
Unlike other recent Russian submarine incidents, the Orel's does not appear to have been life threatening and is relatively minor, but it does underline Russia's struggles to bring its submarine fleet into the 21st century.
After the end of the Soviet Union in 1991, Russia's military was infamous for being poorly equipped and suffered badly from decline. This was seen in dramatic fashion in August 2000 when the Kursk, also an Oscar II class submarine, sank in the Barents Sea after torpedo warheads exploded. All 118 sailors were killed. Russia's navy was criticized internationally for its safety record and for rejecting assistance to help 23 surviving crew members who lived for several days in the stern.
Since that incident, Russia has gone from around 400 submarines to about 65 in 2007, Schwartz said. Many of those that were decommissioned dated back to the 1970s, with technology so outdated, an upgrade would not have been financially viable.
Russian submarines have been involved in other accidents that highlight not only a lack of investment, but also a complacency with safety. Almost three years after the Kursk, the long-time decommissioned K-159 also sank in the Barents Sea while being towed to be scrapped. In addition to the loss of nine crew, the submarine still contained around 800 kilograms of spent nuclear fuel. A fire aboard the Daniil Moskovsky, a Victor-3 class submarine, in 2006 cost the lives of two of its sailors. In 2008, 20 died from asphyxiation from a gas leak on the K-152.
Perhaps underlining lessons have not been learned, an almost identical fire to Thursday's took place on the K-150 in 2013. While in dry dock undergoing maintenance, it also suffered a fire that started from welding near insulation material. After an investigation, it was noted 15 servicemen were injured.
Russian submarines featured prominently in the international media in late 2014 when the Swedish military spent days looking for one it claims had surfaced after suffering mechanical problems. The claim was refuted by the Kremlin, but not before causing widespread fears in Sweden that Russia was once again infiltrating its territorial waters, as it did consistently in the latter part of the Cold War.
But compared to those days, the Russian navy's subs may not be as threatening now. "A lack of maintenance and procurement of quality systems has and will continue to hurt Russia's submarine fleet for the next 10 to 15 years," Schwartz said.
Add to that the demise of the country's shipbuilding industry and you end up with deep, almost unfixable issue, said Schwartz, who added even some of the newer submarines Russia has launched, the Borei class, will also suffer because of a lack of investment in infrastructure and technology. "This is not something you can just throw money at," Schwartz said. "I think there is going to be a window of time where Russian submarines are going to have a significantly higher rate of accidents and issues than, say, the U.S. fleet, which is maintained at a much higher level."
© Copyright IBTimes 2023. All rights reserved.
FOLLOW MORE IBT NEWS ON THE BELOW CHANNELS