Russia's 2012 Presidential Elections: Who Can Beat Putin?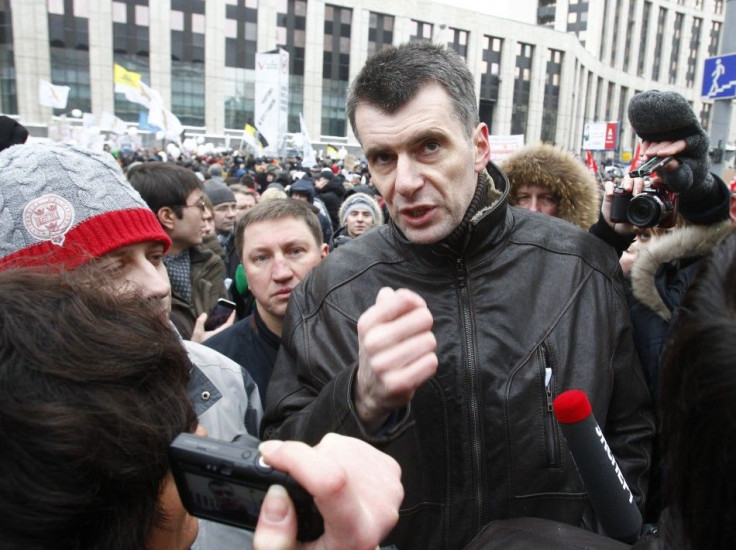 Despite tens of thousands of protesters currently demanding his resignation, Russian Prime Minister Vladimir Putin is still the front-runner for the March 4 presidential elections.
Putin hasn't lost an election in 11 years and is hoping that momentum will carry him into a third term as president. Despite a recent setback, his United Russia party still has a majority in the State Duma, the Russian parliament, and Putin has proved in the past that he is both willing and able to do what is needed to win. This, according to protesters in Moscow, includes stuffing ballot boxes, arresting opposition leaders such as Mikhail Khodorkovsky, and denying new parties entry into the elections.
After announcing that there would be no review of the recent Duma elections, Putin promised that the presidential race would be totally fair and up to code. But in June, Putin said he would have to cleanse himself after the elections, implying that the battle for president will not be squeaky clean.
I shall go to wash, in the hygienic sense of the word but also in the political sense, Putin said at a news conference when asked what he would do on March 5.
After all the campaigns which we shall have to endure, you have to be properly hygienic. Unfortunately, this is an inevitable process.
As Churchill said: Democracy is the worst form of government but there is no better one, Putin noted.
With unrest mounting and protests against his government growing, Putin has downplayed the significance of the massive rallies in Moscow this month, calling them leaderless, confused and unable to make any political impact.
I have difficulty imagining who from their ranks could do concrete work for the development of our state, he said.
In March, Putin will face off against his usual opponents from within Russia's established political parties, including the Liberal Democratic Party's Vladimir Zhirinovsky and the Communist's Gennady Zyuganov. But there could also be a number of non-traditional candidates would could gain popular support and challenge Putin's commanding authority.
Alexei Navalny
Navalny, who has been described as the key engine behind Russian protests, is a journalist and blogger who has devoted himself to uncovering state-sponsored fraud.
Navaly's vehement anti-Kremlin rhetoric has energized demonstrators and he is an increasingly popular figure. The Party of People's Freedom offered to nominate him for president earlier this year, which he initially refused, calling the elections rigged from the start.
Navalny has embraced his role in the protests and said he is prepared to take his message of political accountability forward to March.
I am ready to fight to make sure that we get fair elections, Navalny told the Echo of Moscow radio station.
When we get a chance to take part in elections, I am ready to fight for leading positions, including in the presidential vote.
Having been in jail during the registration deadline, Navalny is actually ineligible for the March election. However, if the government gives in to his demand to push back the elections (an admittedly unlikely scenario), then the blogger could have a shot at the top job.
Mikhail Prokhorov
Russia's third-richest person has already declared that he will challenge Putin in 2012. As the former head of the Right Cause party, the billionaire industrialist and New Jersey Nets owner was once a Putin supporter, but he quit the party and determined to run against United Russia as an independent.
In a display of seriousness that could only come from Prokhorov, the jet-setting playboy said that he would stop partying and settle down if he were elected to office.
"When one becomes a president it's perhaps time to stop partying. … If the country says that it [a marriage] is necessary – well, I will marry," the 46-year-old bachelor said in an interview with Rossiya 24 television.
There are also a handful of other former Putin allies who have recently broken ranks, including former Finance Minister Alexei Kudrin and Irkutsk Gov. Dmitry Mezentsev.
Kudrin, whose name was once floated as a possible successor to President Dmitri Medvedev, left office earlier this year but is apparently back in Putin's corner. Over the weekend, he appointed himself the mediator between the prime minister and the opposition, a role that the opposition has been slow to accept.
Mezentsev, on the other hand, has already announced that he will go up against Putin in March. He will represent the Trade Union of East Siberian Railroad Workers party.
However, even though the governor is not a member of United Russia, he is still considered to be a Putin ally and his candidacy may actually help Putin.
Mezentsev is the so-called 'safety candidate.' Under the law, the vote is declared valid when at least two candidates take part, thus the opposition always has a theoretical chance to disrupt the elections when all candidates withdraw. To prevent such a scenario, there is always a safety candidate, Alexei Makarkin, deputy chief of Moscow think tank the Center for Political Technologies, told RIA Novosti.
Sergei Udaltsov
It's a long shot, but the longer that Udaltsov stays in prison the bigger a folk hero he becomes. And in the near future, the leftist political activist could use that status to upset Putin.
Udaltsov was arrested in December and charged with resisting officers, a claim that many feel is a trumped-up charge meant to silence the Left Front leader.
These cases are fabricated as a deliberate obstacle to prevent Sergei from exercising his constitutional right to free political expression, his lawyer, Nikolai Polozov, said this month.
So far, with each day he spends in prison (Udalsov is also on a hunger strike), the more support he gains and the Kremlin loses. Thousands of people have petitioned for his release and hundreds have protested outside the court where he is being tried. One of those who appeared at Tverskoi District Court was Alexei Navalny.
© Copyright IBTimes 2023. All rights reserved.