Russia's Lavrov Calls G8 An 'Informal Club' After Germany's Merkel Calls Russia's Return 'Unimaginable'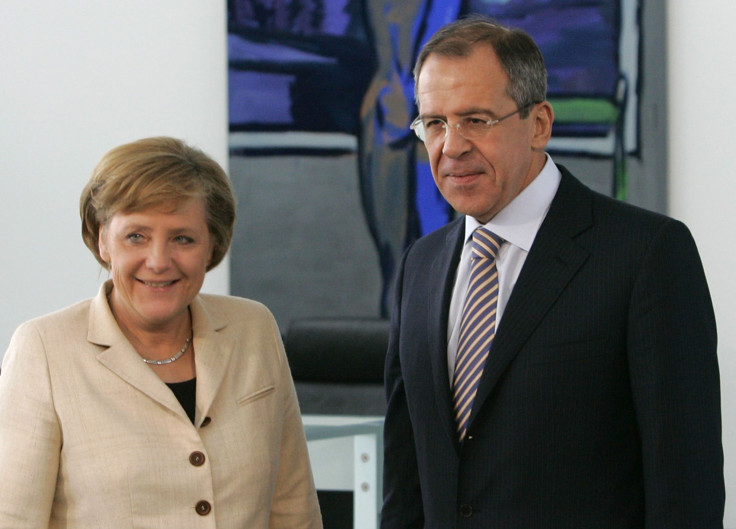 More than a year after Russia was suspended from the G8 bloc of nations over Crimea's annexation, Russian Foreign Minister Sergei Lavrov called the group an "informal club" and that Russia was not actually expelled, in a seeming response to German Chancellor Angela Merkel's comments about Russia's future involvement in the group.
"As long as Russia does not commit itself, and act according to, the fundamental values of international law, a return to the G8 format is unimaginable for us," Merkel said Thursday, according to Agence France-Presse, adding: "We have witnessed the massive destabilization of eastern Ukraine. We have witnessed how Europe's peaceful order was put into question."
The next G7 meeting, which Merkel noted will be held under different circumstances than the one in 2013, will begin June 7 in the Bavarian Alps, and will be attended by the U.K., the U.S., Canada, France, Germany, Italy and Japan.
"The G8 is an informal club, no one gives out membership cards and no one can expel members," Lavrov said, according to Sputnik News, in an apparent response to Merkel's comments in the German parliament Thursday.
In March 2014, Russia annexed the Crimean peninsula triggering widespread unrest in eastern Ukraine, as pro-Moscow separatist forces took up arms in a bid to secede from Ukraine. While Ukraine and NATO forces allege that Russia has been sending troops into eastern Ukraine to destabilize the region, Russia has denied the accusations.
"The developments in Ukraine are the reason that we will meet in Elmau as Group of Seven and not a Group of Eight," Merkel said, according to Reuters, adding: "We see the G7 as a community of values. And that means working together for freedom, democracy, and for the rule of law. That means respecting the laws of nations and the territorial integrity of nations."
In 2014, the G8 had originally decided to meet in Sochi, but after Russia's suspension, the G7 countries met in Brussels without Russia. Merkel's statement comes as the violence in eastern Ukraine continues unabated, despite February's Minsk agreement between Russia, Ukraine, France and Germany.
© Copyright IBTimes 2023. All rights reserved.