Russia's 'Microwave Gun' Can Disable Drones, Warheads Up To 6 Miles Away, Official Says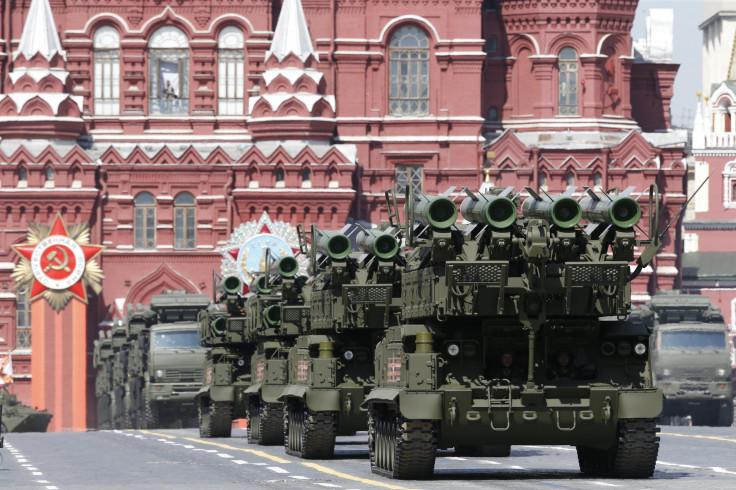 The Russian military has created a "microwave gun" capable of disabling drones known as unmanned aerial vehicles and the warheads in airborne projectiles, a spokesman for the Kremlin-owned United Instrument Manufacturing Corp. said Monday. Officials scheduled a private demonstration of the device's capabilities at the Russian Defense Ministry's Army-2015 expo, set to run Tuesday to Friday.
"The new system is equipped with a high-power relativistic generator and reflector antenna, management and control system, and a transmission system, which is fixed on the chassis of BUK surface-to-air missile systems. When mounted on a special platform, the 'microwave gun' is capable of ensuring perimeter defense at 360 degrees," the spokesman said, according to Russian-owned Sputnik News.
In addition to its purported ability to disrupt drones and warheads, Russia's "microwave gun" can disrupt radio frequencies and even "deactivate the equipment" of low-flying planes, the report said. The device has a range of 10 kilometers (approximately 6.2 miles) and it can be fired in any direction.
Russia also plans to unveil its newest military aircraft, the Yak-130, at the Army-2015 expo, the Russian Defense Ministry said Monday. When put into service, the fighter will be armed with air-to-air and air-to-surface missiles.
The upcoming demonstrations are the latest evidence of Russian President Vladimir Putin's bid to modernize the nation's armed forces. The Kremlin plans to add hundreds of drones to various branches of its military by 2025, a May report said. Russian officials have also touted the capabilities of the country's new Armata T-14 tank for months. The tank is said to be clad in ceramic armor as much as 50 percent stronger than that of traditional mechanized equipment, a powerful 125-millimeter cannon and an electronic warning system to head off potential mechanical problems.
Western nations, including the United States and members of the European Union and the NATO alliance, have questioned the motivation behind the recent increase in Russia's military activity. Moscow ordered the annexation of Crimea in March 2014. The West imposed economic sanctions late last year for Russia's ongoing role in the eastern Ukraine conflict, which has killed more than 6,400 people since it began. U.S. military officials proposed a plan during the weekend to place heavy weapons and personnel in NATO nations near Russia to deter future aggression, the New York Times reported.
© Copyright IBTimes 2022. All rights reserved.
FOLLOW MORE IBT NEWS ON THE BELOW CHANNELS