Russia's New Weapons Of War: Robots To Take Over For Soldiers? Moscow Eyes Defense Sales With New Autonomous Fleet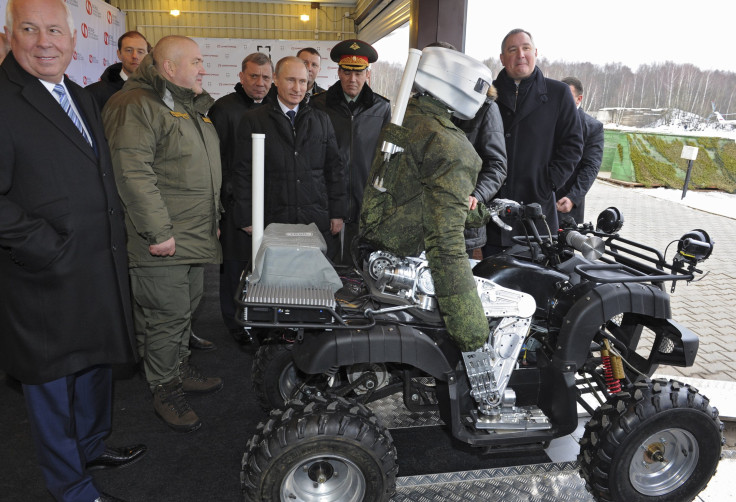 Russia was preparing to display its military might to the world by showing off its latest weaponry: an updated version of its robot soldiers. The country's military was expected to fully participate in the upcoming ARMY-2017 International Military-Technical Forum this summer, according to Sputnik News.
While details were scarce, Moscow debuted one of its fleet of military robots at least year's ARMY-2017. This year's forum will serve as a stage for Russia to showcase the latest developments it has made for its autonomous weapons of war.
"The advanced development of the Russian Defense Ministry's Main Research and Testing Robotics Center will be demonstrated," Moscow's equivalent of the Pentagon said in a statement Monday.
The military robots, which have been given such nicknames as "Iron Man" and "Ivan the Terminator," were expected to be a hot commodity at ARMY-2017, where a number of countries have already expressed interest in the mechanical weaponry, according to Russia Beyond the Headlines.
Russia has already introduced its robotic tanks, called the Uran-9, to great fanfare by countries looking to bolster their military capabilities. The Uran-9 line was developed and manufactured by Rosoboronexport, which was confident in the mass appeal of robotic weaponry to other countries.
"Russian developers possess all of the required competencies to create modern military robotics that will be in demand on the international market," Rosoboronexport's Boris Simakin said last year. "This is a fast-growing segment of the arms market, so Rosoboronexport will develop and implement a long-term marketing strategy for promoting such pieces of hardware, including as part of integrated security projects."
Russia debuted its "Platform-M" combat robots last summer in Crimea, the peninsula that was annexed from Ukraine in 2014. The autonomous fleet has been called "killer Wall-E robot soldiers" and were expected to be ready for duty by 2018.
Minister of Defence of the Russian Federation and General of the Army Sergei Shoigu was "confident that the ARMY-2017 International Military-Technical Forum will promote the raise of technological capabilities of Russian defence corporations as well as development of mutual partnership in military-technical cooperation, he said in a statement.
ARMY-2017 International Military-Technical Forum was scheduled to take place outside of Moscow from Aug. 22-27.
© Copyright IBTimes 2023. All rights reserved.