Russia's Vladimir Putin Extends Invitation To Saudi King Salman: Report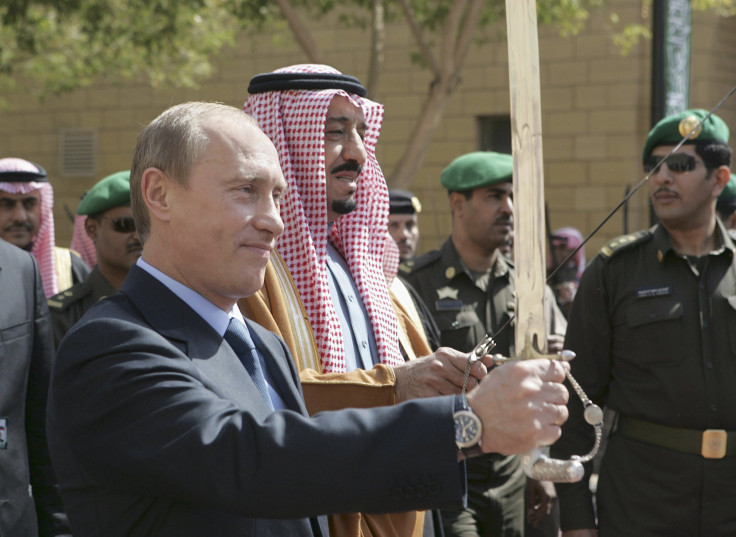 Russian President Vladimir Putin reportedly invited Saudi King Salman Bin Abdulaziz to Russia when the leaders discussed the Yemen crisis during a phone call. Putin pledged that Russia would cooperate more closely with Saudi Arabia in the Middle East, the Kremlin said in a statement on Monday, according to Bloomberg.
Relations between the two countries had soured over conflicts in Syria and Yemen. Moscow has been critical of Saudi-led airstrikes against the Houthi rebels who hold power in large parts of Yemen. Russia is a key ally of Iran, which has been accused by Saudi Arabia of providing weapons and training to the Houthis. Iran, however, denies the allegations. Last week, Russia decided to resume supplies of its advanced S-300 anti-air missiles to Tehran.
King Abdulaziz also thanked Putin for Russia's decision to abstain from a United States Security Council vote that called to impose an arms embargo on the embattled Houthis, prohibiting the sale of weapons to its leaders, the Bloomberg reported, citing the statement.
If Saudi Arabia accepts the Russian invitation, King Abdulaziz would be the first leader of the kingdom to visit Russia. Putin himself made the first official visit by a Russian leader to Saudi Arabia in 2007, where he reportedly discussed regional tensions in Iraq and Palestine with former King Abdullah.
Relations between Saudi Arabia and Russia have been strained by events in the Middle East since the outbreak of the Syrian conflict in 2011. U.S. ally Saudi Arabia has called for the removal of Syrian President Bashar Assad, while Russia has supported his regime both diplomatically and through direct military aid.
The diplomatic tension between the world's two biggest energy exporters has also been suggested as a reason for low oil prices. Observers have speculated that Saudi Arabia may be using its massive oil reserves to flood the market and keep prices low in an effort to weaken Moscow's grip on the market. "If oil can serve to bring peace in Syria, I don't see how Saudi Arabia would back away from trying to reach a deal," a Saudi diplomat told the New York Times in February.
However, Saudi Arabia's key ally Egypt has also been courting favor with Russia in recent years, after the government of Egyptian President Abdel Fattah al-Sisi began warming its relations with Moscow since taking power last year.
© Copyright IBTimes 2023. All rights reserved.