Rwanda Intelligence Chief Karenzi Karake Refuses Extradition, Granted Conditional Bail Set At $1.57M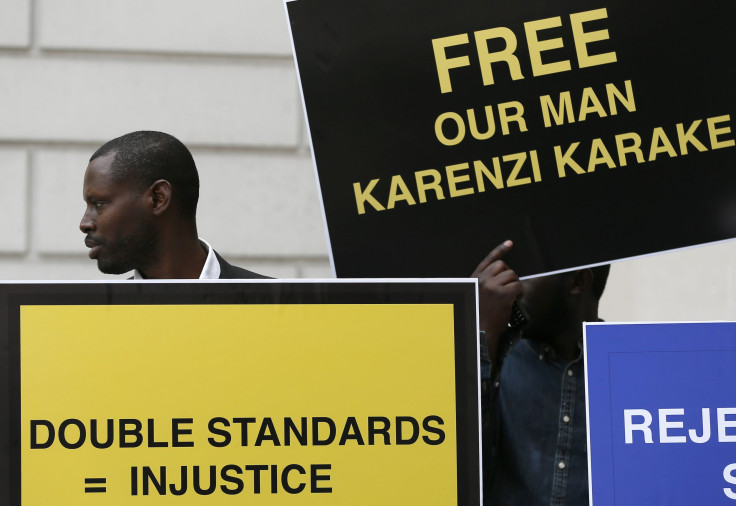 Rwanda's intelligence chief refused Thursday to be extradited to Spain during a hearing in a London court. Emmanuel Karenzi Karake was granted conditional bail and will be released from police custody if he posts security of 1 million pounds, or $1.57 million, and meets several other court-ordered conditions, Associated Press reported.
The 54-year-old military general was arrested at London Heathrow Airport by British authorities this week, making him the first Rwandan official to be arrested in the European Union for war crimes. Karake's arrest angered Rwandan officials who said it was unjust and political. Karake, who is a close ally of Rwandan President Paul Kagame, has traveled through the EU several times since Spain accused him of war crimes in 2008.
Rwanda's Foreign Minister Louise Mushikiwabo accused the West of being biased toward Africans when it comes to topics regarding genocide. Johnston Busingye, Rwanda's justice minister, said Karake's arrest was unwarranted and politically motivated. Andrew Mitchell, a former United Kingdom international development secretary, agreed with Rwandan officials and called the arrest an abuse of the European arrest warrant system. On the other hand, Rwanda's opposition FDU-Inkingi party has applauded Karake's arrest.
In 2008, a Spanish indictment accused Karake and 39 others of ordering revenge killings of Hutus and the murder of three Spanish aid workers. Karake has been a senior intelligence and military officer in the Rwandan Patriot Front (RPF) for two decades. The five charges against him could lead to a maximum 30 years in prison. A full extradition hearing was scheduled to be held starting Oct. 29, AP reported.
The RPF brought an end to the 1994 genocide led by a Hutu extremist government that saw an estimated 800,000 Tutsis killed. At the time, Rwanda's population of seven million was made of three ethnic groups: the Hutu majority and the Tutsi and Twa minorities. Hutu extremists blamed Tutsis for Rwanda's economic and political problems.
© Copyright IBTimes 2023. All rights reserved.